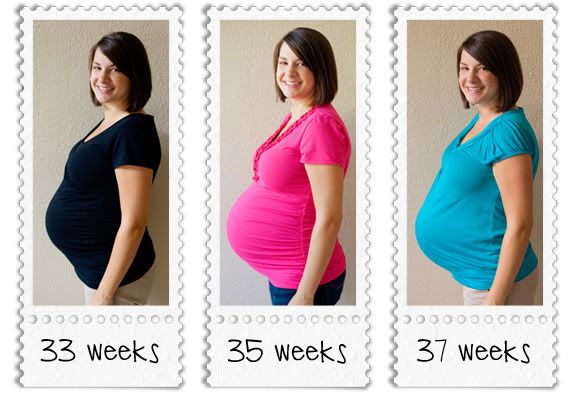 Apparently, the clothing you wear makes a difference in how big you look when you are pregnant. I have always known this to be true, but as you can see above...I sort of look bigger at 35 weeks than at 37 weeks. And I assure you, that is an illusion.

As of today, we have 9 days before Logan will make his entrance (assuming he doesn't come earlier...which he won't). It is strange having a set date. Of course, Ethan was born ON his due date, but I didn't know that would happen.

Things are pretty ready around here. And I'm ready too. I can't wait to meet this little boy. But, I have to say...all things considered...I feel really good. I will not be sorry to see the hearburn go. Or to not run into things with my belly. Or to be able to roll over in bed, bend over, or get off the couch without a pep talk. But, I really can't complain. I am not that uncomfortable, for which I am really thankful.

So...a little over one week to go. And THIS is the forecast for my last week of pregnancy. Nice.