Before I launch into what I'd like to accomplish this year in our house, I would like to revisit my
2011 House Goals
and see how we did.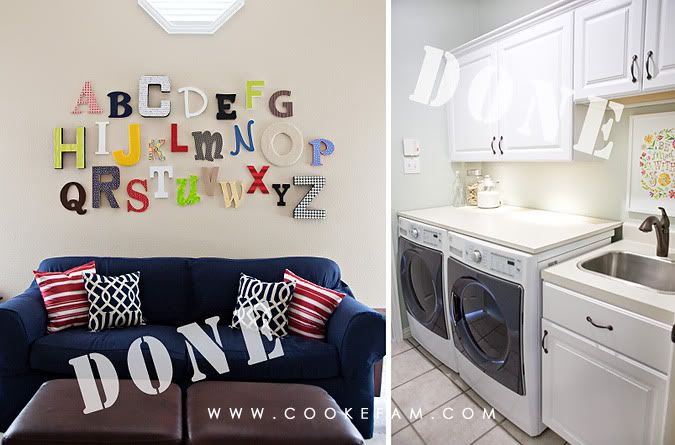 I finished the
playroom,
(which was #1) and just finished the
laundry room
(which was #2) although technically it was finished this year and not in 2011. The master bedroom (which was #3)...was
completely
neglected. I didn't do a thing except sell our old bedding at a consignment store.
So 2 out of 3 isn't bad. And I actually did a few things last year that were
not
on my goal list:
1. I put up a
gallery wall
in our upstairs hallway. And I still love it.
2. I added new hardware to all of our doors. I bought a couple of door knobs very couple of months or so, and by December, I had them all switched out. This was something I had wanted to do at our last house and just never did it. Hardware can be expensive, but doing it this way (buying a little at a time) made it doable. And I love how the new hardware looks. It's the details that make the difference, I think.
3. I put in a
mini mud room
in our under-the-stairs closet in the living room. It works wonderfully for us.
So, on to 2012. Here's what I would love to accomplish this year (sort of in order of priority):

1. My Office: Get/install a desk. Get a desk chair and some other small furniture pieces. Drapes, paint. There's not too much to do, but it's becoming necessary for me to have my own computer space in the evenings. The spare room upstairs has great potential, but right now it's a huge dumping ground for outgrown baby things and other random items that don't have another home.

2. Pantry: I'd love to organize by building in some more shelves and adding a cabinet and counter top in one corner. This space is pretty good now, but it could be great with a few tweaks.

3. Entry table/door: At the end of last year I purchased a table during a 30% off sale online. I love it, but it is really lonely on that wall with nothing on it or above it. I would like to accessorize this area with a mirror and a few things on the table. I would also like to paint my front door black on the inside. I think it will make it pop against my white trim and most importantly...it will eliminate the fake wood look that it is sporting right now. Blech.
4. Master Bedroom: I would really like to make some progress here because I really have a good idea of what I want. I just need to implement it. I think I have been paralyzed because I haven't found the bedding that matches what I see in my head for that space.

I hope we can make some progress on these four spaces. And maybe even more...who knows?