When we moved into our current home in June 2009, we knew that there were some projects that we'd have to tackle in order to make the place "ours." This house needs a little updating too. It's nothing extremely urgent...just a lot of late 90's vibe. There are big projects that we'd eventually like to do, of course...an overhaul of the kitchen and master bathroom, and possibly adding wood floors. But in the time that we'll be saving up for those, we've been making our way around to other rooms.
The first room I tackled after we moved in was the small powder bath just off the living room downstairs. I never actually showed the before and after photos of that, but maybe tomorrow I'll get them together and post them. This was the only room that we did in 2009.
But in 2010, we did
Ethan's room
since he moved out of his crib and into a big boy bed. I pulled together
Logan's room
(mostly with things we already had), and renovated the
boys' bathroom
. I also started to make a few changes in the
playroom
to make it more functional. Oh, yes...and I painted our
front door
.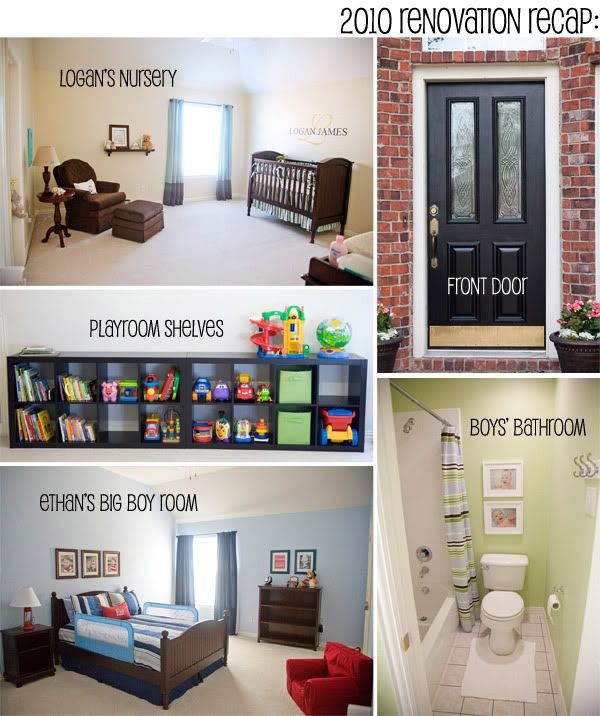 Here are my goals for our house in 2011. These are the things I want to get done at the very least. We'll see what actually happens.
1. The Playroom. To finish it completely, I want to paint the walls and add some things on the walls. And that's about it. There's not a lot to be done in this room, and I already have most of the supplies to get it done. That's why it's first on the list!
2. Laundry Room. Paint cabinets, install a new base cabinet, a new sink, new faucet, and a new countertop. Add storage and functionality. I use this room every single week for at least a couple of days and it's about time that it helped rather than hindered me.
3. The Master Bedroom. New bedding, drapes, paint, and maybe additional seating. Another room that will not take a lot to update but that I would love to be a haven instead of a mis-matched mess.
My biggest and most important goal for our home in 2011 is to be content with it. For me, that doesn't mean giving up on making it more in line with our tastes, but to not let that overwhelm my sense of being blessed by our home. That we have one, first of all, but also that I do truly love it and what it means to our family. It is so easy for me to sit around and dream up things to change in our house. First of all, it's fun. But also...I'm actually in my home most of the time and the things I don't like about it confront me every day, multiple times a day. But so do the possibilites for change!