I remember my Kindergarten teacher squirting a mound of shaving cream on each of the students' desks for us to play with. We were "cleaning" our desks. I remember the fun part but I do not remember how she cleaned all the desks off as well as the kids. Sounds like a lot of (messy) work to me, but after all these years I still remember it.
Fast forward to this summer...while grocery shopping one day, a $1 can of good ol'
Barbasol
on the bottom shelf of the shaving aisle caught my eye. The memory of playing with shaving cream in Kindergarten came back to me in an instant, and I decided my boys might just have fun with that too.
However, our shaving cream experience was an outdoor activity. I took two trays and set them up in the yard one morning before it got too hot. I thought I knew how this would go, but both of my boys acted oppositely than I expected.

First, Ethan...the child who does not really like to get messy. He dove right in and started playing.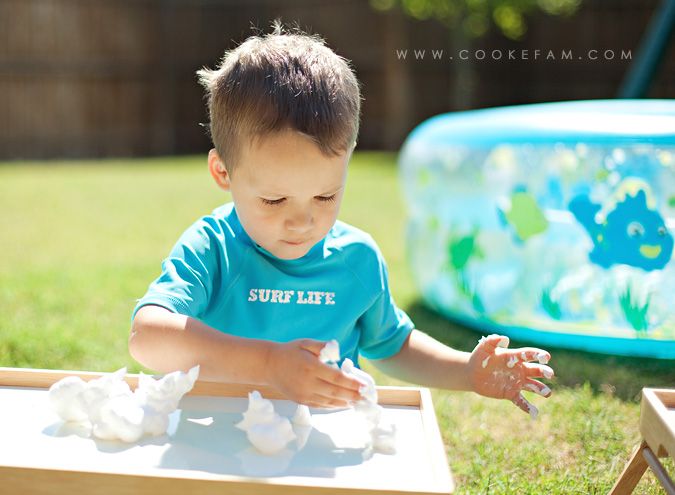 Look at my hands, mom!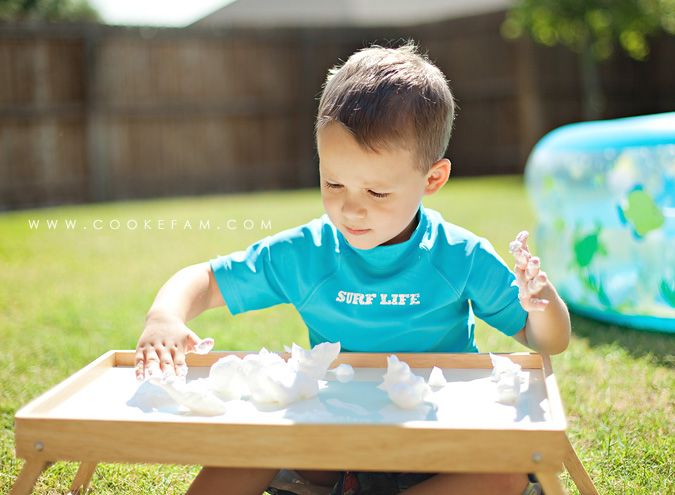 At one point he said that the shaving cream felt like jello. I guess he hasn't had enough whipped cream in his short life to compare it to that.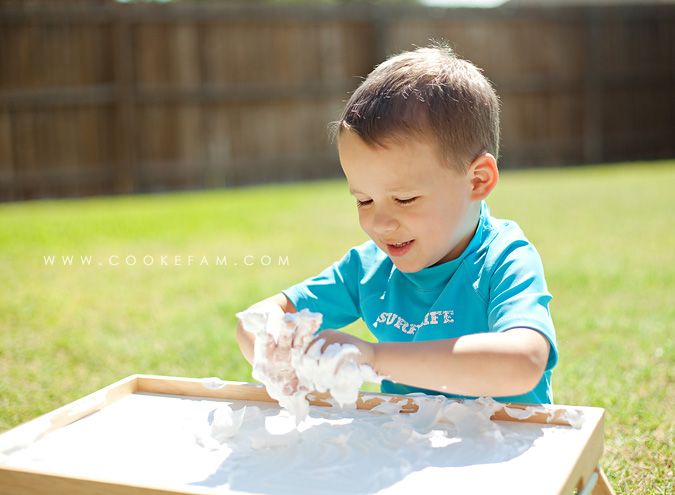 He even got some on his shirt and didn't seem to care.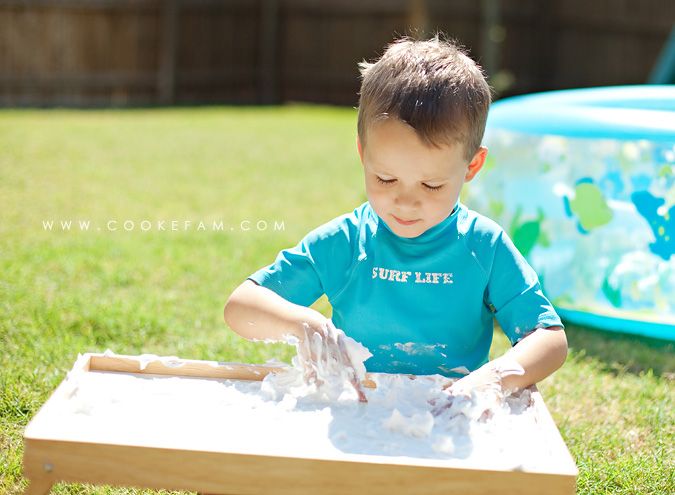 Then, there was Logan. The child who could not care less about being messy. He sat and looked at the mound of shaving cream. He was NOT sure about that stuff so at first, he didn't touch it at all. (Mama, what IS this?)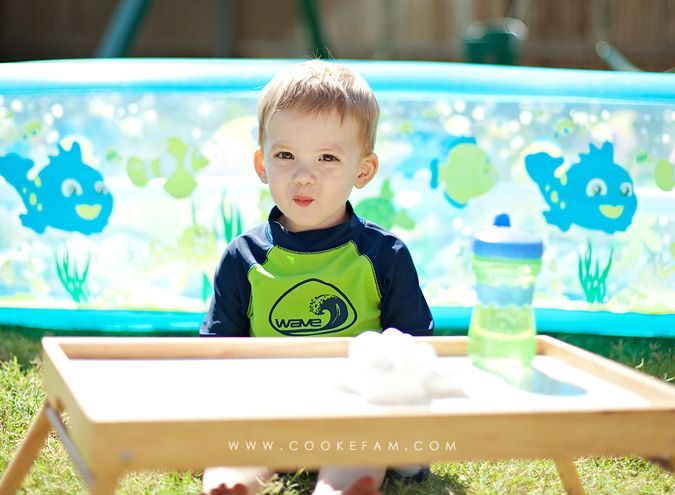 Then, after he saw Ethan going for it, he slowly dipped one finger into the shaving cream. Testing the waters, I guess.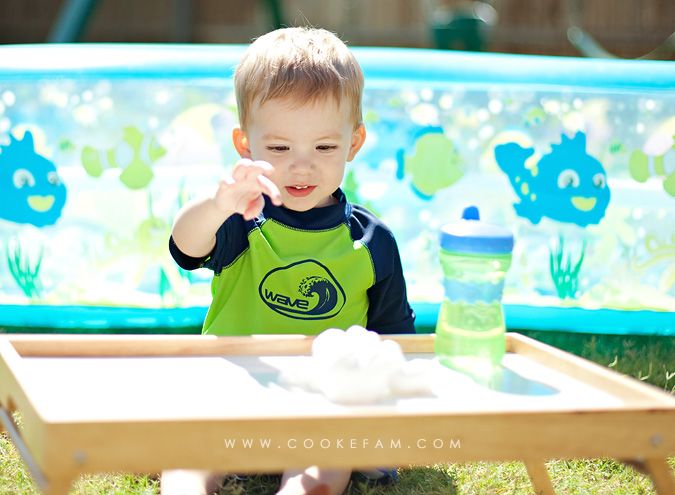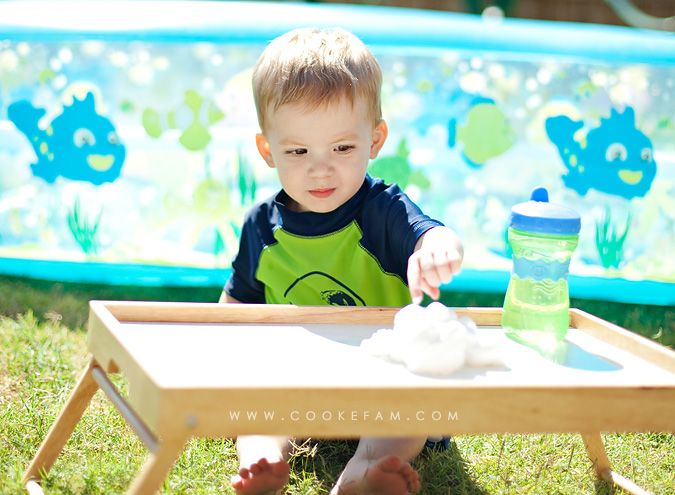 He would stare at that tiny bit of shaving cream on his one little finger for a bit and then wipe it off with the other hand.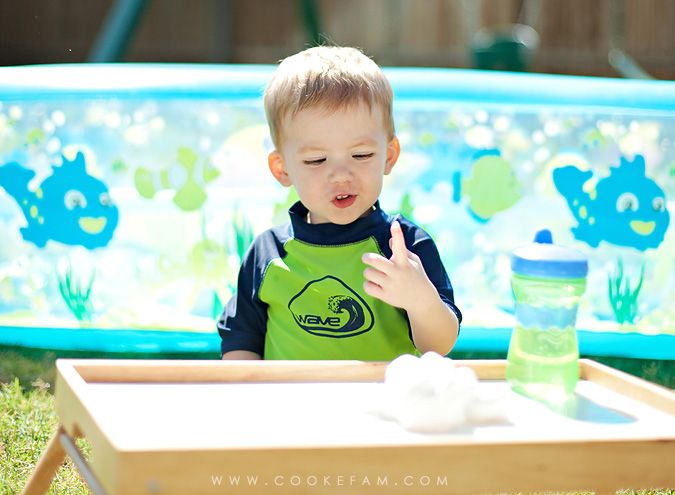 And repeat the process over and over again. With just the one finger each time. Crazy kid.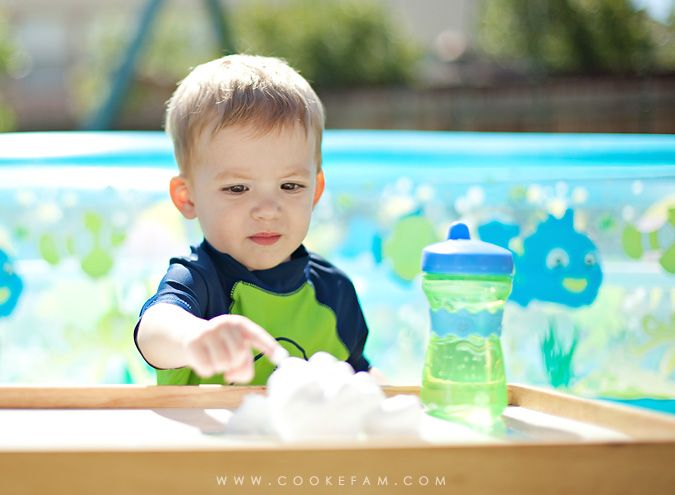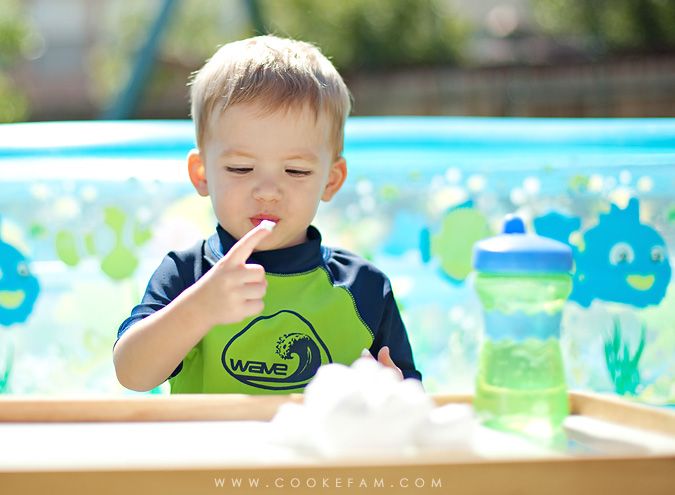 After a while, I took his hands and just rubbed them in his pile of shaving cream and all over his tray to show him what to do.
And then what I had expected all along happened....he got it all over himself! He'd touch his ear and then try to wipe it off with his shaving cream-covered hand. It was pretty funny to watch.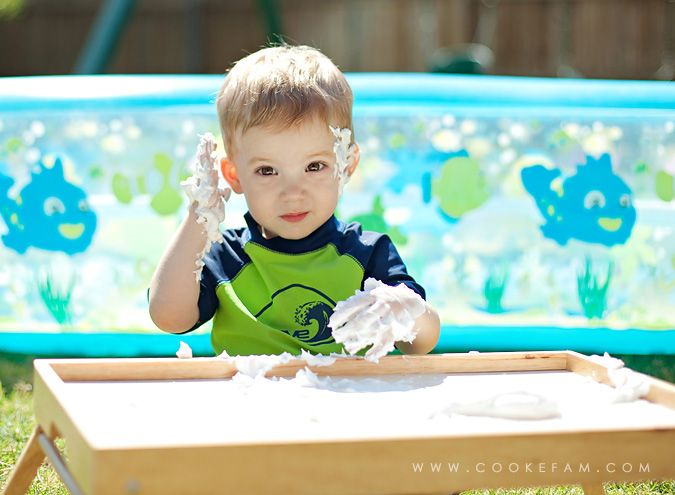 This is the final result right before I hosed them off.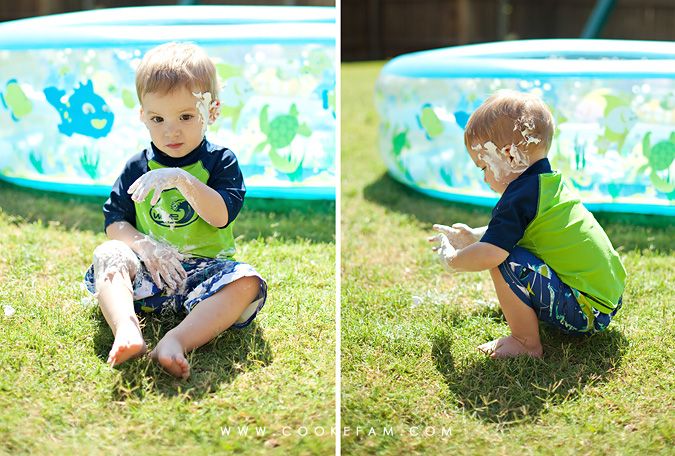 Ethan enjoyed playing with the shaving cream, but true to form, when he was done, he wanted his hands clean NOW.
I had given each of the boys a pretty good sized mound of shaving cream to play with at first, but that's all they ended up using. I was planning on using the whole can if they wanted to, but we were able to save the rest for another time. (That $1 will make for at least 2 rounds of shaving cream fun).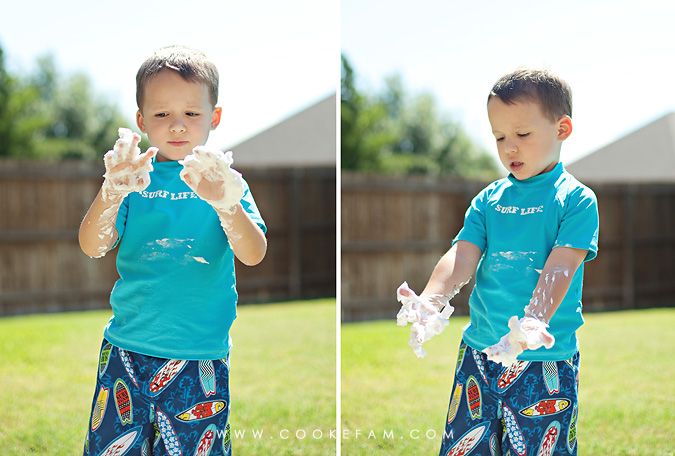 After hosing them off a bit, they jumped in the pool (which is why I had them in their swim trunks). Two goofballs.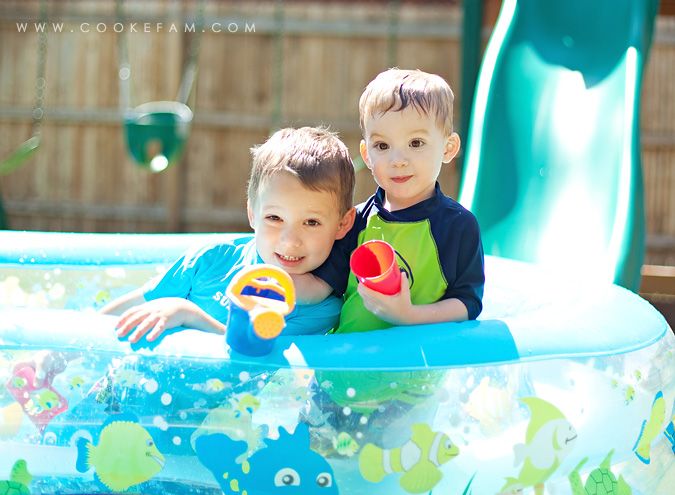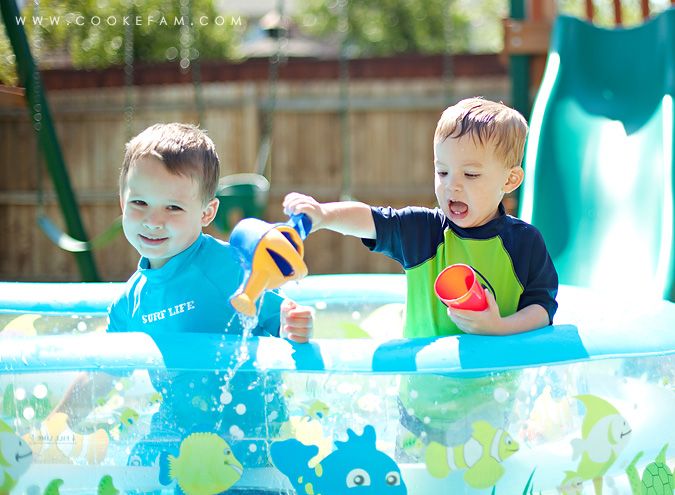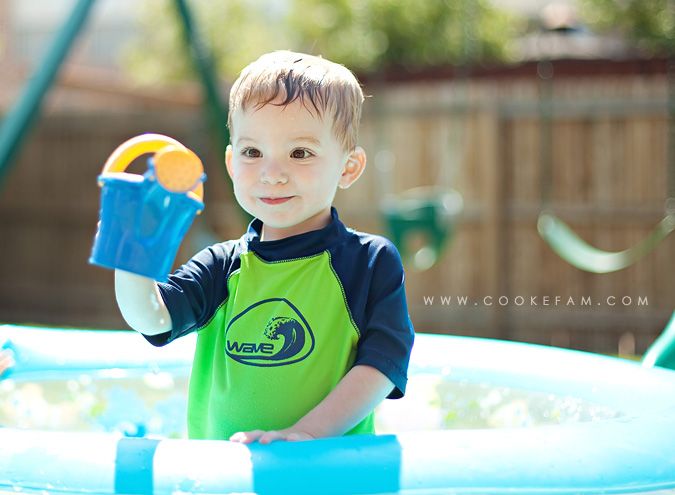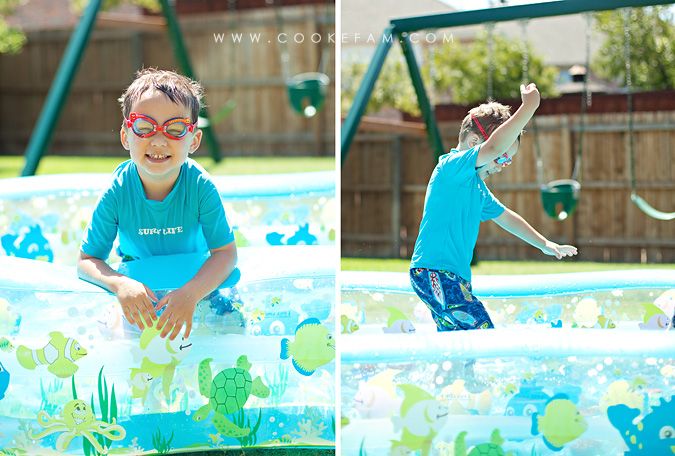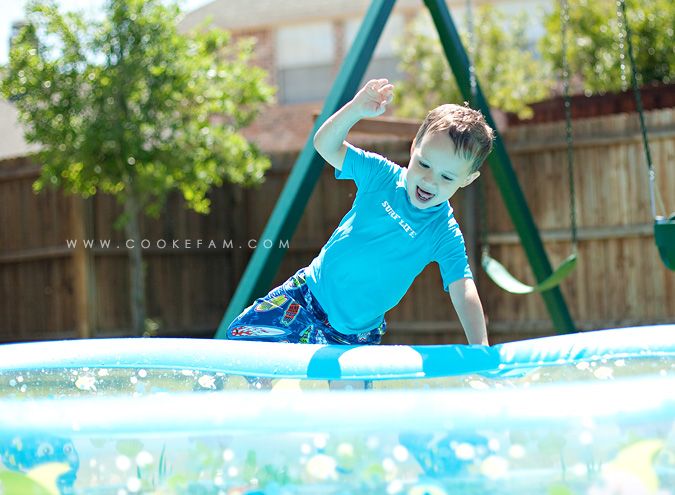 When we heard the trash truck down the street, the boys scrambled up into in the fort to watch it collect our trash. Trash trucks are a highlight of a little boy's day, you know.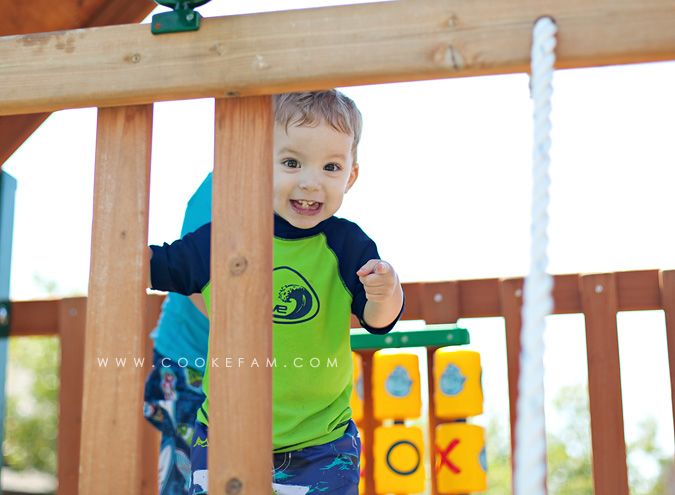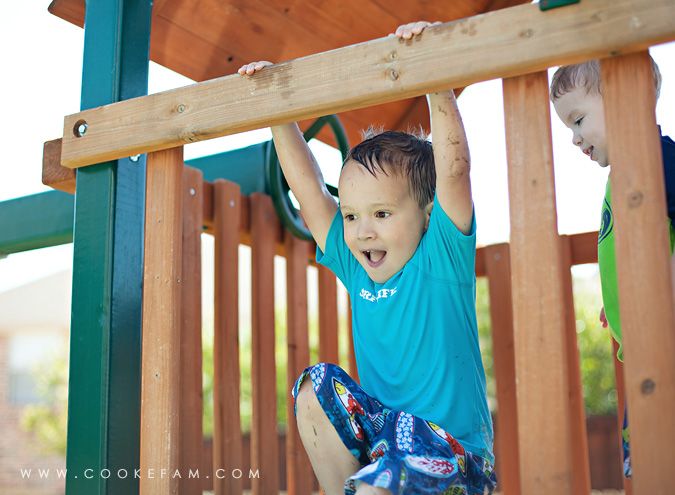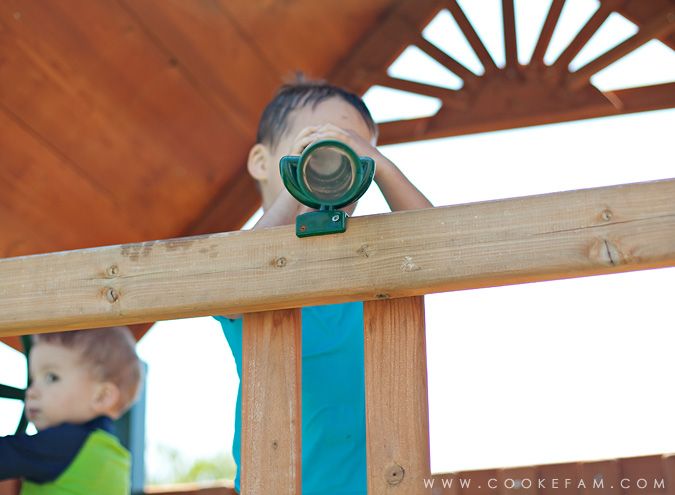 Logan goes down all slides like this. On his tummy.