This year was Ethan's second year to take swim lessons. We did it through the same school this year and also made sure that we signed up for Mrs. Stacy's classes again. She is a fabulous teacher and Ethan remembered her from
last year
.
This year Ethan did three weeks of lessons in a row, which were four consecutive days a week each week (M-Th). The classes at this school are held at the teacher's neighborhood pool and consist of no more than 3 students, which is awesome.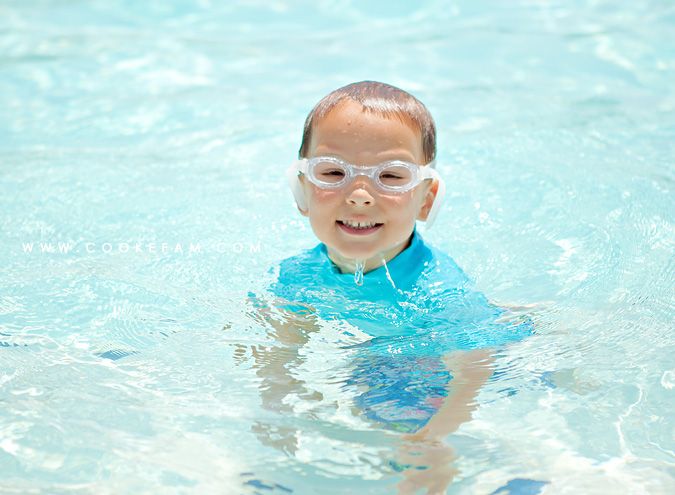 Right before class started, Ethan would get himself wet and put on his goggles. Here he is getting his head wet and practicing bubbles underwater.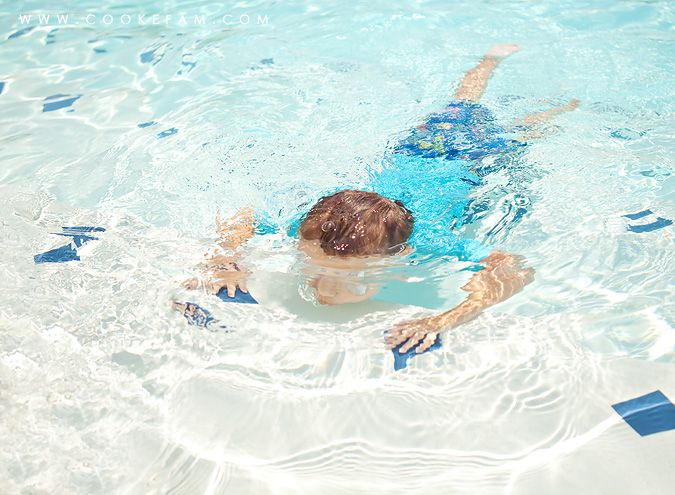 This swimming exercise with the pool noodle helps them keep their heads down and arms extended. It worked wonders for Ethan as far as learning how to swim face down.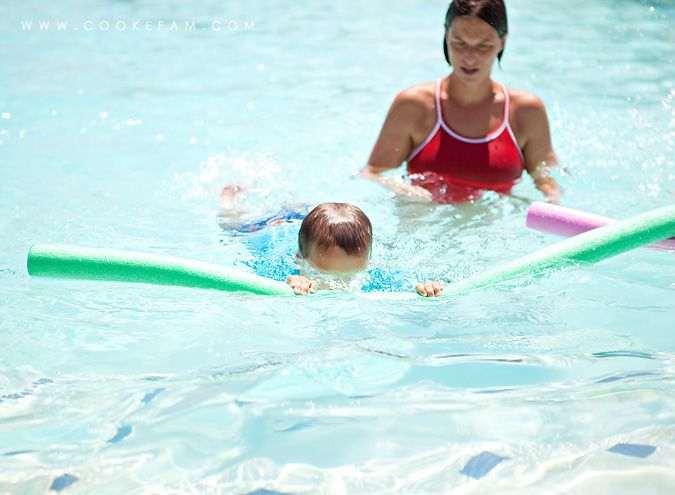 I cannot express the excitement I felt when Ethan first really swam on his own. It was during the middle of his first week. I felt like singing that song from
My Fair Lady
, "You Did It!" (You know..."
by Jove, I think she's got it
!") That sums up how I felt. Something clicked and he got it. In the photo below, he's practicing using his arms. He still doesn't use his arms full-time, although he will do it occasionally (and he certainly knows
how
to do it).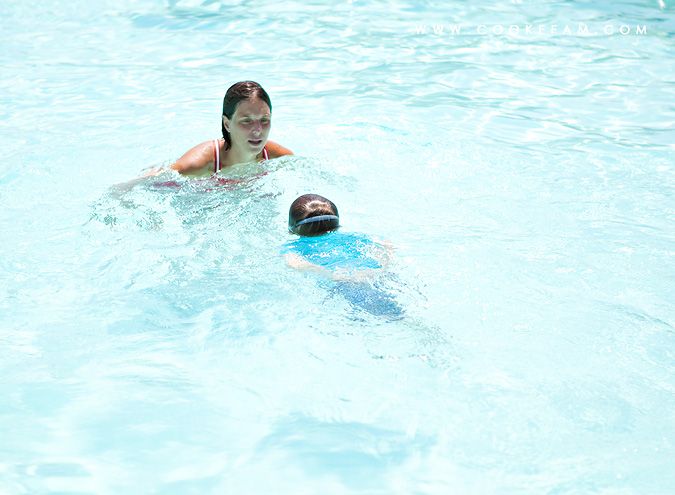 Practicing with the kick board. She would actually use this to teach them freestyle stroke arms. They would hold the board with one arm and use the other one to do a stroke. Then switch.
Here's Ethan wearing flippers. Man, those things really helped him work on his form. They actually help keep their legs afloat (aside from making their kicks more powerful, obviously). Ethan could literally swim all the way across the pool with the flippers.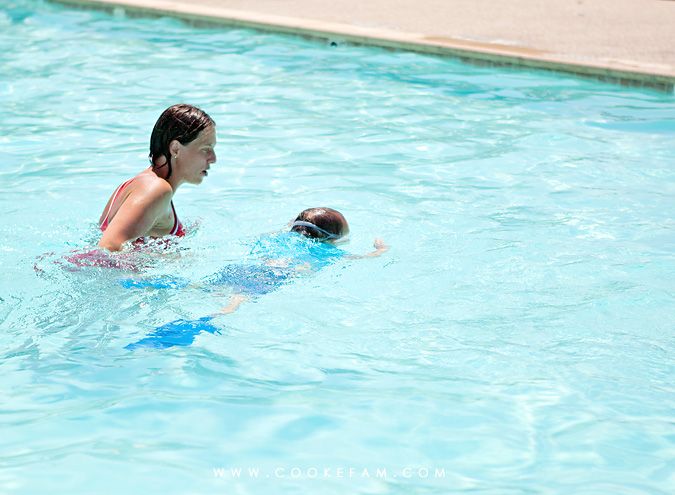 Working on his back float was not Ethan's most favorite thing. But, he did a pretty good job.
This photo was taken during week 3, when he could manage it without the kick board.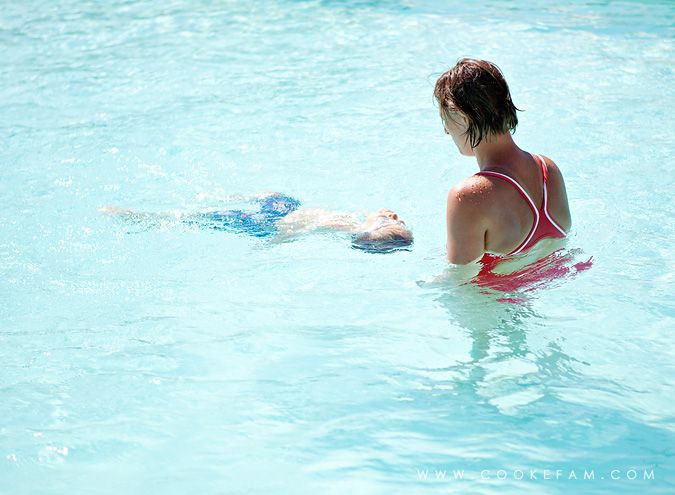 While Mrs. Stacy and her assistant are working with other students, Ethan would practice picking up toys from the steps. He loved this.
But without a doubt, Ethan's favorite part of every class was the jumping. Here he is jumping into a hula hoop.
During week 2 and 3, they did obstacle courses at the end of class instead of just jumping. Again, this was a favorite for Ethan. It started off with Mrs. Stacy throwing each kid in the water...
...then they had to swim to the side and get out.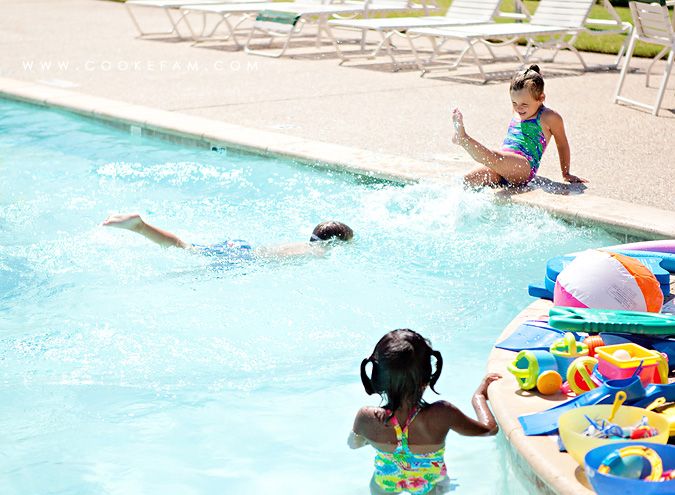 Next, they took turns jumping over the "rainbow" (the pool noodles)...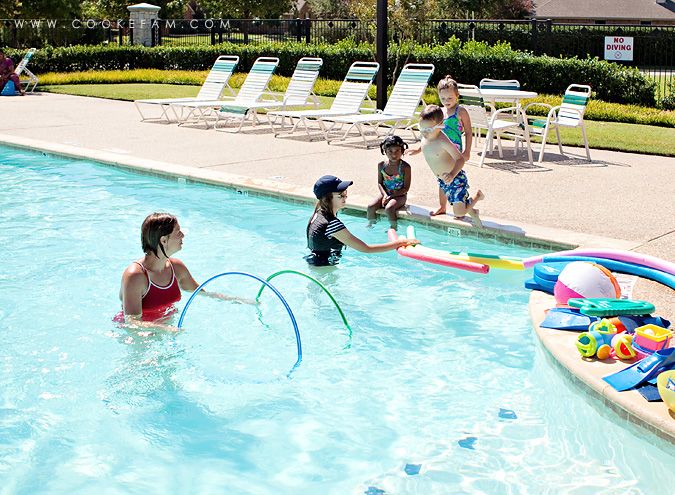 ...and swimming through the two hula hoops.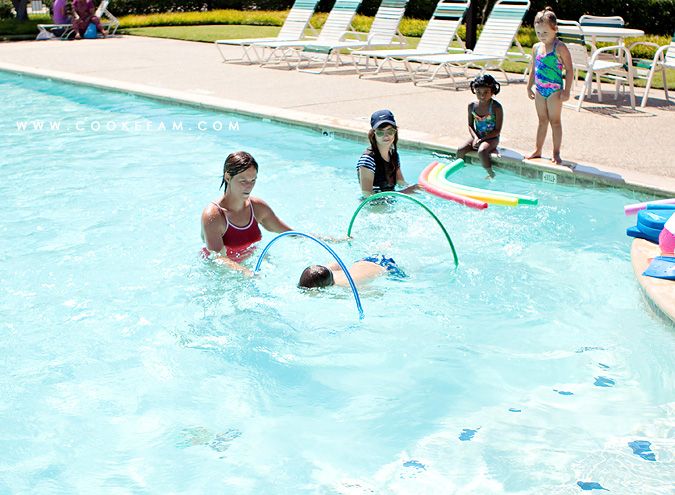 Finally, they would get a toy from the bottom of the pool (Ethan
always
went for Woody...go figure)...
...and swim back to the steps.
The classes lasted 30 minutes and I had Logan with me, so we wore our bathing suits and just sat at the other end of the steps down from Ethan's class. Logan got a sucker each day (that I brought from home) because Ethan got one after class from Mrs. Stacy for working hard, and he couldn't be left out. And he also couldn't wait until after class for his sucker. But actually, it worked really well to occupy him.
Mostly, Logan splashed around on the steps. He would occasionally go "hide" his pool toys in the grass and then go back for them later. He really did pretty well during the class just waiting with me. Only a couple of times did he send me on a wild goose chase after him.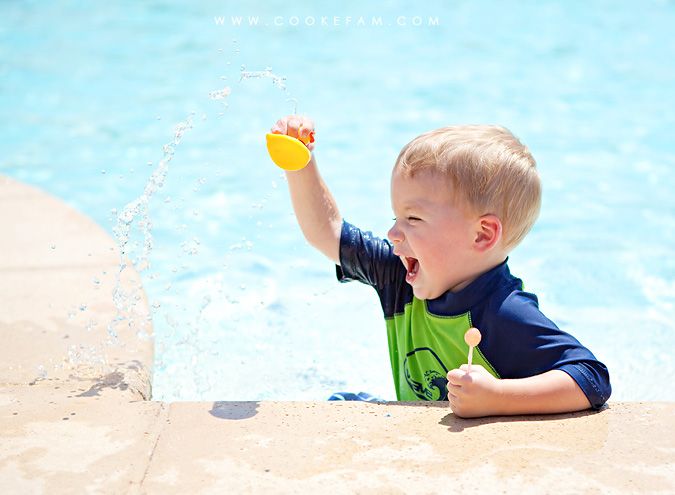 During the third week he actually started jumping off the side of the pool to me with goggles on. He would do it over and over again...practically the whole class time. In the photo below, he's got Casey's goggles on and is playing with Mrs. Stacy's dive sticks.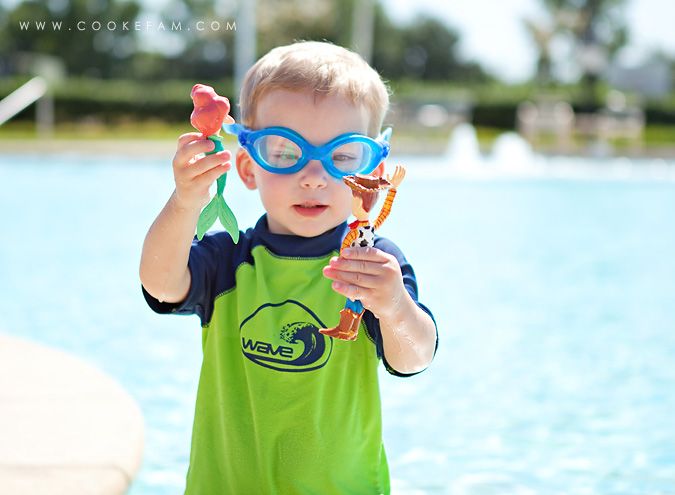 Mimi was able to pop over for a swim lesson one day to watch Ethan. Coincidentally (or not), it was not his best class.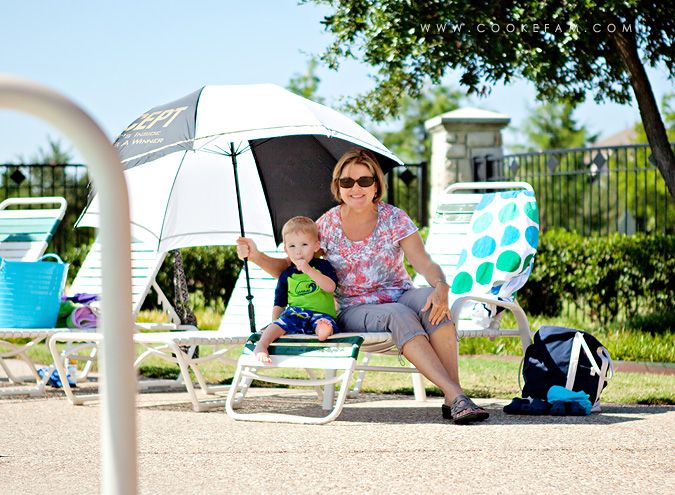 At the end of three weeks, we have one very happy swimmer! And now that he knows how to swim, that's all he wants to do. I am so proud of my big boy!