A couple of weeks ago we went out to the
Big Orange Pumpkin Farm
right as it opened on a Saturday morning. The weather was gorgeous and we all had a great time at the farm, which is just 20 minutes north of us. Nice and close, but definitely out of the "city."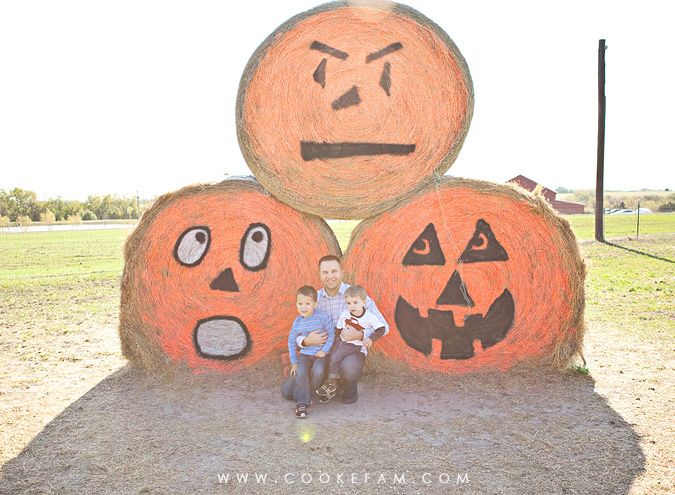 Feeding the animals was Ethan's favorite part. He loves it. First up were the Longhorns. Not pictured...Logan terrified of the Longhorns.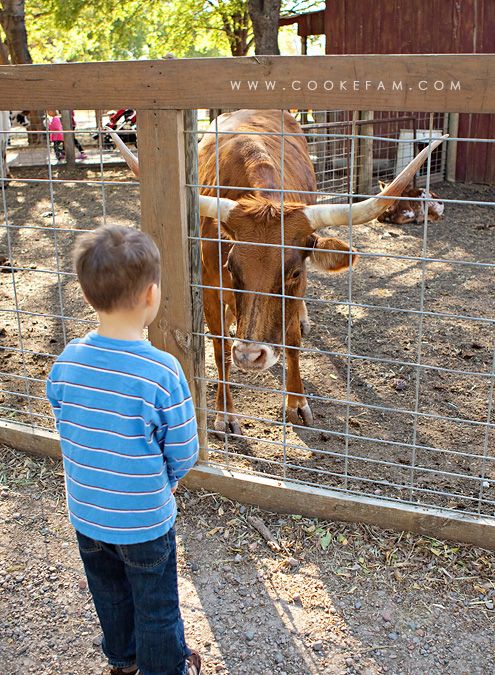 We fed the goats next and they wiped out two of our four feed cups in about 2 seconds flat. The boys thought that was hilarious.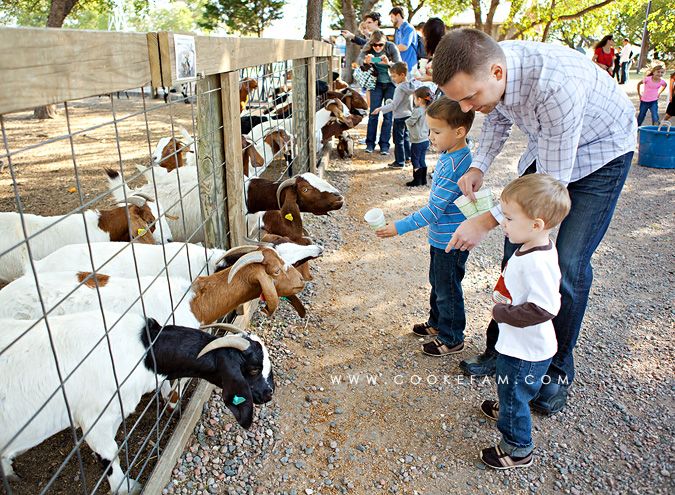 Everyone took a turn at petting the goats, who were really quite gentle despite the fact that they wanted more food!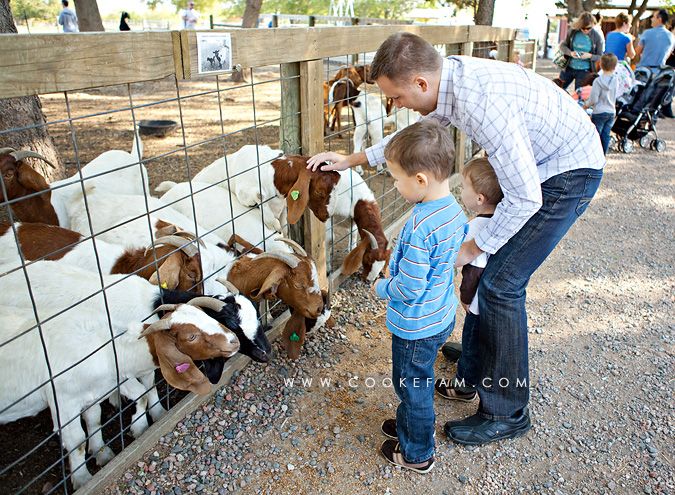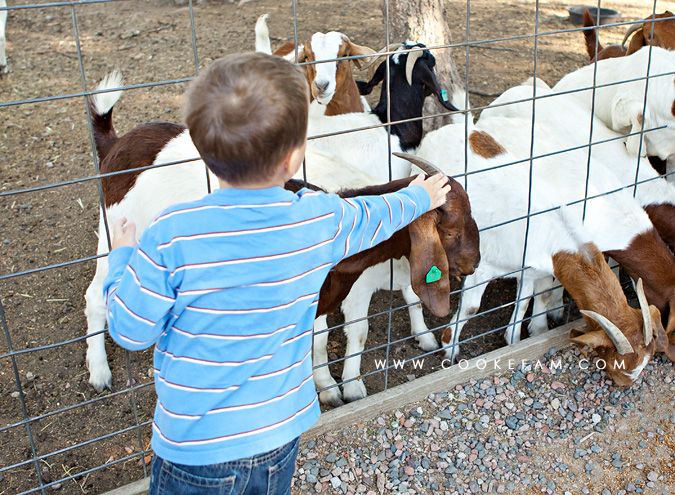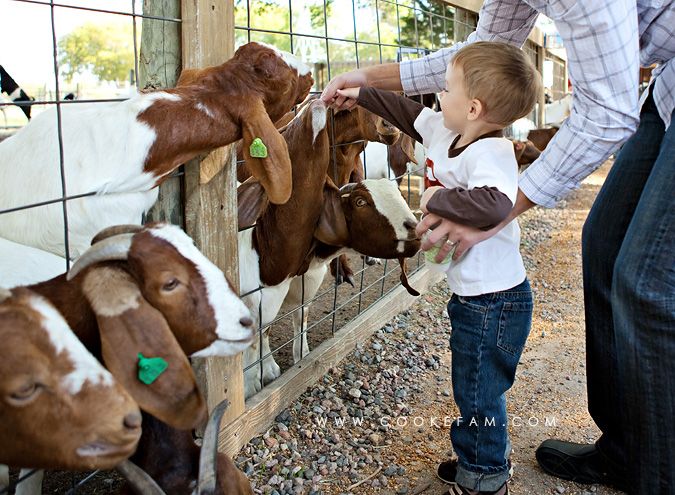 Then we went over to the wooly sheep. I love the sheep. Not sure why, I just do.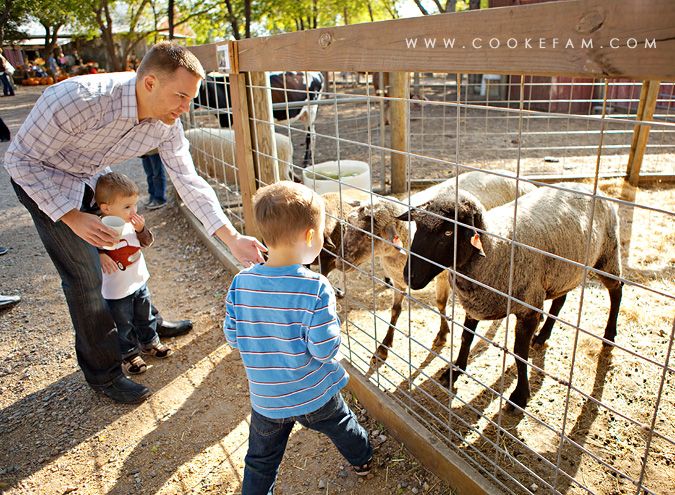 We hopped on this ride at the last second and snatched the last two cars. We called it the "tractor train," which is pretty accurate if not an entirely official name. This photo below has terrible shadows, but just look at Logan's face...if you know him at all, you know he loves trains AND tractors. He was in heaven. The adults, however, were in for a bumpy ride straddling a 2x4 piece of wood, which was the "seat" in that little barrel-car. There's lots of things we tolerate for our kids.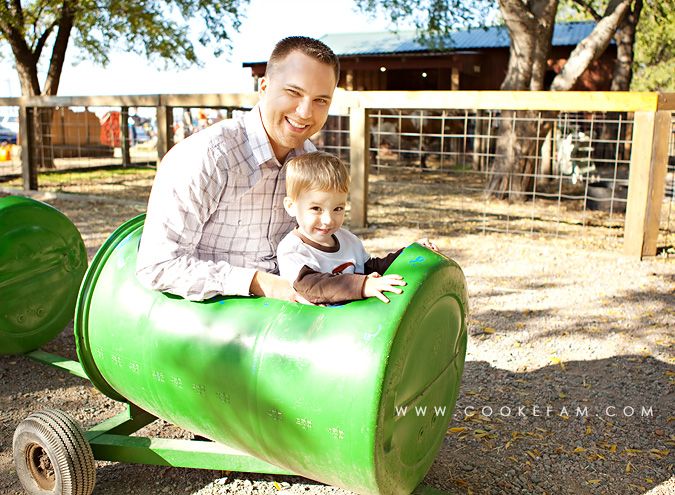 We didn't have time to snap a photo of Ethan and me because everyone was waiting on us, but I did catch the tractor train in action weaving through the pumpkin patch.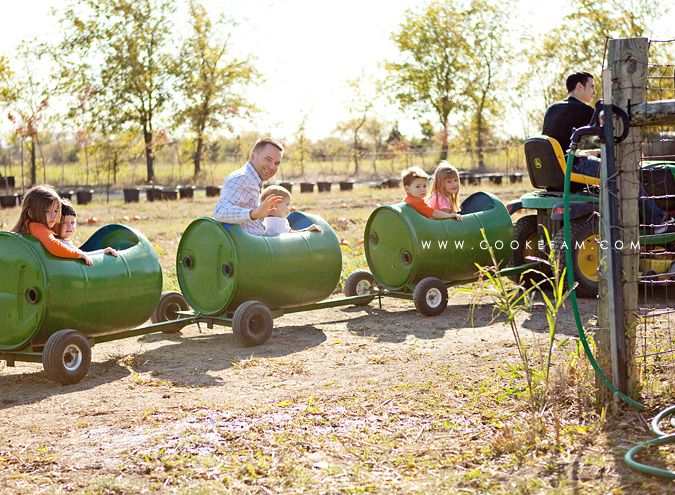 Pumpkin heads...daddy, Ethan, and half of Logan.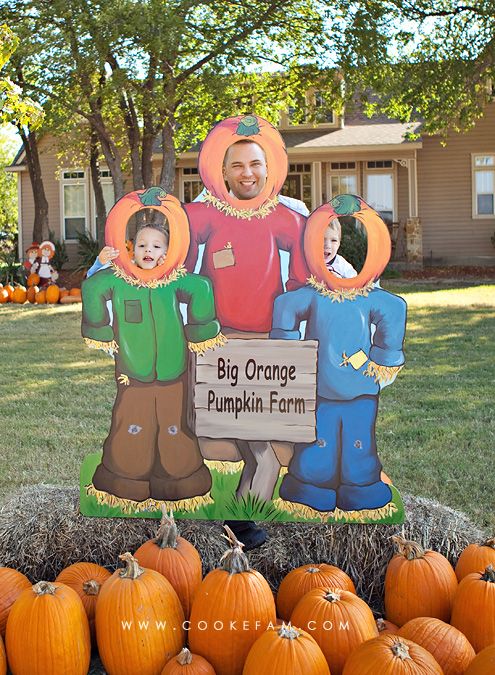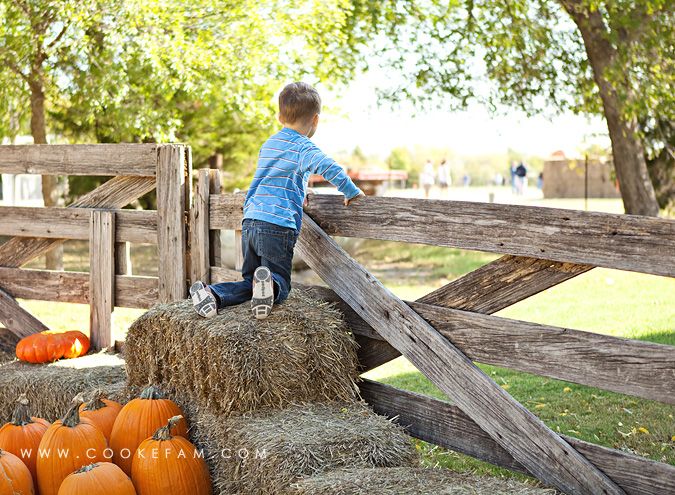 Entering the hay bale maze to wander around (and sneeze constantly if you're like Casey and allergic to hay, which he forgot about until half way through).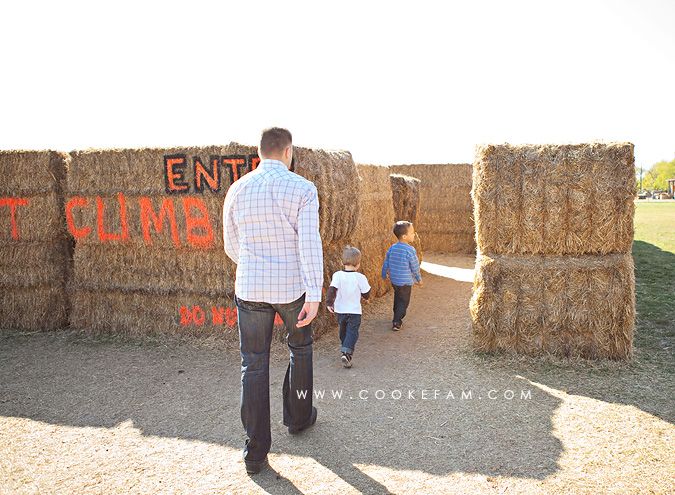 We split up...daddy and Logan were together, and Ethan and I were together. He kept turning around to make sure I was following him!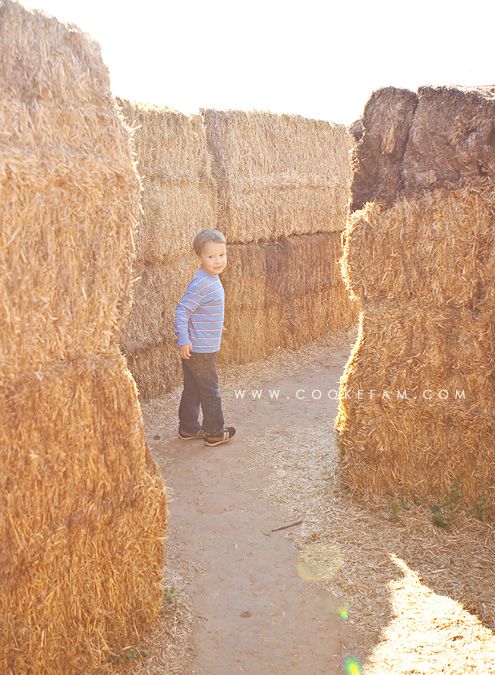 I love this crazy photo of my three boys.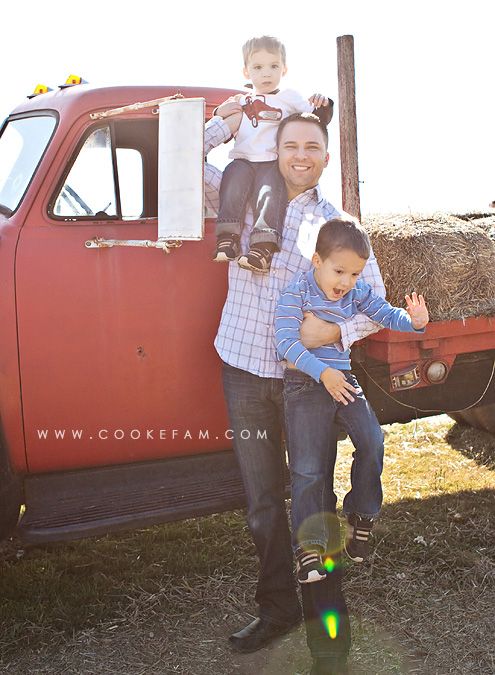 And before you ask, yes, there are photos of me. Like this one below on the big tractor-pulled hay ride around the farm. Complete with my Saturday morning at the farm look (no makeup, baseball cap) and Logan....having a two-year-old moment (there were a couple of those).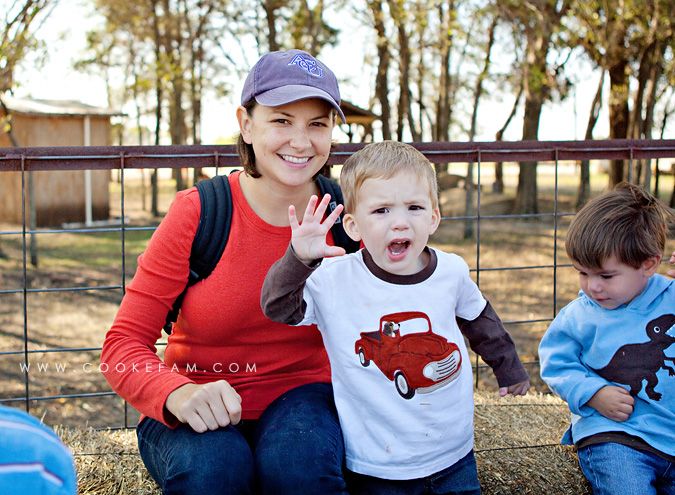 After the hay ride, we had a little lunch with our free hot dog tickets. And then we ran into Pooh and Piglet. What are they doing at the farm? (That's what Ethan asked me!)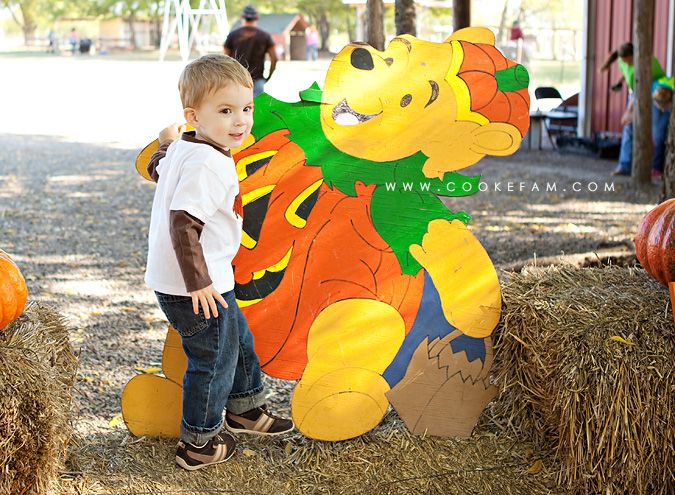 On our way out, Ethan ran by each of the animals to personally say goodbye. That kid cracks me up. And he really loves animals.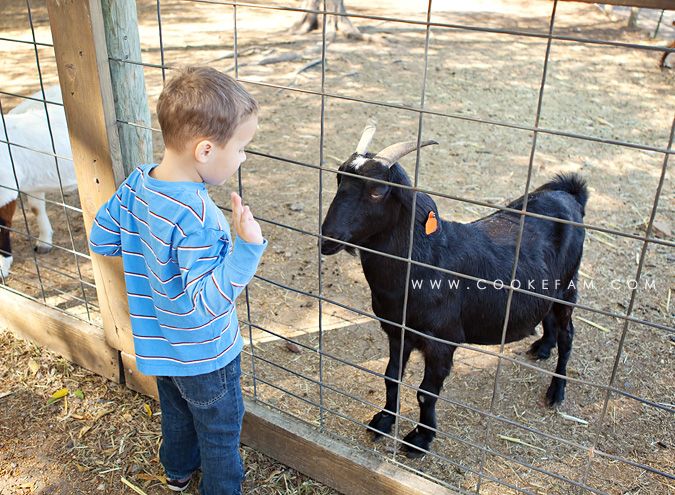 We picked out a pumpkin to carve for Halloween. The boys had the best time seeing which pumpkins they could pick up...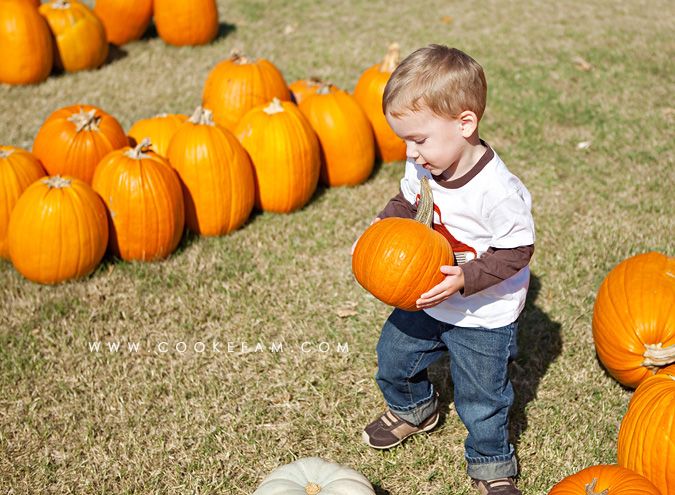 ...and which were a little too heavy! (He actually got this one up to his waist...impressive.)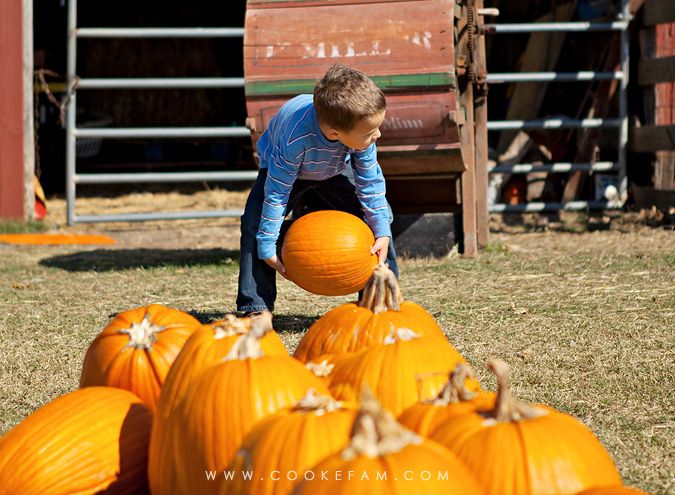 We went home to wash up and play "barn" for the rest of the day with a homemade fort and stuffed animals because we had such a great time at the farm. (So much fun, in fact, that we might have gone back again a week later...)