On Thanksgiving day this year, we spent the day at the Cooke household. Sometimes, this is the greeting you get from Uncle Casey. I think you might have to be a 5-7 year old boy to appreciate it.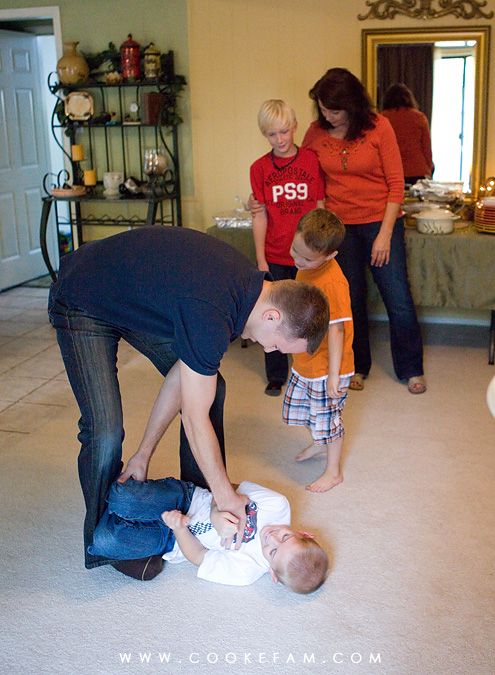 Nonnie made this beautiful spread for lunch. All the traditional Thanksgiving dishes plus mac n' cheese. Which actually is a traditional dish for the Cooke family...everyone loves it although Nonnie really makes it for the kids.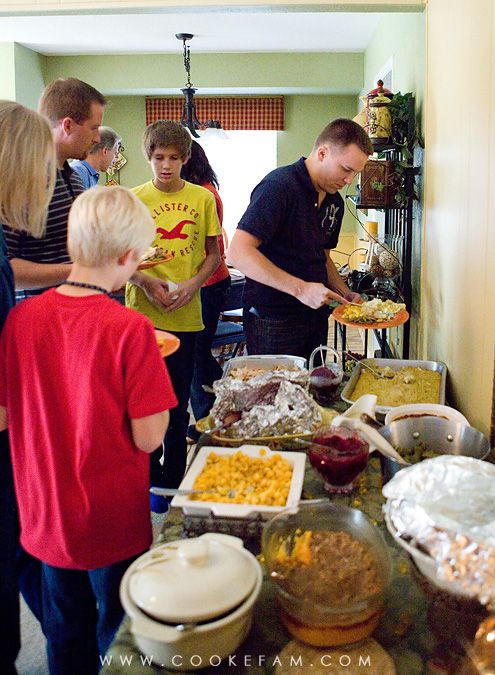 The kids table was in the garage this year...the most genius thing since peanut butter and chocolate, don't you think?
It's so nice to see brothers who are able to share with each other. Casey and Jeff are sharing the bread...something the Cookes take very seriously so this is kind of a big deal.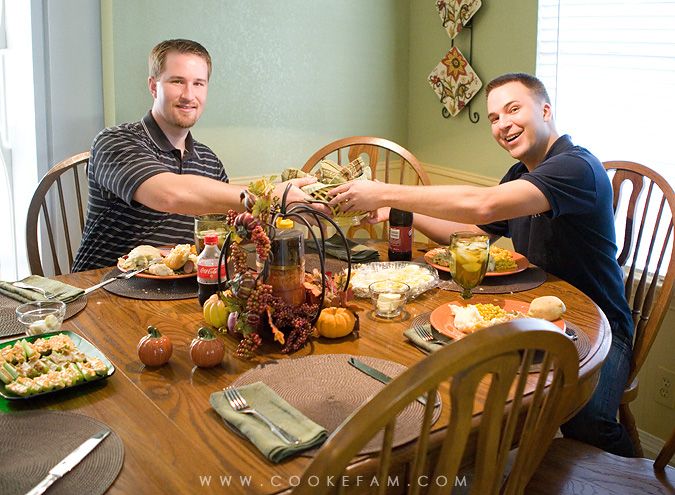 Speaking of bread...this slightly awkward photo is the only one of me from the entire day, so I'm including it. I'm holding one of two kinds of completely homemade bread that Donna (Casey's mom) made. I am not joking when I say this family takes bread seriously. I think the Cookes are just born with a bread-loving gene. I know my two little Cookes have it for sure. But even though it may not be in my blood, I completely devoured one of each kind of bread. I could hardly choose a favorite.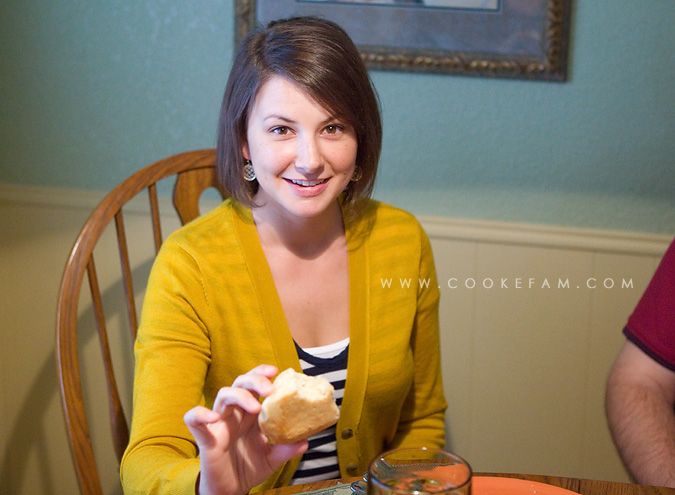 Having crackers at Thanksgiving...Logan carries on his trend.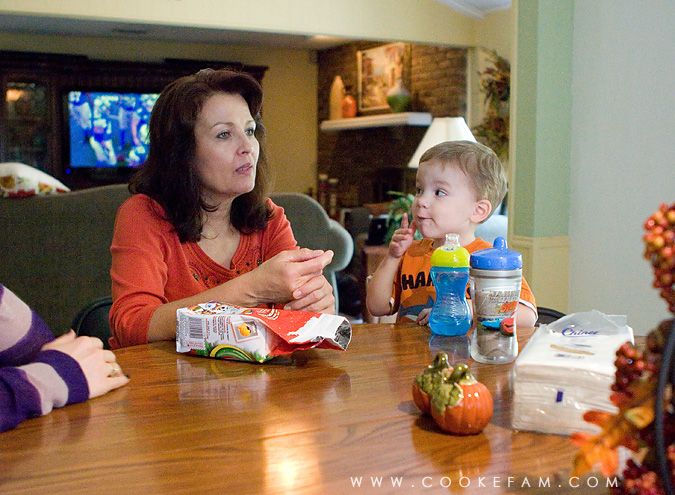 A friendly game of Uno during the football game. Although there are some serious Cowboy fans in the family (we're from Dallas, so the fan-dom runs deep), they do not enjoy watching them get beaten (again) so some kind of distraction was needed.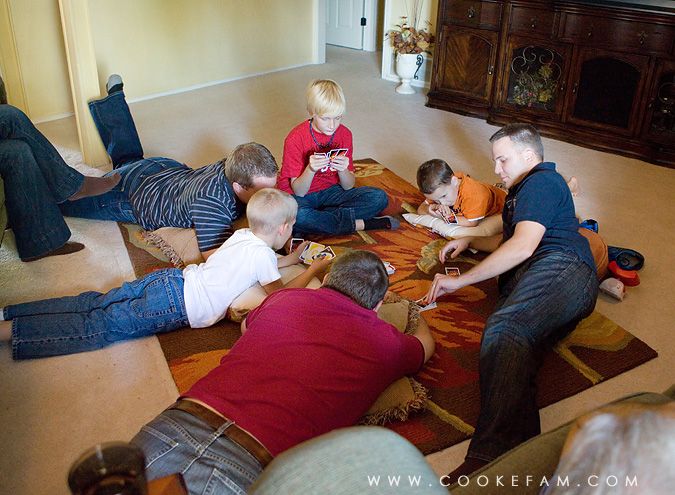 Grandaddy gets a taste of face time on the iPhone and loved it.
Being that it was a typical Texas Thanksgiving (meaning it was warm), the boys got to play outside for a while after lunch. Ethan poses here with his cousin Carter.
This just cracks me up. He is perfectly capable of getting on the trampoline without such antics, but that's sort of why it's funny.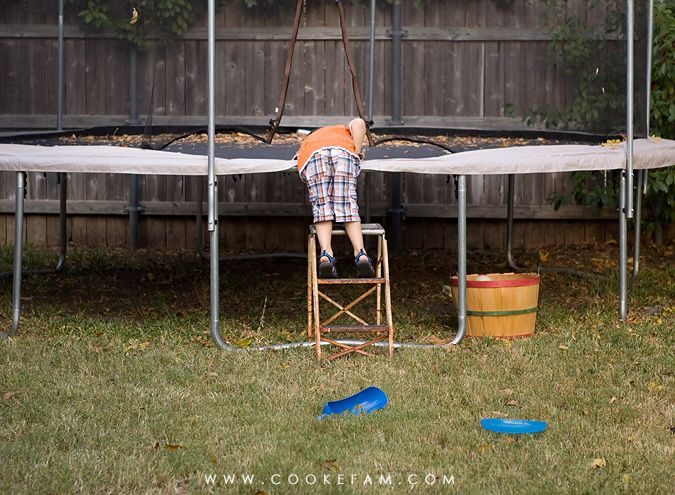 Carter was doing flips, so Ethan decided to do some of his own.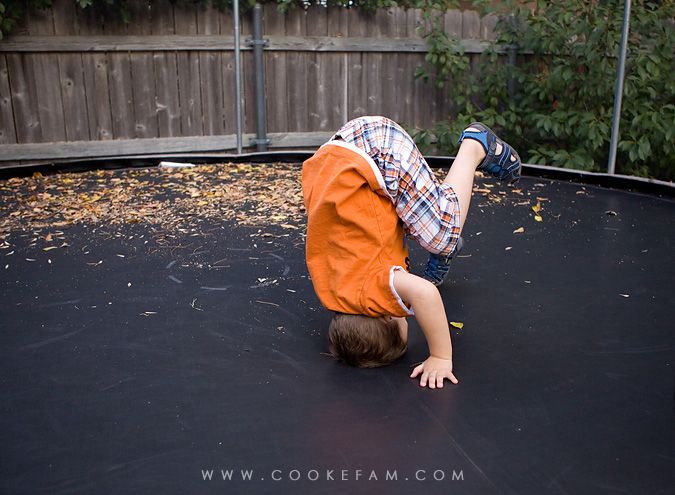 Ethan and Kyle played "baseball" with a paddle and football. Weird, but fun for them, apparently.
After dark, the boys moved to the garage.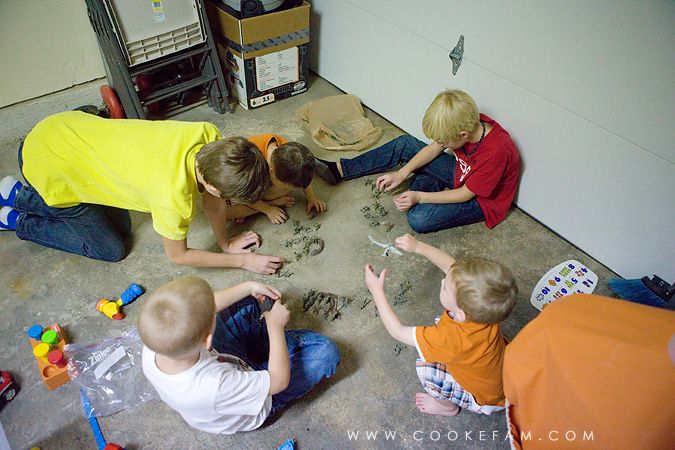 And when Logan starts doing this...we know it's time to head home. Tired boy.