Logan's room has been transformed over the past few months from
his nursery
to a big boy room. I can't believe we no longer have a crib in the house. I have been collecting things here and there for almost a year now. I didn't want a theme, but I knew I wanted some vintage or antique items in here like in
Ethan's room
. In fact, there will be a few things that look similar to big brother's room. Here's what Logan's room looks like from his door...
When I moved in the bedding and drapes, I kind of wanted to paint the walls. But, I thought since they were neutral that I'd leave them for now and just paint next time...when Logan has more opinions about his room.
The striped bedding and the bed itself are both from Pottery Barn Kids (Ethan's bedding is navy striped). The "Logan" pillow is from Ballard Designs (Ethan has one in red). Navy quilt and sheets from Target. The green drapes are black-out panels from Target that actually matched the green of the bedding perfectly, which was awesome since they were only $15 a piece. The navy shade is from Bed Bath and Beyond and came with black-out lining too. We are big fans of making our boys' bedrooms dark.

Ethan has a grouping of three photos over his bed too. The thing is...I like it so much and the way it looks over the bed, that nothing else fit the bill for Logan's room. So I just did the same thing. And those are three of my very favorite photos I took of Logan.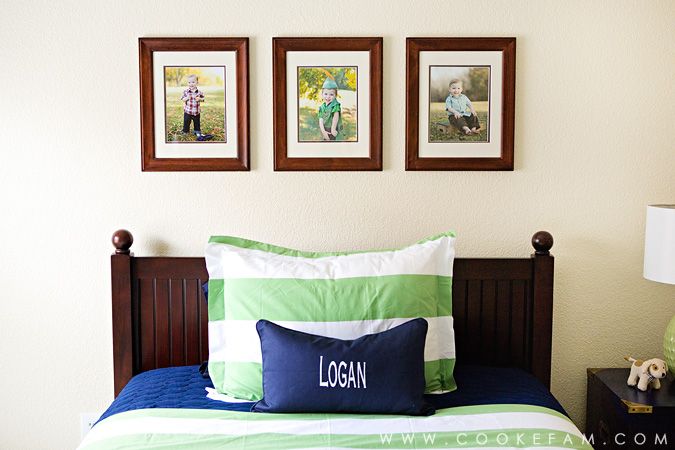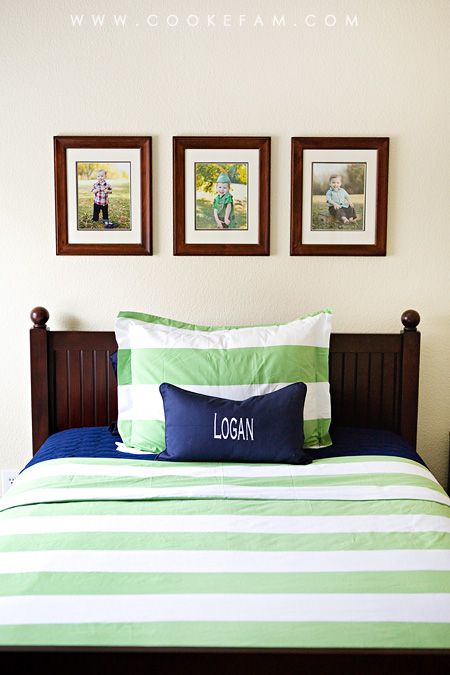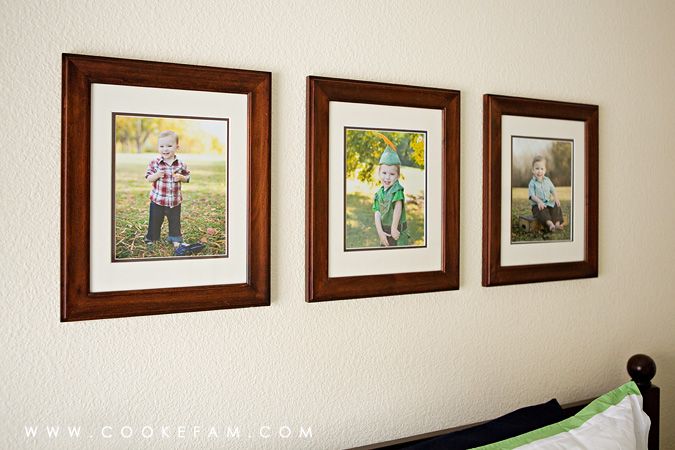 Logan's bedside table was a Craigslist find (a steal, actually) that I spray painted in glossy navy. I didn't do anything to the hardware because I loved it. The lamp is from Home Goods and the trusty sound machine finds it's home here too.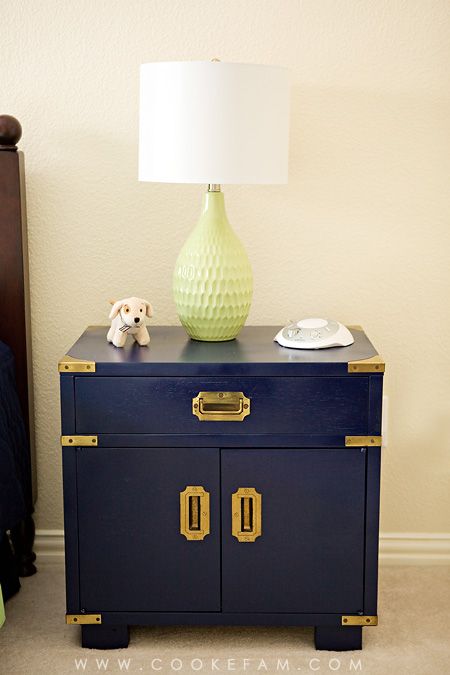 This little barking puppy was a gift long ago to Ethan from Nonnie. So, it was in his nursery, then I used it in Logan's nursery (on a shelf), and now it's in his big boy room. I just think it is so cute.
To the right of the bed is a hanging rack that was in Logan's nursery (I had three sweet baby outfits hanging from it). I decided to just leave it and find some fun things to hang from it.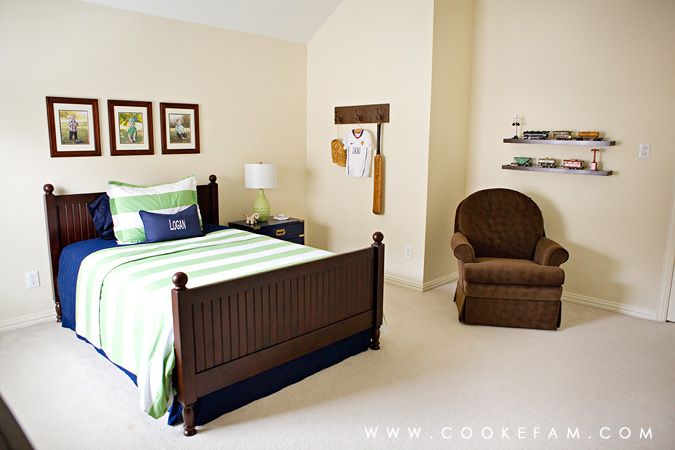 The first thing I found was the vintage Cricket bat. My mom and I ran across it while browsing antiques in downtown McKinney. I wasn't looking for it, but when I saw it, I knew I wanted it in Logan's room. It speaks to the British influences in my dad's family. Then, I hung a soccer (or football) jersey on the middle hook...that my dad and my brother brought back from London.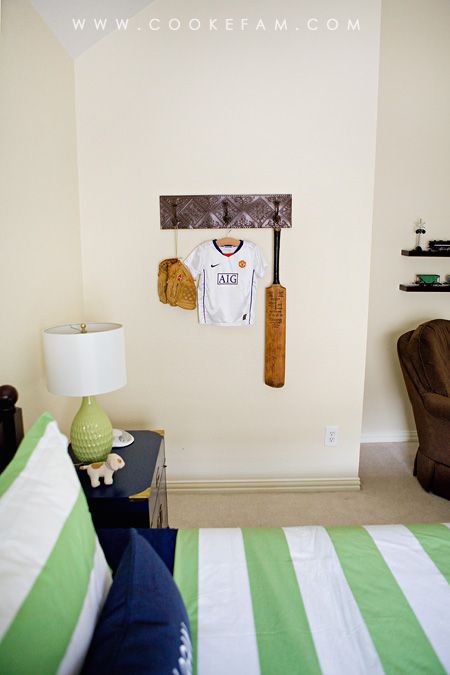 And rounding out the hanging trio is one of Casey's old baseball gloves.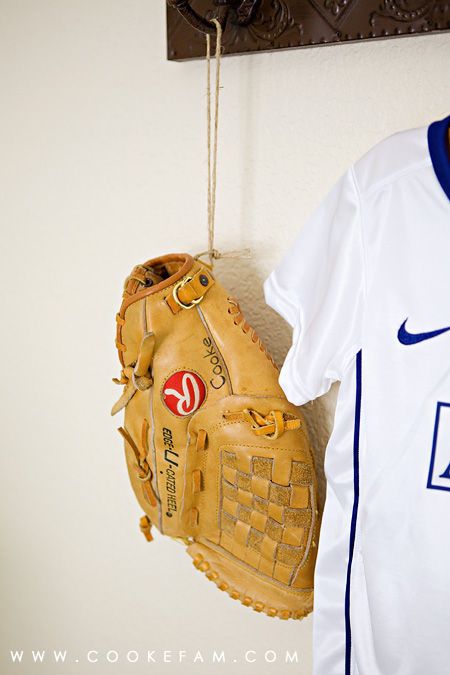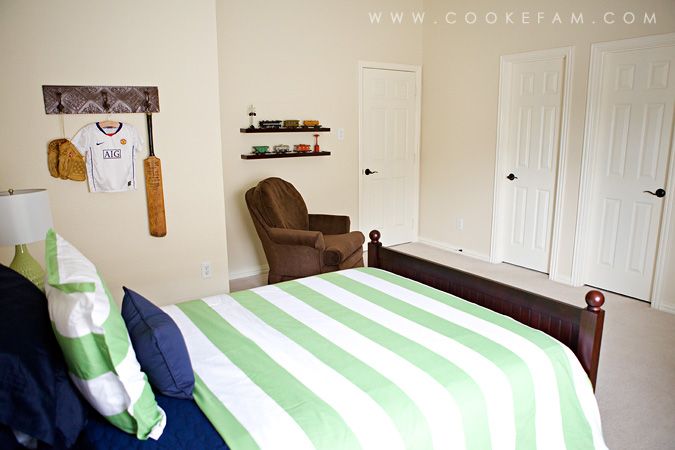 I had originally thought that I'd sell the rocker with the crib and changing table, but Logan had other plans. He still likes to be rocked before nap time and bed time. It's a tough job cuddling with your son , but dutiful parents that we are...we do it. And we will savor every moment that he wants to be rocked until he decides he doesn't want that any more. At which point I will cry when we get rid of the rocker because I rocked both of my babies in that chair. That, and it may be the most comfortable chair we own (seriously, it's SO comfy).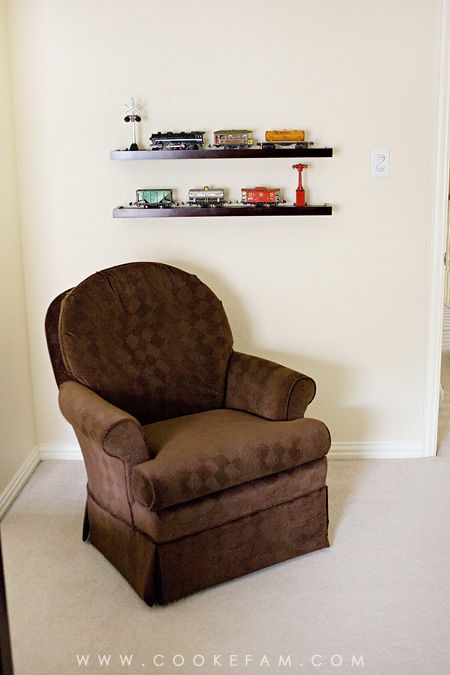 My mom and I picked up these antique metal train cars in
Asheville
when we were antiquing. It sounds like we go antiquing all the time, but we really don't! We've just gotten pretty lucky the few times we've gone. We got these train cars for an absolute steal and I knew I wanted to use them in Logan's room because he
loves
choo choos. But I didn't know how I'd use them. Somehow, I came up with the idea to make them a wall display with shelves (from Home Decorator's Collection). I think it shows them off perfectly. Logan is thrilled about these in his room.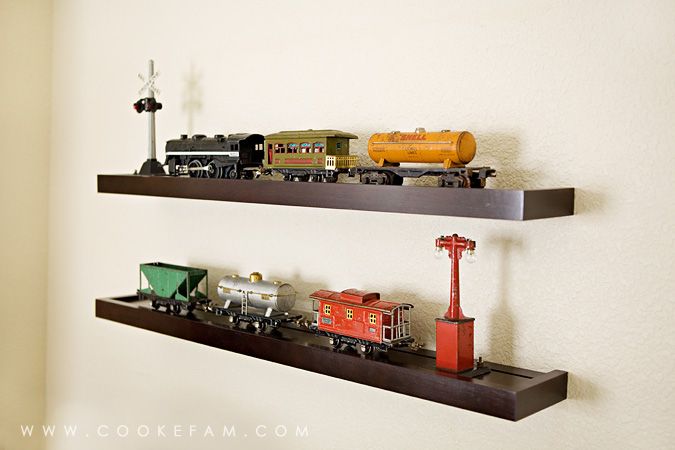 On the other side of the room is a book shelf (from Pottery Barn Kids) and a wall gallery.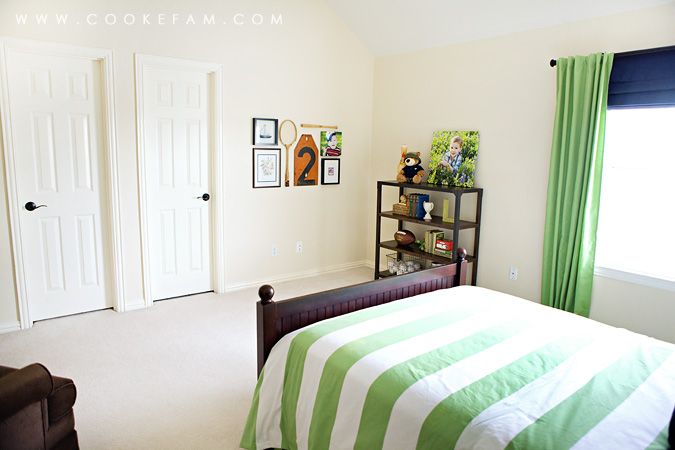 I almost didn't fill up his shelves yet because I was afraid that he would play with all of the stuff instead of sleeping. There's nothing on that shelf that is precious or breakable, but I didn't want them to be distractions. But Logan really pretty much stays in bed when he's in his room at nap time or bed time. It helps that we don't store his regular toys in his room.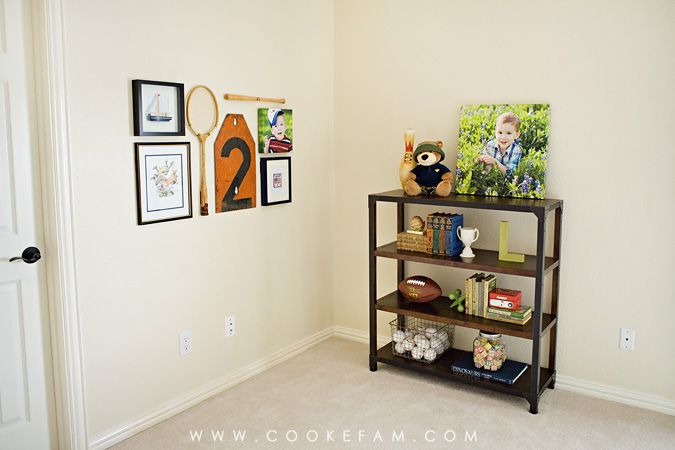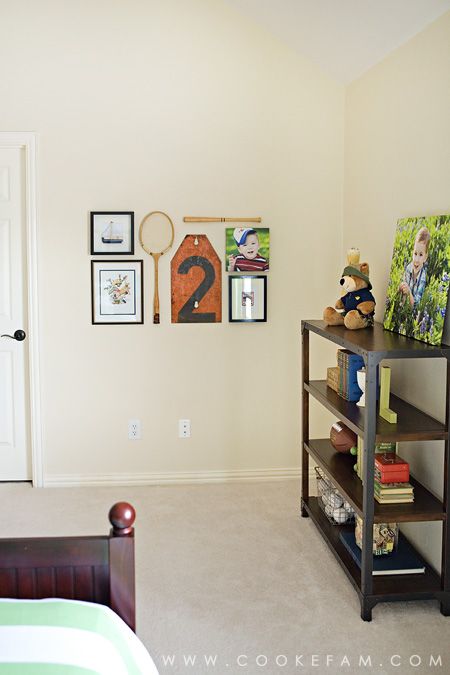 The wall gallery evolved over several months. I purchased the racket and the Norman Rockwell framed football print (bottom left) at the same time as the cricket bat in downtown McKinney. The number 2 was a find at an antique store in Frisco when I was browsing for photography props. The small bat is Casey's. Not sure where he got it, but he's had it for as long as I can remember. The other two frames are from Ikea.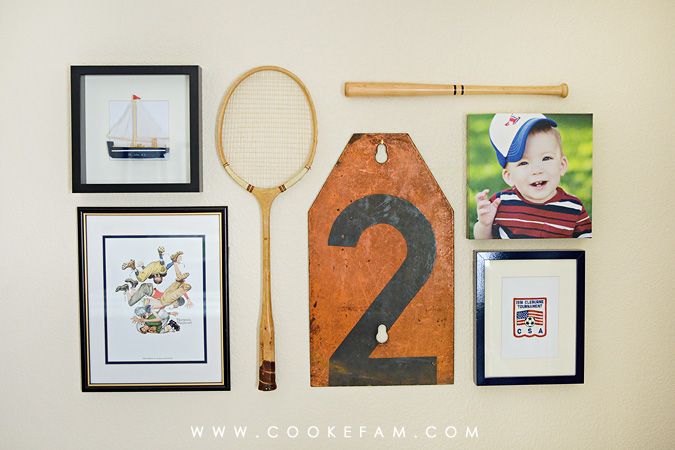 One of the frames is a shadow box and it holds the little sail boat my parents bought for Logan in St. Thomas. He has played with it and broken it already (it was rather fragile), but Casey glued it back together and I decided to put it in the frame to keep it in his room but also keep it from getting broken again. Logan thinks it is so cool that there's a boat behind the glass.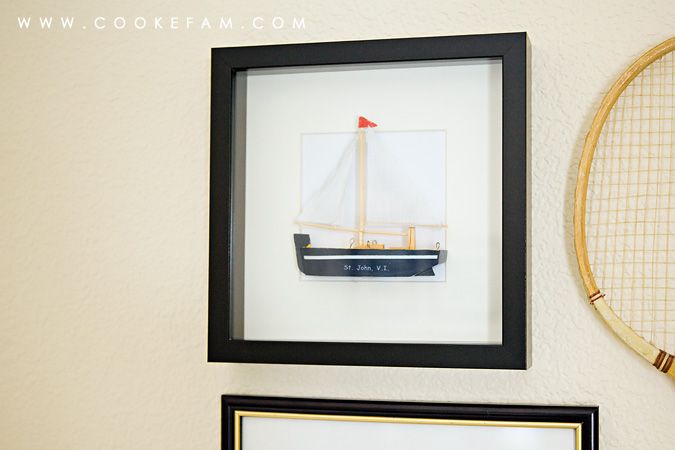 And I searched through Casey's truck of stuff from his childhood and found this soccer patch from 1991. I didn't know if I would use it or not, but it worked perfectly in the Ikea frame I spray painted navy (same color as the bedside table).
The book shelf items were collected over several months also. I found the vintage books at Half Price Books and also on Etsy. The white trophy and green jack were both Target clearance items that I found at separate times. The "L" is from Hobby Lobby and I spray painted it green (like the "R" in
my office
...same color). The football and baseballs are new...from Target. As is the glass jar. I stole the blocks from the playroom. Logan has a red coin box just like Ethan does on his shelf. They are from my parents. The vintage locker basket was an antique store find.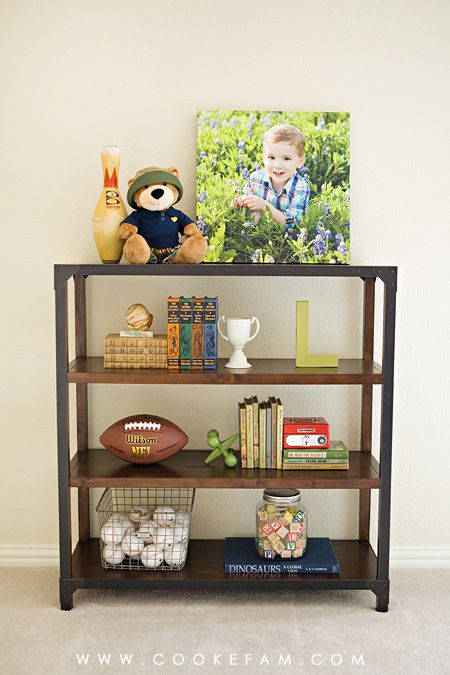 And the little baseball was Casey's from one of his years in Little League. It is signed by his whole team. I love it! And it sits in one of his old baseball trophies.
My mom bought me the bowling pin because she thought it would be cool in here...and I love it. The teddy bear was a gift from her before Logan was born. She and Ethan made it for baby Logan at Build a Bear. I love that it is still part of his room.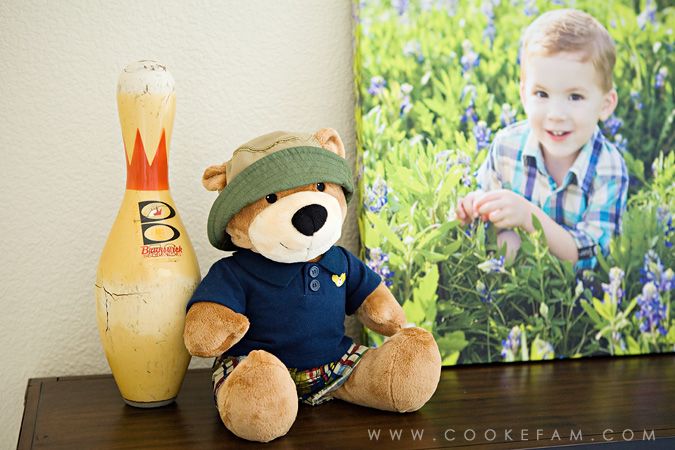 And that's it...a big boy room for a big(er) boy. I had a lot of fun collecting things for this room. And even more fun is seeing how excited and proud Logan is of it all.