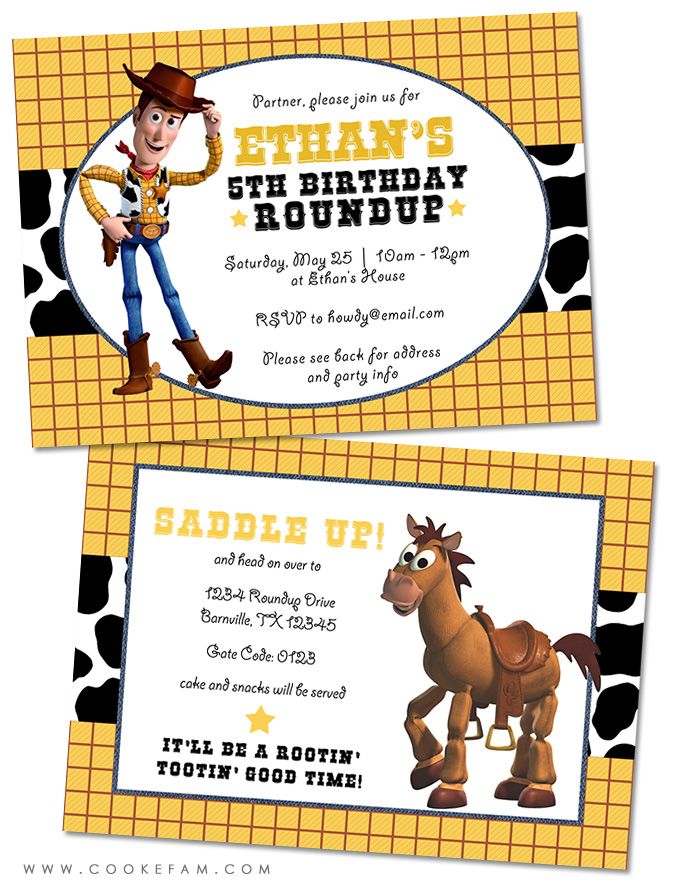 About a month ago, Ethan turned 5, and we had his party on his actual birthday this year (since it was a Saturday). It was also Memorial Day weekend just like it was the year he was born. We had the best time celebrating our big five year old boy.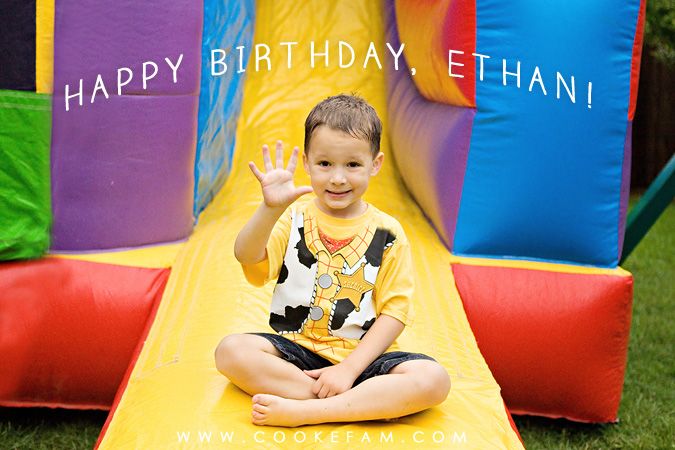 First of all...Ethan requested a Woody/Cowboy party this year. His only two real requests were 1) a bounce house and 2) donut (or doughnut, if you prefer) holes (which we will get to later). So, early Saturday morning (like at 7am), the delivery truck rolled into our driveway to drop off the bounce house.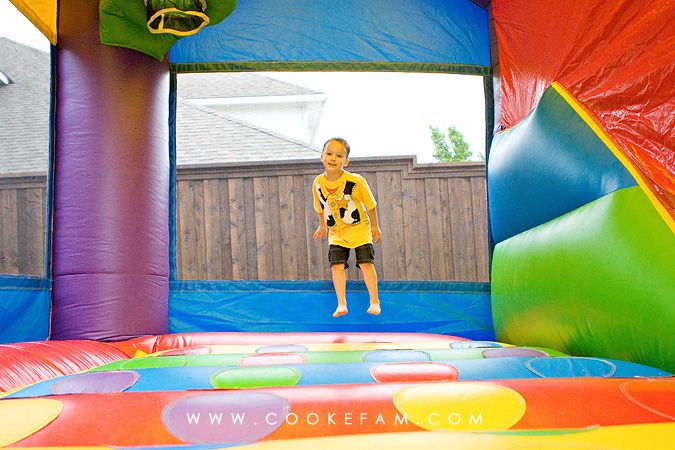 Ethan waited maybe .2 seconds after the guys were done setting up to get in there and bounce around....and slide down the big slide. He really wanted a slide with his bounce house and so that's what we got.
So, for 2.5 hours before his party even began, Ethan (and sometimes Logan) played in the bounce house and on the slide.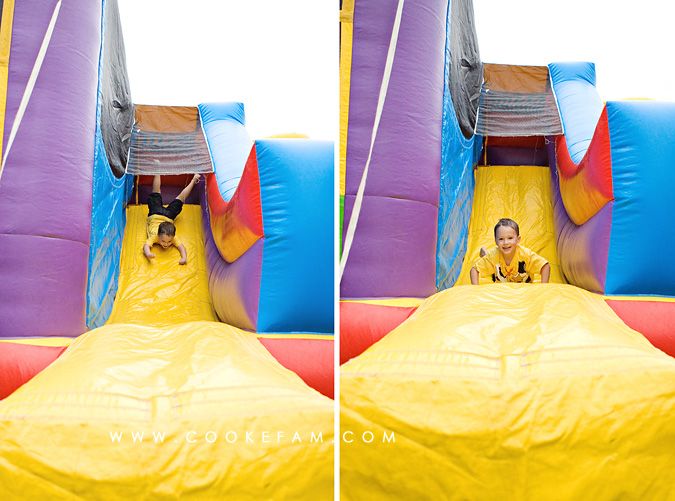 Logan had to warm up to it, but then he was game.
Daddy got in on the action too. When he first saw the bounce house he told Ethan he'd done a great job picking it out.
Being bounced by daddy...
My mom showed up early with balloons for the party so she was able to snap a quick family photo before the festivities began. Notice how Ethan's head is already drenched in sweat? Lovely. It wasn't too hot that day, but the night before we'd had a big rain storm and it was really humid.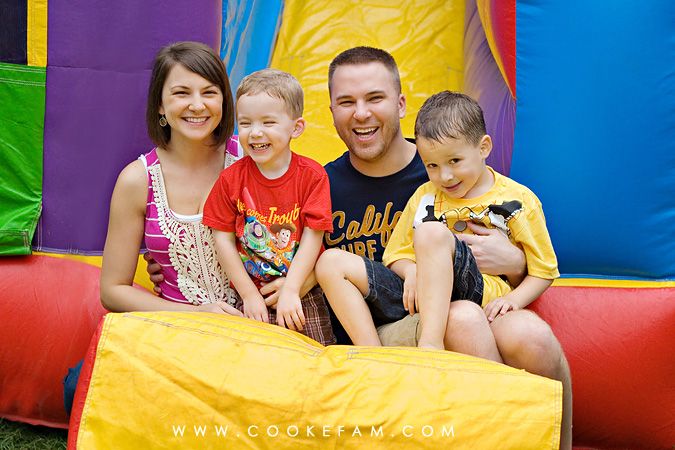 Inside, we had our cowboy theme all over the kitchen and tables.
Our Toy Story toys came in handy for decorating as well as our cowboy dress up accessories.
Ethan requested chocolate cupcakes, but I went ahead and made vanilla too, just in case. Both had vanilla buttercream frosting.
And of course, we had the requested donut holes, which were pretty popular as it turned out. I dare you to just eat one when there's a plate like this in front of you.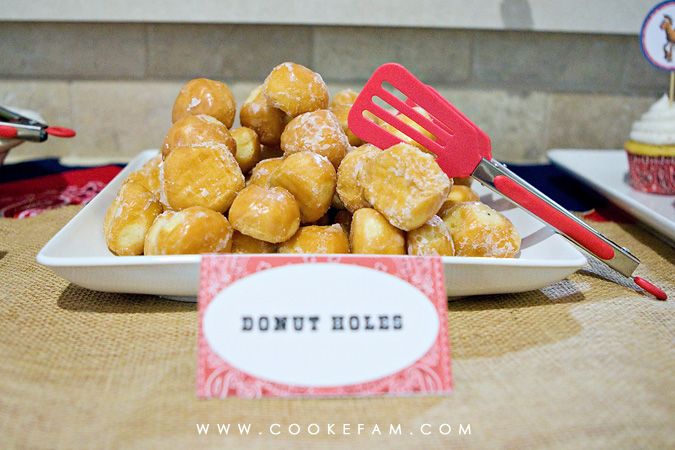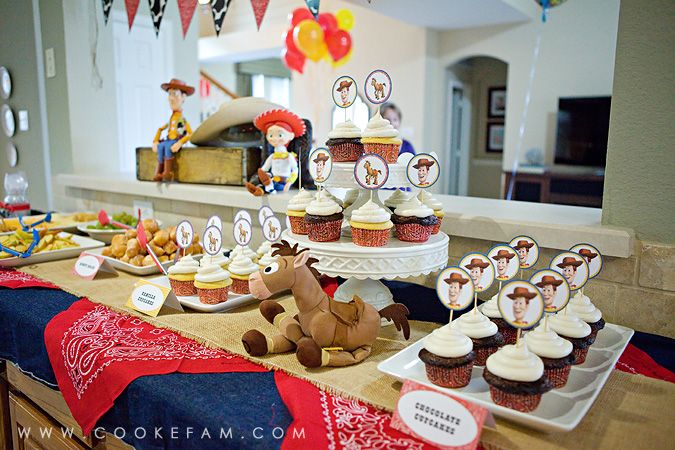 I found that mason jar drink dispenser at Garden Ridge the day before the party and I love it.
The table decorations were really simple and basically just paper. I printed off some of the things that Woody says when you pull his string to put in each metal bucket, which I found at Hobby Lobby (at 50% off, of course).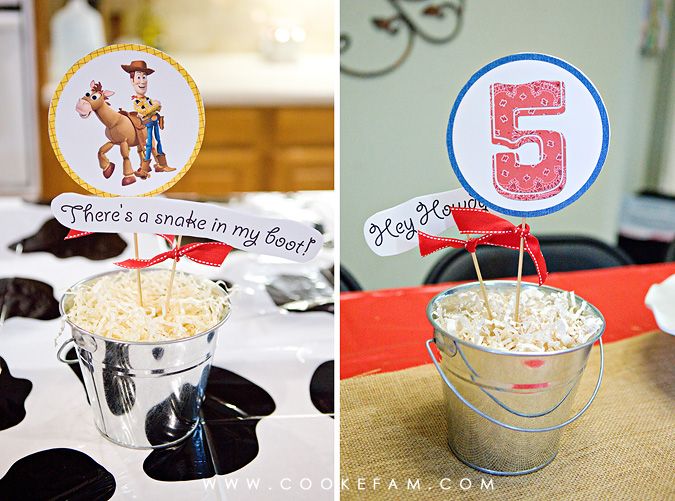 More of our Toy Story toys on the kids' table.
I found these Toy Story water bottles at the Disney Store on clearance and snatched up plenty for party favors. They're filled with Toy Story gummy snacks.
Finally, the time for the party to begin arrived and so did our friends! Just like Ethan, it took mere seconds for them to get out back and into the bounce house.
I didn't have any other activities planned because just letting them play was so much fun for them. And they did it non-stop for the first half of the party. I added some beach balls to the mix just for fun.
Sharing your birthday party with your two best friends is the greatest present ever.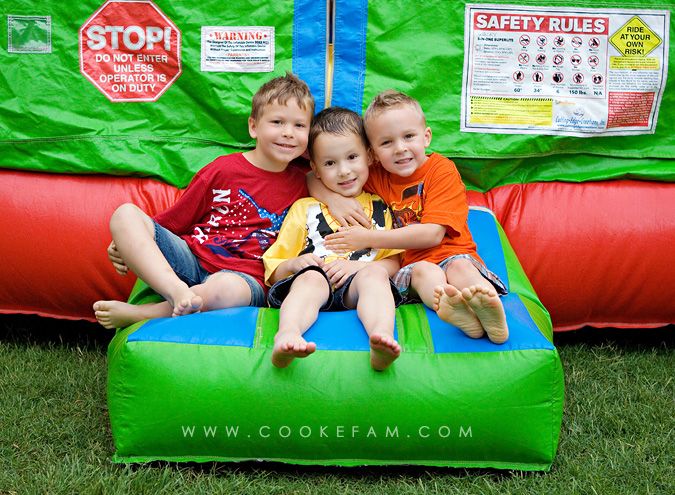 When they started asking for snacks, we brought everyone inside and ate some food...cheese and crackers, grapes, apple slices, and donut holes.
After snacks, it was time for birthday cake! Or cupcakes, in this case. Ethan chose a chocolate cupcake but then didn't eat it at all! I am not sure why...this is very unusual for him. Either he was full of his snacks or he just wanted to go open his presents!
Logan, on the other hand, was delighted to have a cupcake! He was putting his finger in the icing and licking it off.
Next up was opening presents. Ethan got some great ones again this year. Everyone was so thoughtful and picked out the perfect things for him. Some of his friends even made cards for him, which he insisted on keeping.
He also got a new big-boy bike from Mimi and Pop. It's got a horn on it (which he is squeezing in the photo) that makes the most annoying honking sound ever.
After the presents were opened and inspected, the boys went back outside to enjoy some more time on the fort and bounce house/slide. Here they all are in our swing set fort (Brennan is actually back there behind Blake).
This party was so much fun for our birthday boy...he loved it. And that's the measure of success in my book. The bounce house stuck around until 7pm that night so even after our friends had to leave Ethan and Logan had a grand time jumping and playing as much as they could. A great day, for sure.