The Friday before Easter (Good Friday) we had a brunch and egg hunt at our new house with Mimi and Pop. They were going to be out at their lake house over the weekend and we were planning on spending Easter with Casey's family. Ethan did not have school that day and Casey just went in a little later than usual.
Mimi had made some adorable bunny pancakes with bananas, chocolate chips, and whipped cream. Yummy and cute!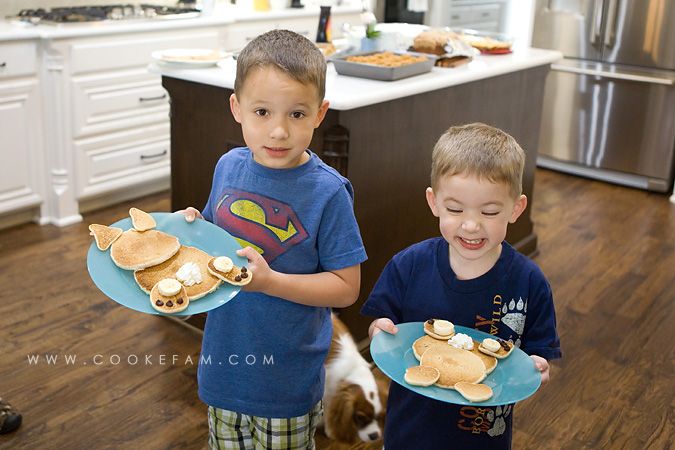 The rest of the brunch featured pumpkin spice muffins, cinnamon crumb banana bread, fresh fruit, sausage balls, and a hash brown egg bake. It was way more food than we needed, but it was good!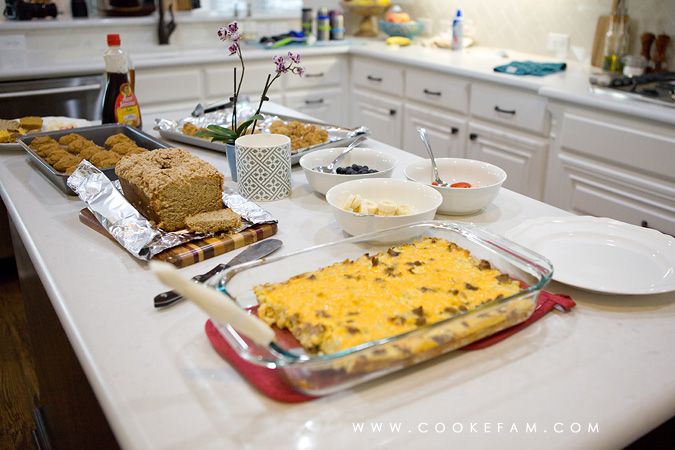 We sat in our new dining room for the first time. I always cover the white chairs with beach towels when the boys sit in them. I figure that there's no reason not to use the dining room just because we have white chairs, but I'm also not going to invite the boys to make their mark either.
Ethan looks less than amused in this photo, but Duke is eying my plate, I think!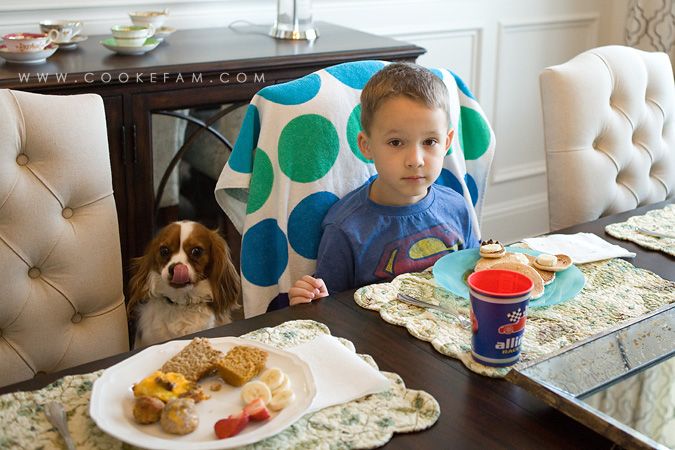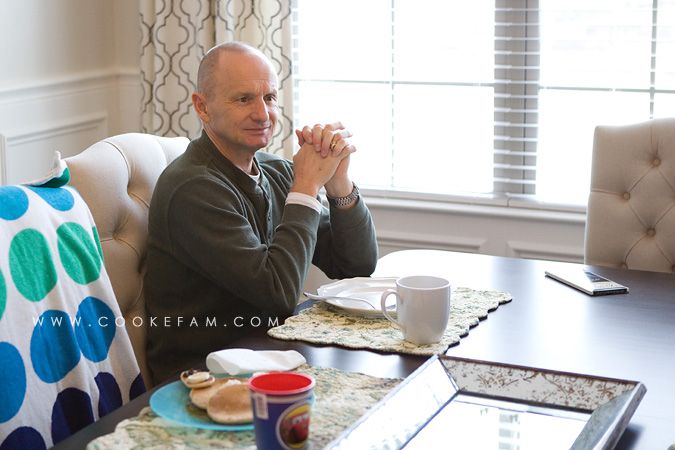 After brunch Pop and daddy hid all the eggs outside in our back yard. Duke apparently felt like he was missing out on the action, but we kept him inside so he didn't start playing with all the eggs on the ground.
Here are the boys at the door...ready to start the hunt. This hunt was obviously not about getting photos of them in their cute Easter outfits. It was just a Friday morning and we were just hunting some eggs. Ethan dressed himself, which is why he doesn't entirely match. But they each picked out their new crocs at the outlet a few weeks ago...blue for Ethan (his favorite color), and green for Logan (his favorite color).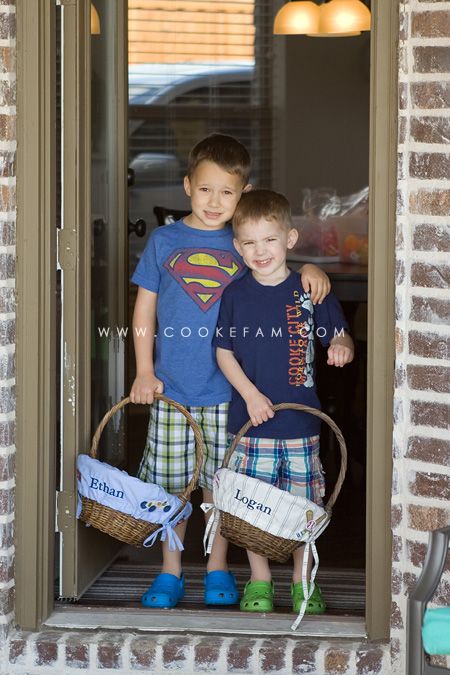 And they're off...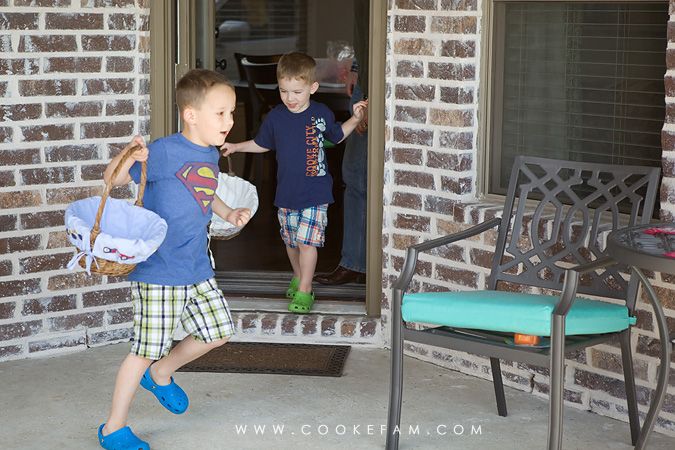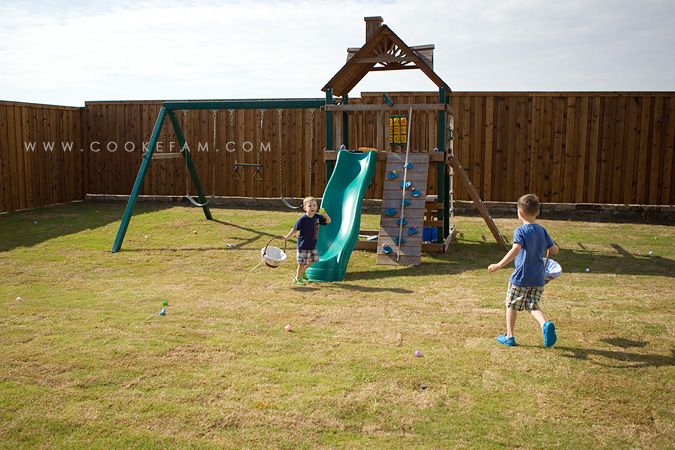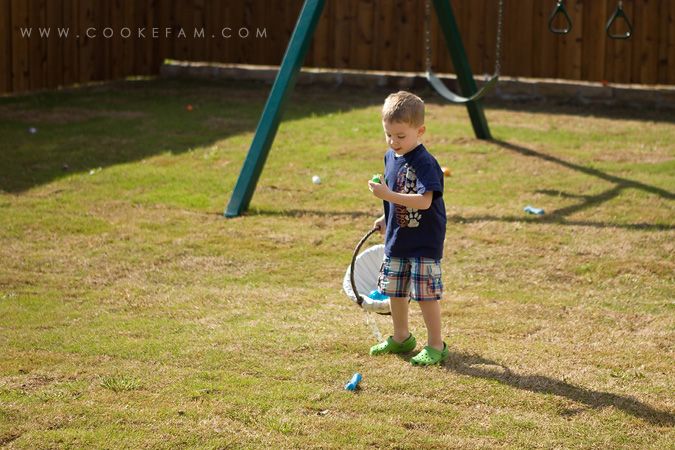 A Darth Vader "egg." This is one we've brought home from preschool. Logan has no idea who that is, but he thought it was cool anyway!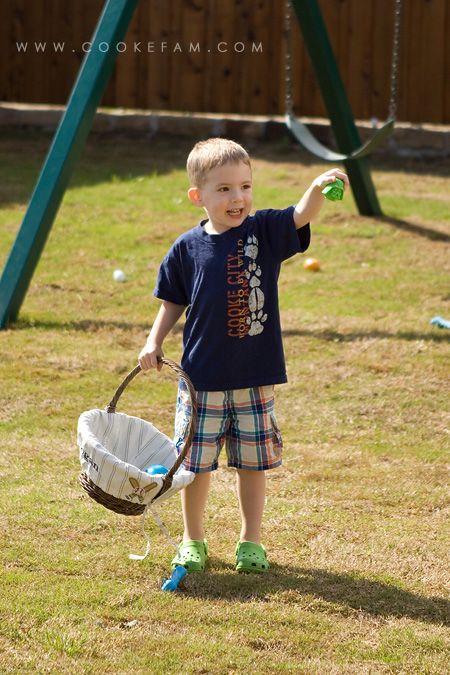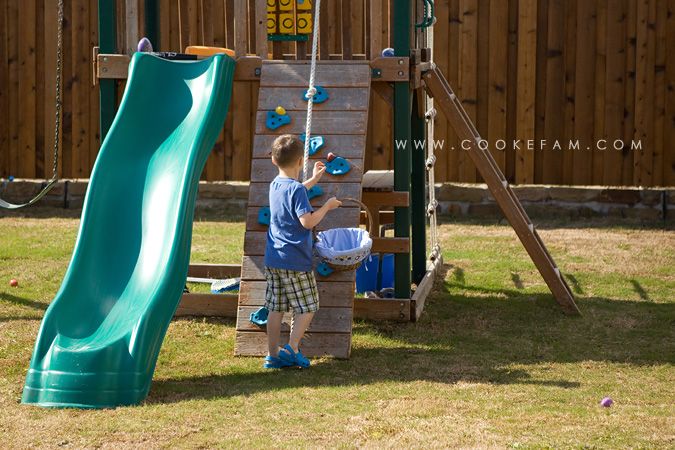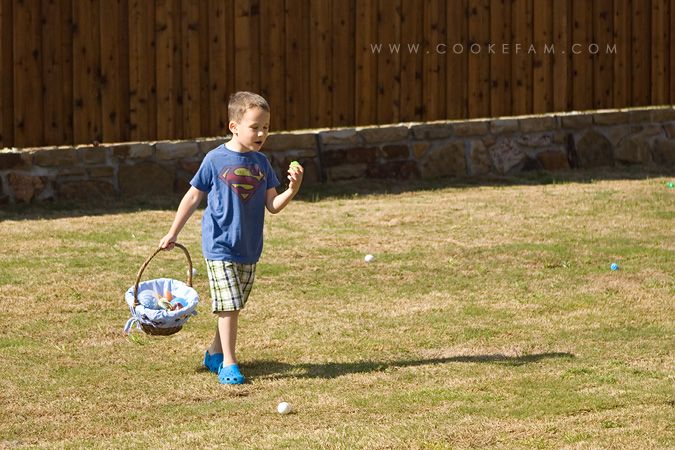 Ethan found a race car egg. I need to make a mental note that they really appreciate the non-conventional shaped eggs.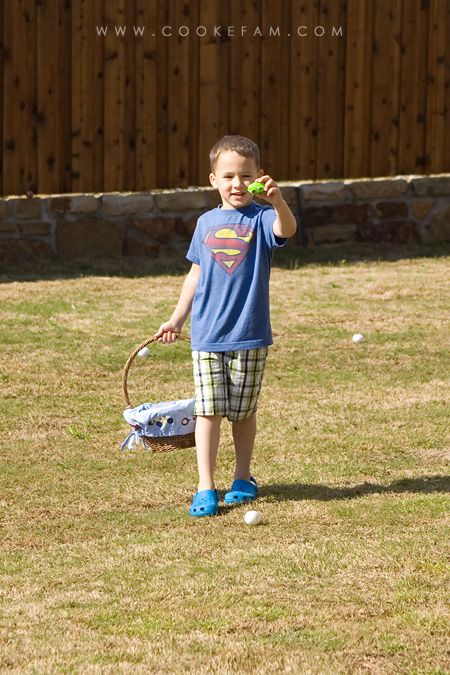 Besides myself, Pop was snapping photos.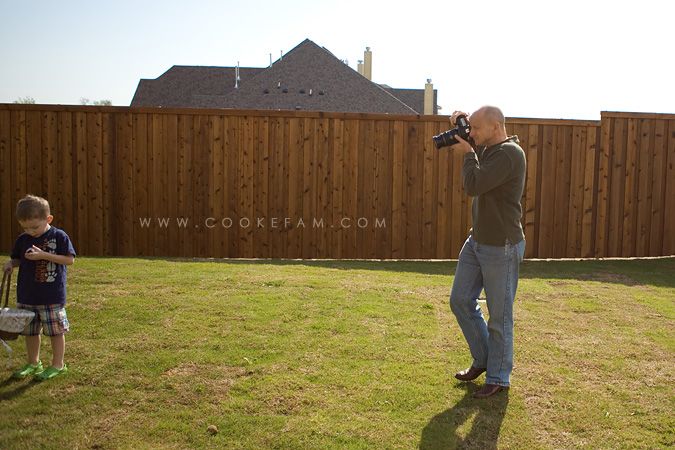 And Mimi too. The boys are totally used to this by now.
After finding all the eggs, we went inside to open them. As you can see, there were a couple of stuffed dinosaurs hidden along with the eggs. And some money that Mimi and Pop stuffed into their eggs.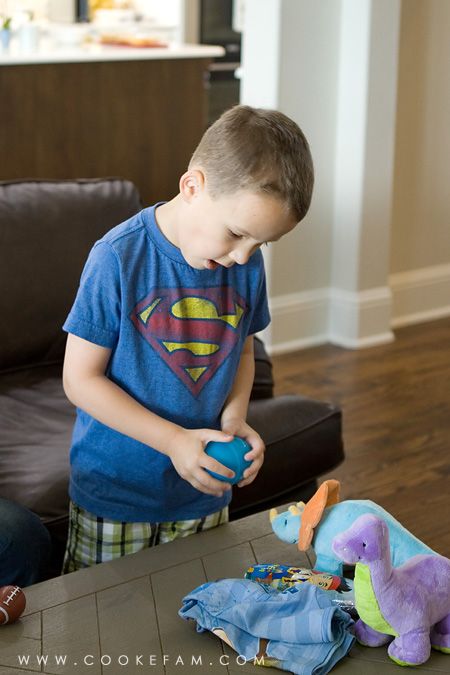 In our two extra-large special eggs, I put some Jake and the Neverland Pirates shirts. They'll wear them to Disneyland in a couple of weeks. We don't do Easter baskets, but we do hide a couple of special items along with the eggs.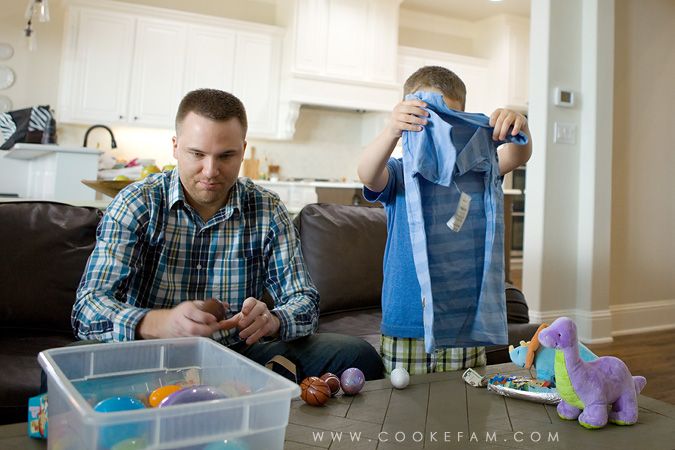 Ethan has completely mastered the fastest technique to opening eggs...gently pushing at the seams until they pop open. He was a machine opening his eggs.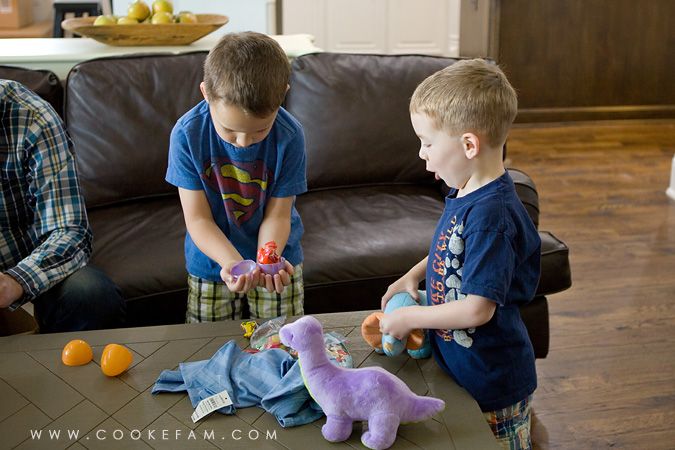 Mimi and Pop got the boys little Monsters University "cameras" that show scenes when you hit the shutter button.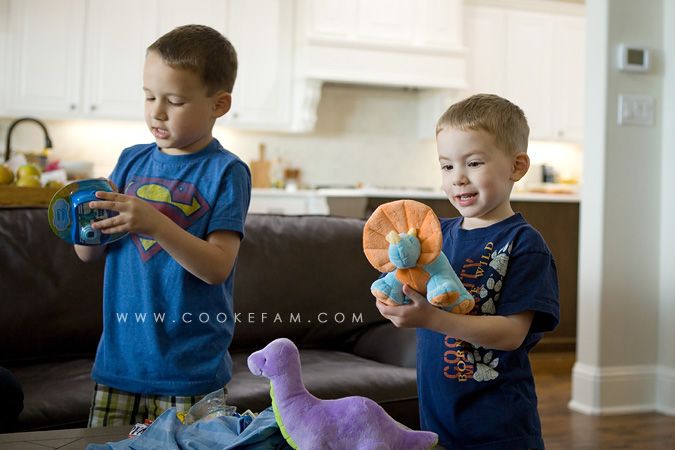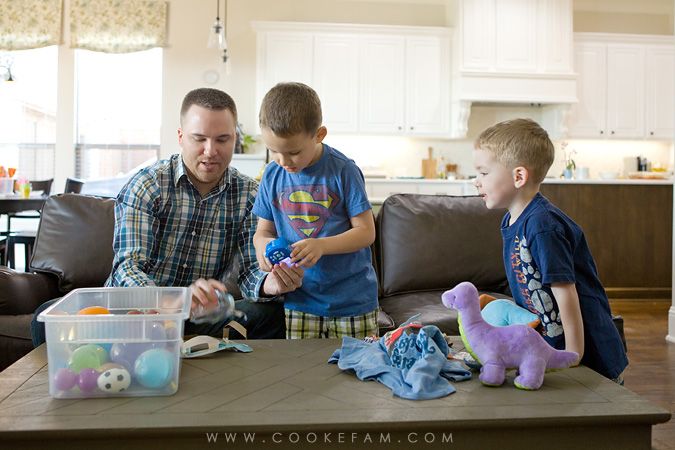 Logan was still having a bit of trouble with his eggs, but it didn't phase him. He was determined!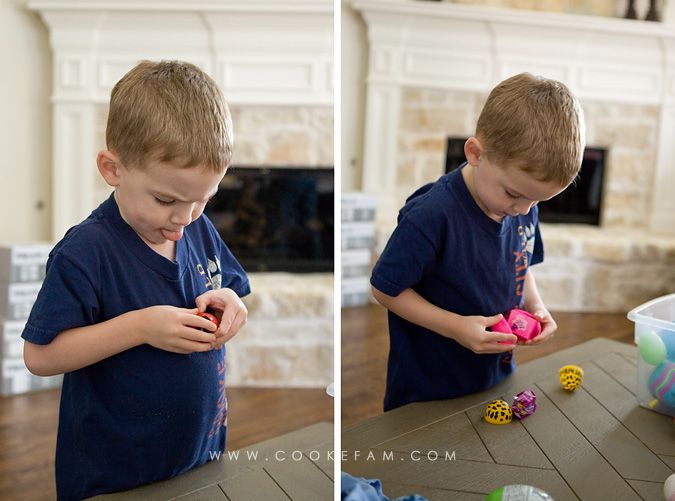 We had such a fun morning and it was perfect to separate our brunch and hunt from Easter day a little bit. I even reused the candy from these eggs for our other family hunt on Sunday!