The next day we went out about mid-morning to Mountain Top on the other side of Magen's Bay. It's way up high and offers a great view of the bay and island.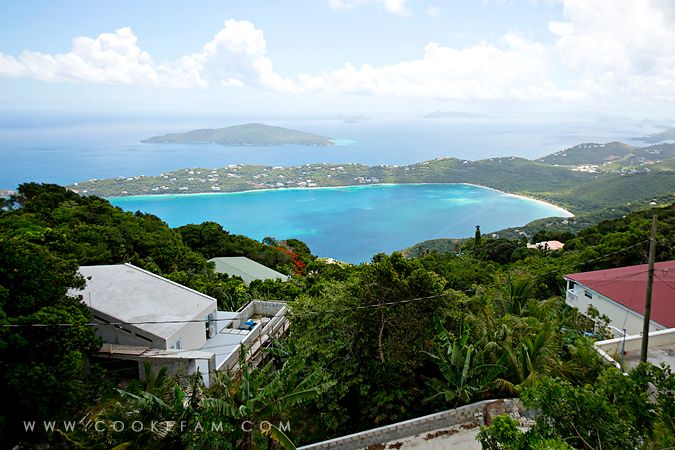 There's also tons of shopping in their building up there.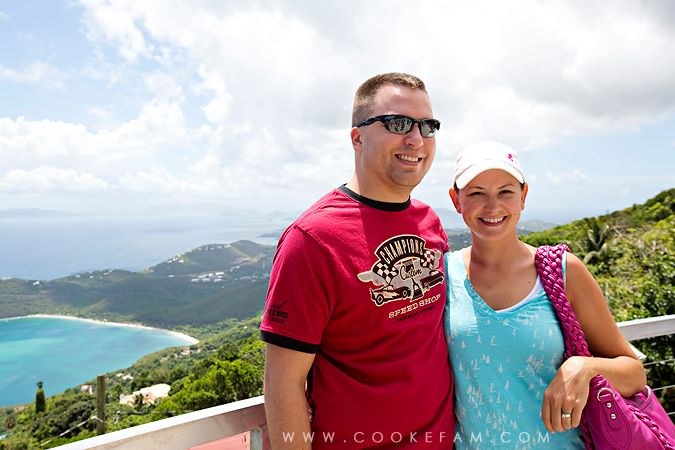 For lunch we went over to one of our St. Thomas staples...Molly Malone's. We have been going here for years.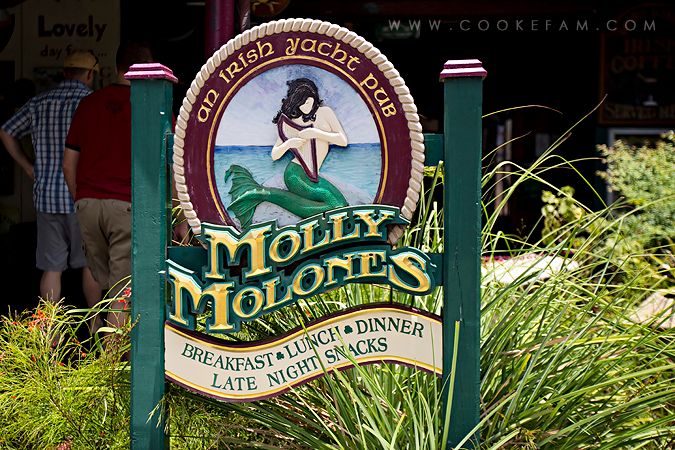 Some of the unforgettable things about Molly Malone's are the iguanas. They wander in and around the tables. You have to be careful...they like food and are pretty bold. This one was just stubborn...I wanted it to move completely out of the bright light for my photo, but it wasn't cooperative at all.
Molly Malone's is an Irish Pub...so naturally I ordered the fish and chips. It was really, really good...fresh Caribbean fish, of course. And some vinegar on top.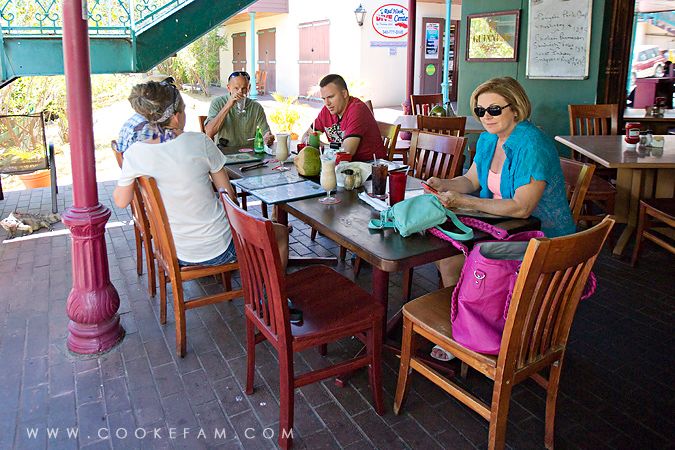 Right around the corner from Molly Malone's is the Fish Spa. My mom talked me into doing it for 15 minutes. She and Jill had done it a few days before when Casey and I were on our way to St. Thomas. I'm glad I tried it. It was such a weird feeling...all those tiny fish eating your dead skin. Sounds gross, but all it felt like was a little tickly and like something was mildly vibrating my feet. And afterwards, my feet were so soft!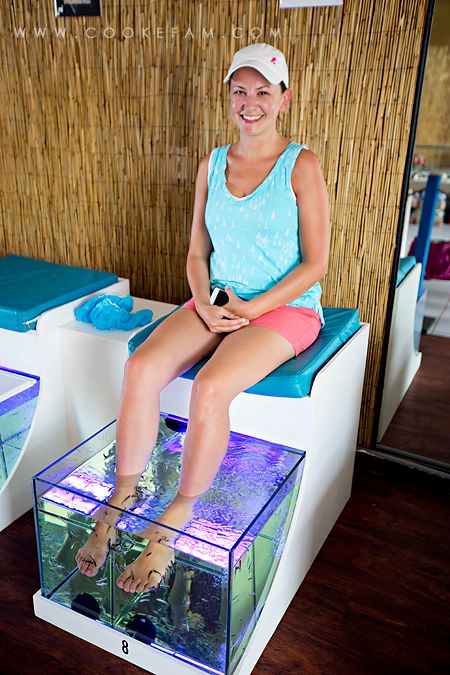 When we got back to the house that afternoon, I'm pretty sure we swam and hung out some more, although I don't have the photographic evidence of that. Toward evening time, the sky and islands starting looking like this... (which is facing east).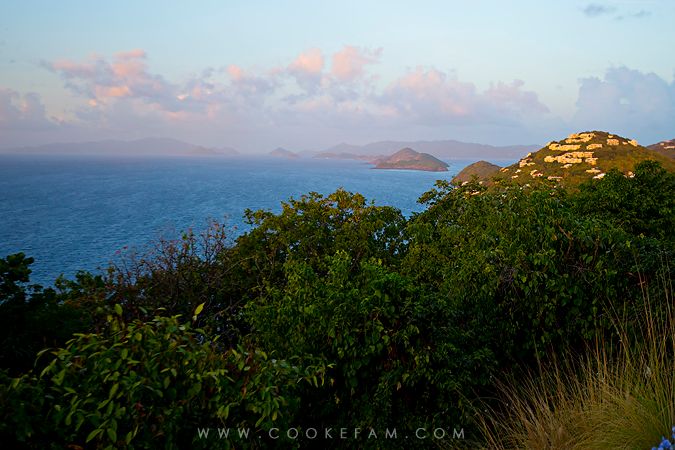 I started to get a feeling that all those fluffy clouds might make for a pretty cool sunset so I had my camera ready.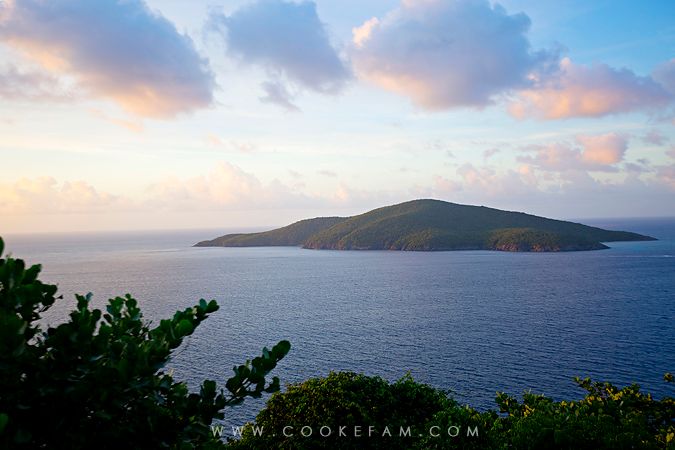 We were not disappointed. Here it is as it was setting but still just above the horizon.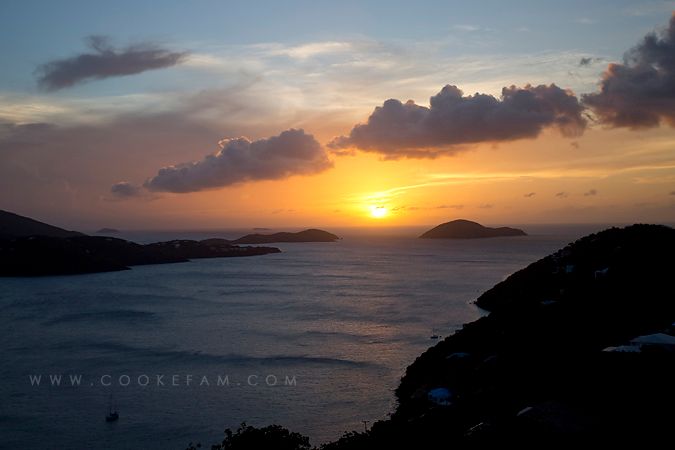 My dad looks like he's either standing on air or in the pool...neither of which is true. He's in the trough that catches the infinity edge's overflow.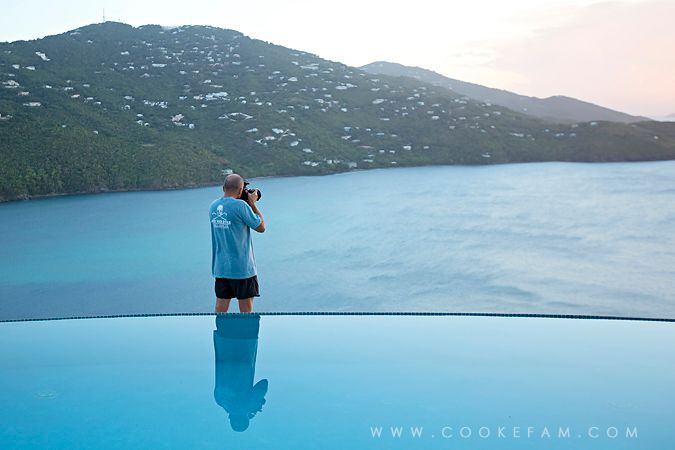 That night may have been one of my favorite simple meals we had, although I liked everything we made/ate. We just had fruit, crackers, summer sausages, cheese, nuts, and a really, really good wine. Perfect after having a heavy lunch at Molly Malone's. And perfect for eating al fresco on the front porch as we waited for the full sunset.
The front of the house faces east, so when we started seeing these clouds and colors around the side of the house, we knew the real show was about to start.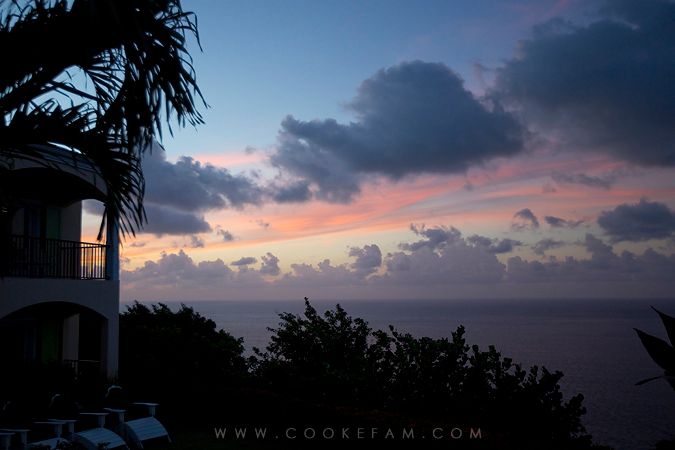 And sure enough, around the back of the house (facing west), this was happening...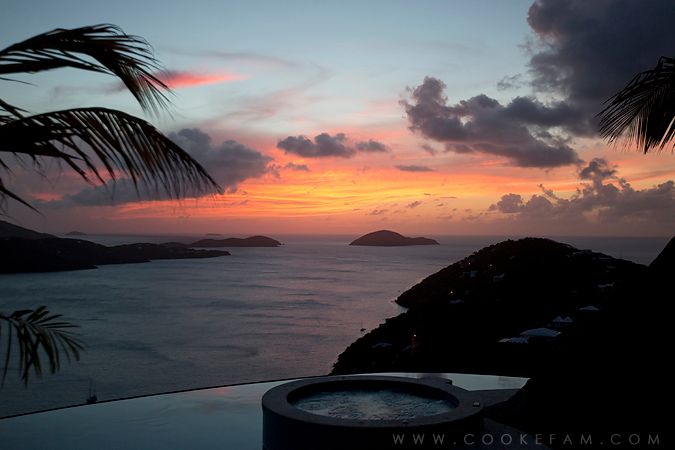 It was so much more spectacular than it looks here. It was by far the most beautiful of all the sunsets we watched that week. We all stood around the pool area until well after it was dark because the colors just kept going.