This year I was actually anticipating dragging all of the Christmas boxes from the attic. It's been two years since I've seen any of my decorations since we were moving and living with my parents at Christmas time last year. And it was kind of like opening presents again. In more ways than one...I also had to decide where everything would go in our new house. Practically nothing is the same as it was in our old house, including furniture. But it was a fun kind of puzzle.
I like to decorate for Christmas, and obviously, the boys love it. But I like to keep things pretty simple too. This year, I snapped a few photos of how I used our decorations...this is by no means everything. Just a glimpse.
First...the tree. I had thought I'd want to put it by the stairs again like I did in our old house. But I wasn't sure if it would fit in this space. As you can see, it did. Perfectly.
We have our little elf friend sitting on the stair banister keeping an eye on things. The boys helped me hang the "special" ornaments this year. I put the generic ones on first and then we all add the meaningful ornaments. I love looking at our ornaments as we put them on the tree.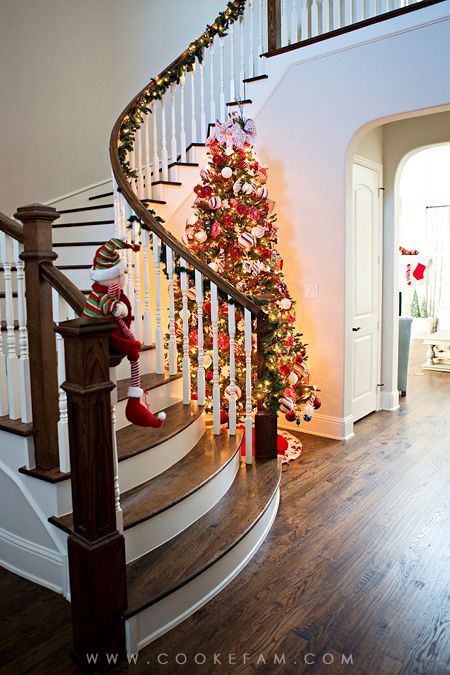 If you know me well, you know that I don't put things on my fridge...except during the holidays. I love to display the boys' works of art from years past and this year too. This is something my mom always did (and still does) so I guess it made an impression on me.
I did something new this year and added a ribbon to the door of my pantry. I used some tiny sparkly clothespins that I got at Hobby Lobby to attach photos of the boys that I've taken of them at Christmas in years past...this year is up there too. I LOVE this and I know I'll continue to do it. I love to see those photos and their cute little faces through the years.
Every year we decorate gingerbread houses. And one of the reasons I love to do that is because I love using it for our decor. We do it every year because it's a fun activity instead of keeping the houses from year to year. This year I made one myself too, and I plan to keep it. I love our little row of houses right in front of my sink where I seem to spend a lot of time. Right next to our gingerbread-decorating Santa.
In our old house I used to have a metal wall hanging that I would use to hold Christmas cards during the holidays. Since I no longer have that art, I was looking around for an alternative, which I did not find. But, I did find an idea and made it my own. I took chip board letters, covered them in different Christmas scrapbook papers and then glued them to a square dowel rod. I added the ribbon and got little clothespins to attach the cards. I love the result. I hung it using a command strip, and it's right next to our TV in the living room...very visible from the main part of our house because I love looking at the cards.
And lastly, the fireplace. I think the fireplace is my second favorite Christmas decor spot...after the tree. I love hanging the stockings and I think the fire itself contributes to a cozy Christmas feel.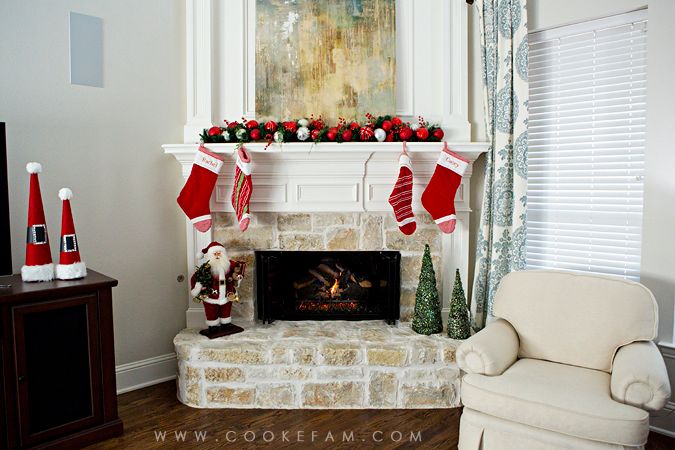 So, our halls are decked now and we are ready for this holiday season!