Early this year I found a Groupon for the Great Wolf Lodge in Grapevine (a short drive from our town). We had been thinking about taking the boys, but when I saw that some of the offered dates were during the boys' Spring Break this year, I jumped at the opportunity. We ended up saving 40% on the cost of our room for 2 nights. It was a great deal.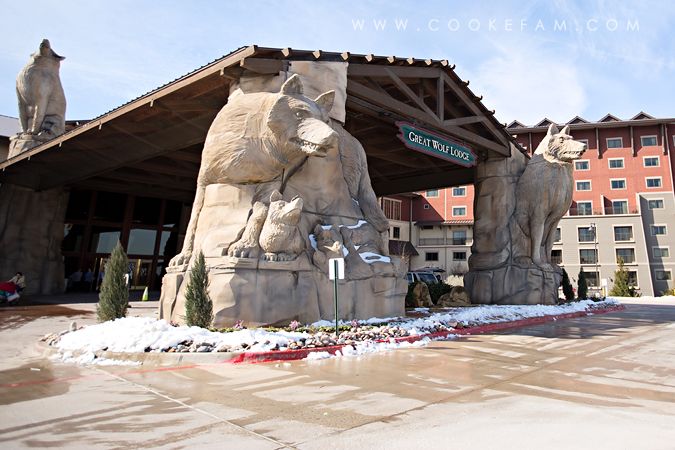 BUT, we kept it a secret from the boys until the Thursday right before Spring Break. Ethan had a half day that Friday and Logan doesn't go to school on Fridays, so we decided to start our Spring Break early. We picked them both up from school and headed over to Great Wolf Lodge. I had made a booklet for them that we gave them in the car to reveal the surprise. It was so strange to be starting our SPRING break off with snow still on the ground, but this is Texas, so we should be used to it.
The boys donned their wolf ears immediately when we checked in. They were SO excited to be there even though they really did not know what to expect from our weekend. I had packed their wolf stuffed animals in the car so they could have them...they love to take a long "friends" when they can and they were excited to have their animal go along with the theme of the hotel.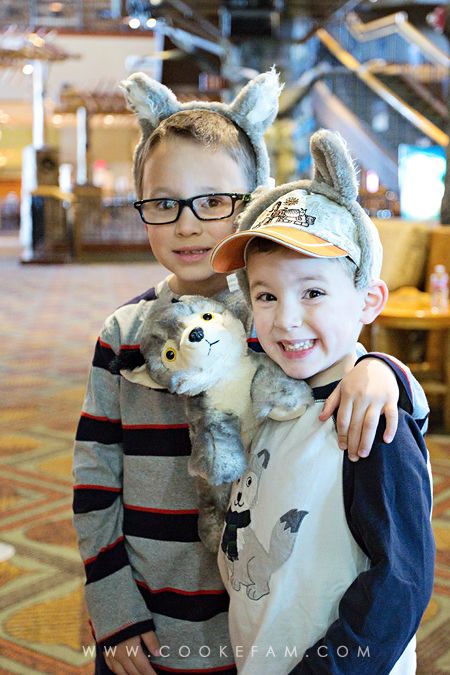 We got to go straight up to our room, which was located on the very convenient 4th floor.
It's so fun that the halls are decorated in certain themes (per floor) that go along with the MagiQuest game (which we later played...a lot.) Our floor was in the Enchanted Woods.
And our room - at least the boys' part - was so much fun. They loved it. The rest of the room was pretty standard and basic, if you ask me, but fine. But the kids part was perfect.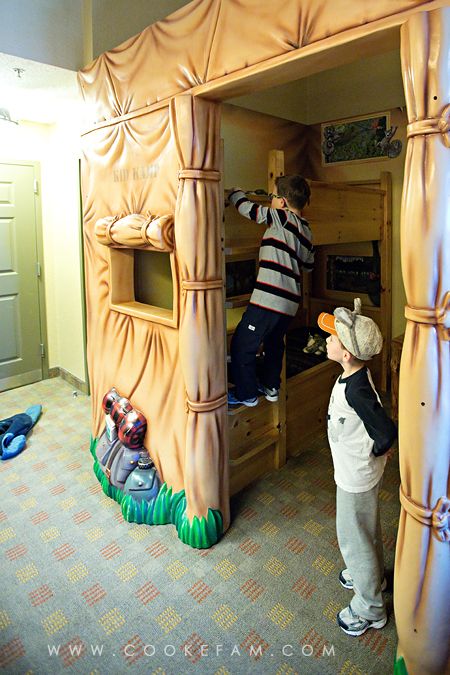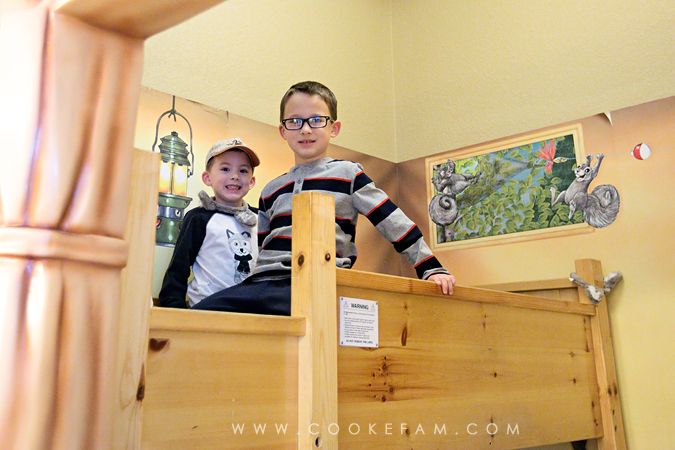 After dropping our bags off and getting the room somewhat organized, we went back out to explore the hotel. We didn't get very far...these coloring stations were set up in the hallway and the boys could not resist. We did not have an agenda, so we sat and let them color. For about half an hour.
They like to color for the most part, but I was shocked that they did it non-stop for 30 minutes. They loved these over-sized coloring pages and even stopped at this station a couple more times before we went home. Since they had spent so much time coloring, we went ahead and had dinner right after that.
After dinner and looking around the lobby and main floors a bit, we went down to the lower floor and bought their wands for MagiQuest. They had been seeing all the fun things that are part of the game and wanted to know all about it.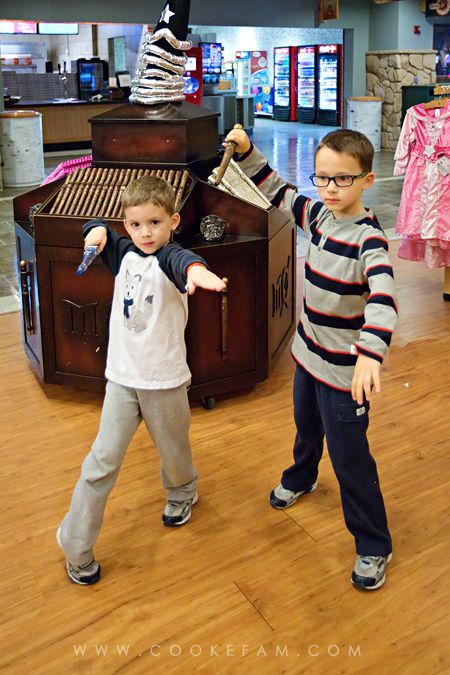 We even went down the hall to do a little "training" so we could be better acquainted with what we were supposed to do, although we did not start playing right away.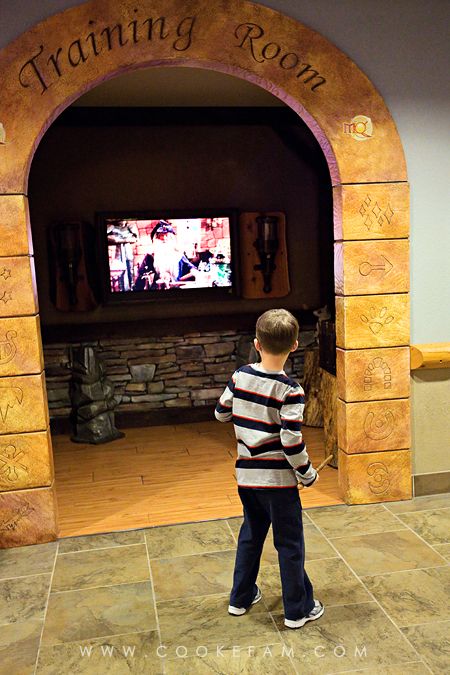 The sweet treats also caught their eye (and mine too!) so we stopped for a couple of cookies (for them) and ice cream (for me and Casey).
Ethan got to meet one of the characters, but Logan was not into it. Also, I will take a moment here to acknowledge how much I loathe almost ALL of the photos from this little mini-trip. The lighting was awful at Great Wolf Lodge. The only decent lighting was in the water park and I didn't take my camera in there with us. Anyway, moving on...
When we polished off our sweet treats, the boys asked to play some of the games in the arcade. They remembered some of these exact games from Chuck E Cheese, so they knew what they wanted to do.
We gave them a certain amount of coins each and they got to play several games.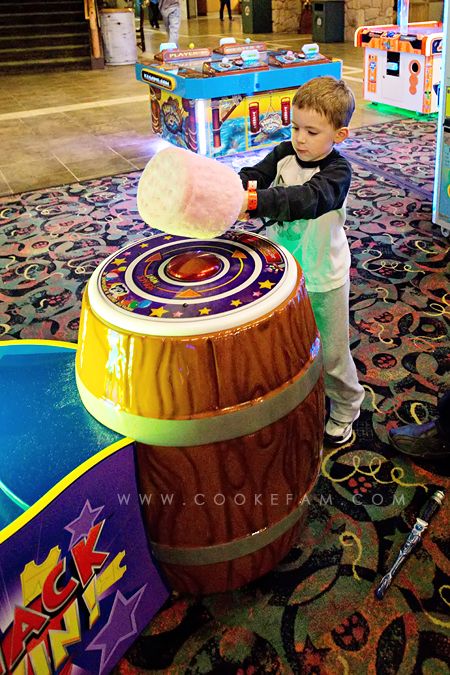 And earned quite a few tickets too.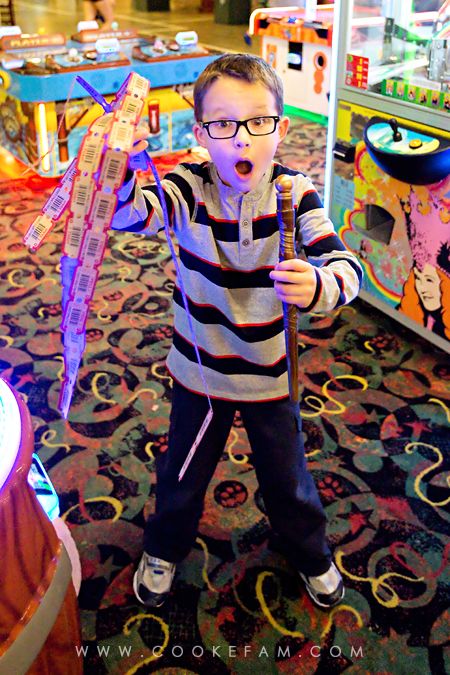 They got to pick out a few trinkets with their tickets and then we headed back upstairs to our room. On the way, Ethan got to meet another character that was just hanging out in the lobby with no line at all to meet him. Actually, because it was a Thursday night the hotel was really quite empty. We would come to appreciate that by Saturday.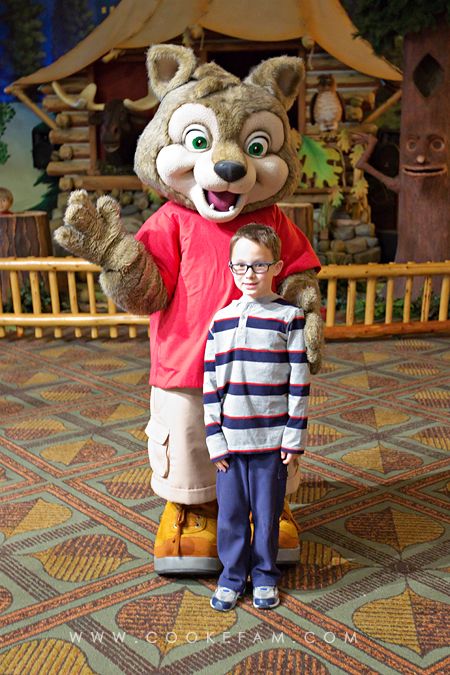 On the way up to the room, the boys could not resist trying out their new wands (even though we had not loaded a quest yet). They had been seeing other kids making this treasure chest open with their wands and the look on their faces when it worked for them was priceless.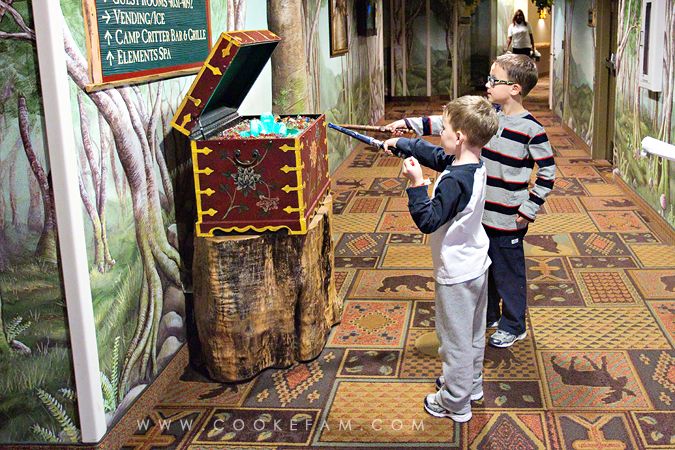 Back in the room, they changed into their moose PJ's (that Mimi and Pop brought back for them from Alaska) and grabbed their wolves (and wolf ears). Oh, and moose slippers, which are their favorite. Then, we headed downstairs to the lobby for story time.
Ah, story time. It was pretty cute. It started off with the animatronic animals talking and singing their song, and then a squirrel came out and read a bedtime story to the kids. I was sitting on the floor with my two boys, so I didn't stand up and get any other shots. The boys really enjoyed story time a lot. Casey and I got a kick out of the song the animals sang..."There's nothing to be scared of here. Trust in Mother Nature..." Yeah, nothing to be afraid of. Just the wolves that were howling in the distance...and other wild animals. We laughed about that all weekend. Especially as we heard that song approximately 199,573 times.
As fun as story time was, they were just as thrilled to be back in their tent at "Kid Kamp" in our room. This set-up for families really is a great idea. Although their "tent" was not shut off from our room by a door or anything, it did have it's own overhead light and had a wall in between our bed and their bunks. It definitely helped them go to sleep and allowed us to keep our beside lamps on for a while longer. Plus, it was just fun for them.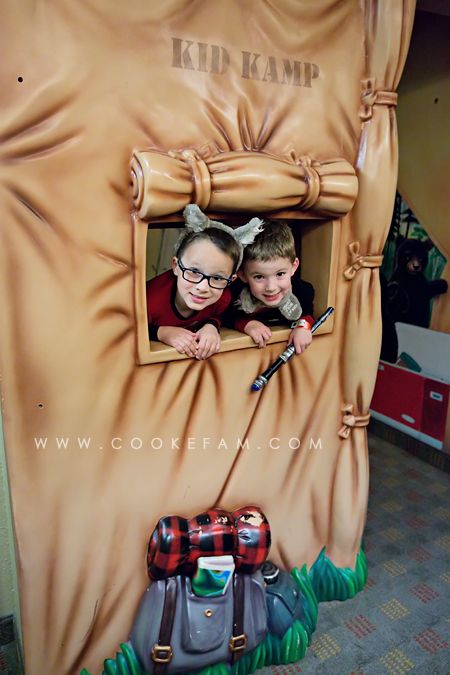 The next day was water park day! We got up, had breakfast at the buffet and then got our swim suits on. This was Friday and as you can see in the photo below, the water park was not crowded at all. Because this was a Friday (and not the weekend) and also technically before Spring Break was about to start for our area, we really lucked out with the crowds, or lack thereof. It really made our water park experience totally pleasant.
They were so anxious to get started that they barely let us find a place to put our stuff and me snap this quick photo with my iPhone.
I did not even bring my big camera with us into the water park. I just left it in the safe in our room. And I do not have a waterproof case for my phone, so I only pulled it out a couple of times that day. The rest of the time I was busy having fun with my family. I don't regret that decision at all. It was such a great day.
For some reason Ethan and Logan both LOVE any kind of large bucket dump at water parks. This one was no exception. They did this over and over again, getting completely soaked each time. They also loved the slides and lazy river. We spent a fair amount of time in the wave pool too. Since we are taking them to the beach at the very beginning of summer, I was excited to see that they loved the waves! We had lunch in the water park at our table and never had to leave the balmy 80-ish degree temperatures in there. Even though there was still snow on the ground outside!
We spent the whole day at the water park and came back to our room in the late afternoon. Casey and I actually fell asleep for an hour while the boys "rested" and played games in their bunks. Then, we all dressed and went downstairs for some dinner. We all slept well that night. The next day, we packed up all our stuff after breakfast and went out to finally devote some serious time to MagiQuest.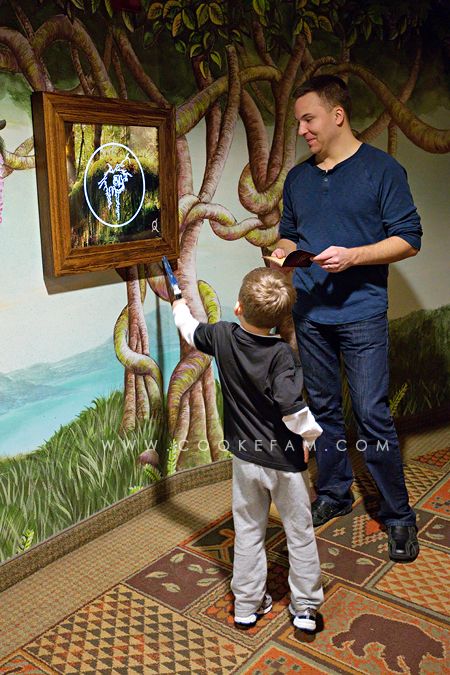 Suffice it to say that the boys really, really loved MagiQuest. It is such a perfect game for them. They loved all the magic stuff they were able to do with their wands, and they also loved hunting for the next thing in the quest. Ethan especially - who loves lists and checking them off like his Mama - wanted to complete ALL the quests. We had time to do quite a few, but not all of them.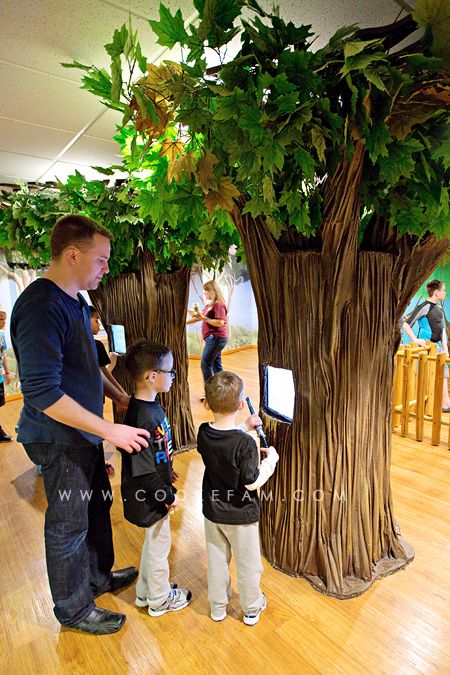 The only bad thing about MagiQuest is all the stair-climbing. Maybe that's a good thing if you want to get in a workout. And believe me, you will. We were up and down that staircase a million times. Logan actually started getting tired too and wanted us to carry him. I did for a while and it about killed me.
One thing that was really noticeable by this day (Saturday) was just how crowded the hotel was getting. We peeked in at the water park and it was packed! We were SO glad about our choice of days. And since we were just doing MagiQuest on this morning, we did not feel the crowds really at all...except for at breakfast.
After we completed as many quests as we could do (without our legs falling off), we took off for our last surprise of the weekend, which was Lego Land. It was only about 5 minutes away from our hotel, which is why we decided to do them together. Nonnie had gotten the boys tickets to Lego Land for Christmas and we figured this would be a great time to use them.
I didn't take any photos at Lego Land because...well, I don't really know why, but I didn't. And I'm fine with that. I snapped a couple with my phone. We had a great time but it was pretty crowded. It was the middle of the day on a Saturday...at the beginning of Spring Break. And in hind sight, we should have chosen another day to do Lego Land. We were exhausted from our loads of fun at Great Wolf Lodge (specifically the Magi Quest that morning) and so we were all a big grumpy. We had fun, but we were not at our best to deal with the crowds and such. I would not combine the two again.
What a fun start to our Spring Break, though. The boys are already requesting to go back to Great Wolf Lodge.