Our second day in Asheville started out with breakfast at the inn. I cannot overstate how lovely and tasty these breakfasts are. I remembered them from my visit with my mom, and honestly, it was one of the things I was most looking forward to on this trip. We were able to get a table for two by the bay window by showing up a little early for breakfast.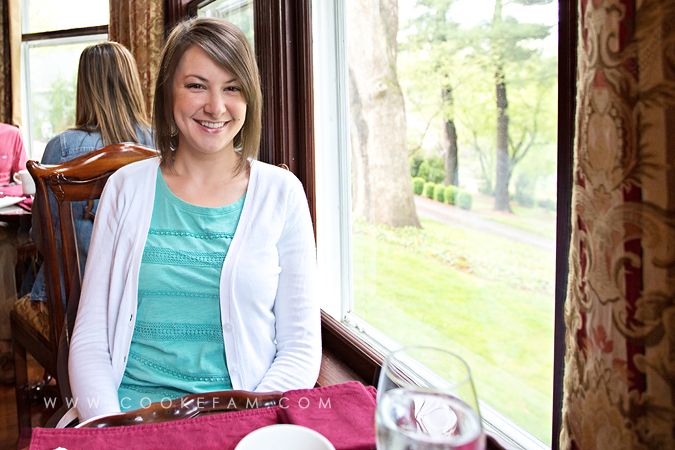 The first course was a lemon ricotta waffle with maple syrup, fresh berries, and blueberry whipped cream. I wanted 20 of them.
The second course was Smoked Salmon Rosti, which is a hash brown cake, arugula, lemon dill creme fraise, smoked salmon, and a poached egg. It was so good!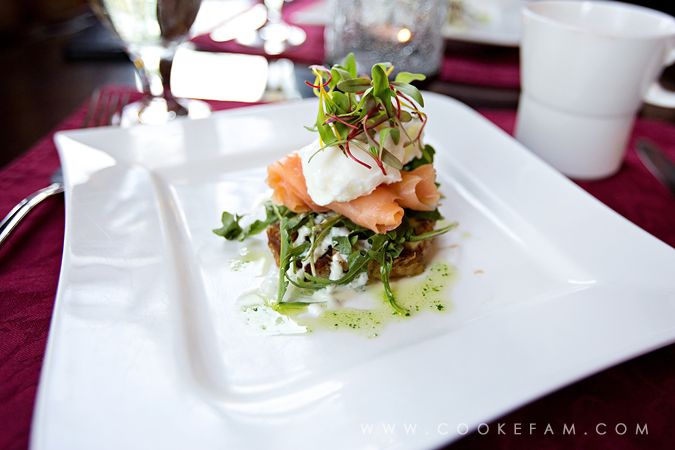 After breakfast we made the arduous 5 minute drive from the inn to the Biltmore Estate. We had a 10 am entry time that day for our audio tour. So, that's what we did first. On this bright and beautiful Saturday morning, the Biltmore was hopping. Aside from the many (many) visitors, there were apparently 3 weddings on the property that evening. We saw them setting up all day.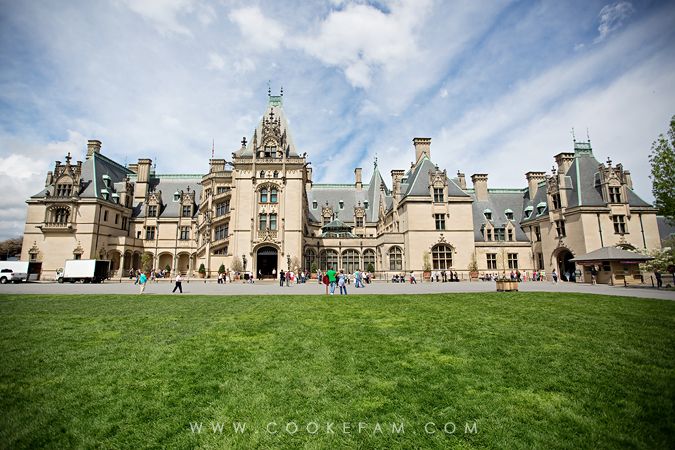 There's no photography inside the house, which totally bums me out. But, they did take a photo of us inside. At first I wasn't going to bother buying it, but then I realized just how few photos (maybe one other one...on my phone) I had gotten of both of us together. So, I bought it when we got back home.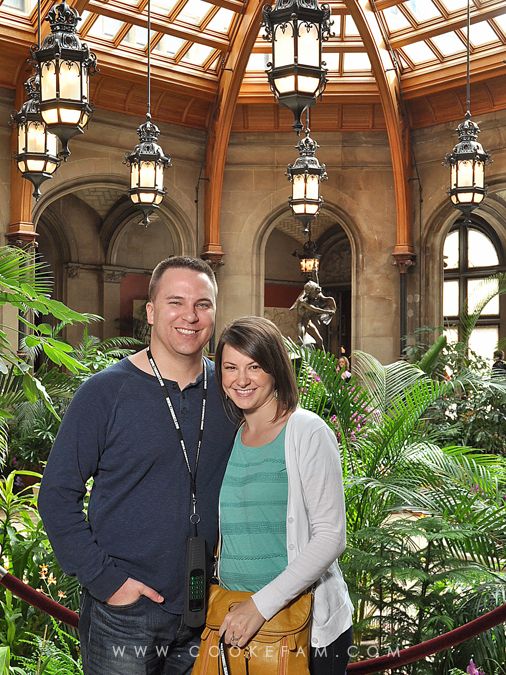 You are allowed to take photos on the outside terraces, which have sweeping views of the Blue Ridge mountains in the distance.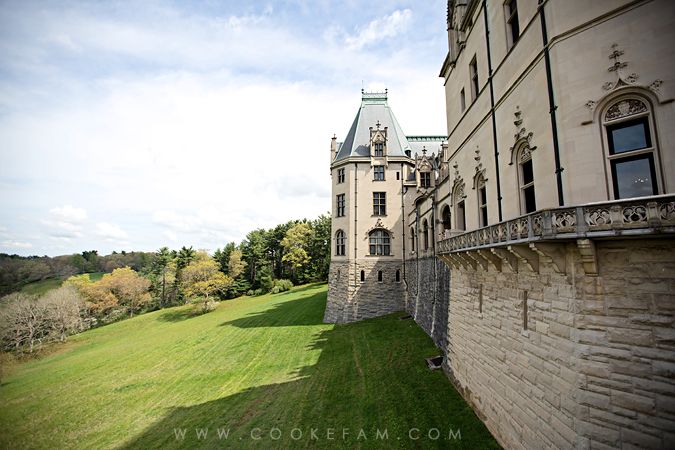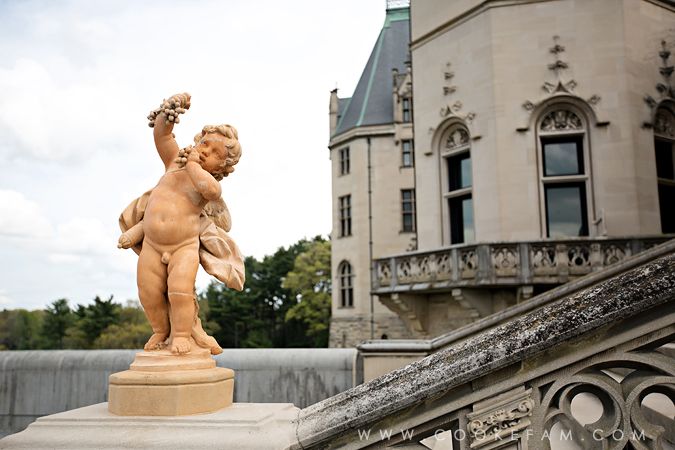 After our audio tour, we walked around outside for a bit and then had lunch at the Stable Cafe. Then, we had an "upstairs downstairs" tour, which highlighted parts of the house not on the regular walk-through tour. And I almost forgot to mention that while we were there, costumes from Downton Abbey were on display inside the house. Actually, that's one of the reasons we came when we did...I did not want to miss that. And it really was so neat. They looked like they belonged there.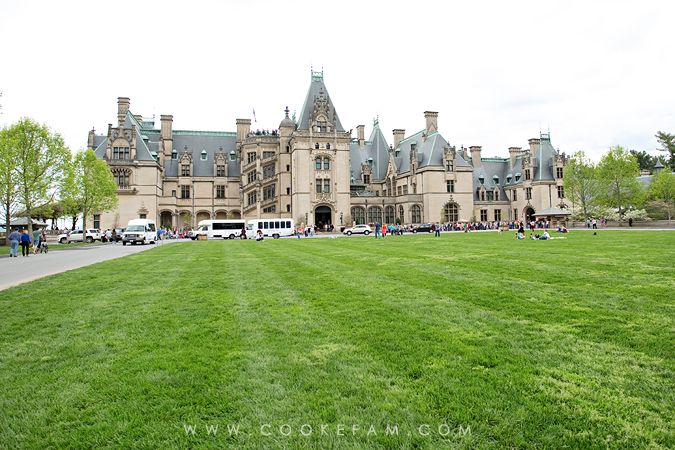 After that second tour through the house, Casey's knee was bothering him too much to walk around any more so he went to get the car. I, on the other hand, was not done exploring yet! I wanted to walk some of the gardens a bit more, including the azalea garden that I had not seen on my previous visit.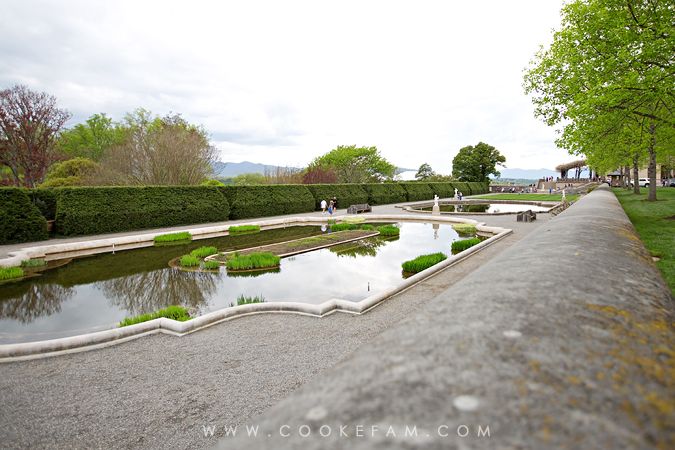 We did walk to the top of the esplanade to see the house from up there. It seems so big when you're standing right next to it, but amazingly, it might seem even bigger from this vantage point...just because you can see it's whole breadth and height at once.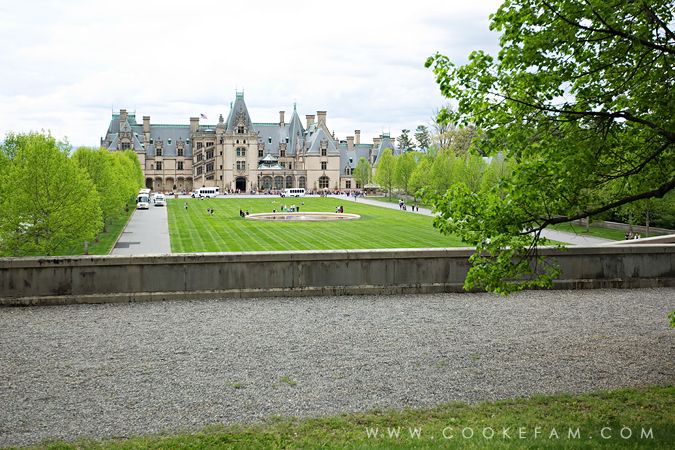 So, I walked around at my own pace while Casey brought the car around to the lower parking lot and waited for me. He told me to take my time, so I did!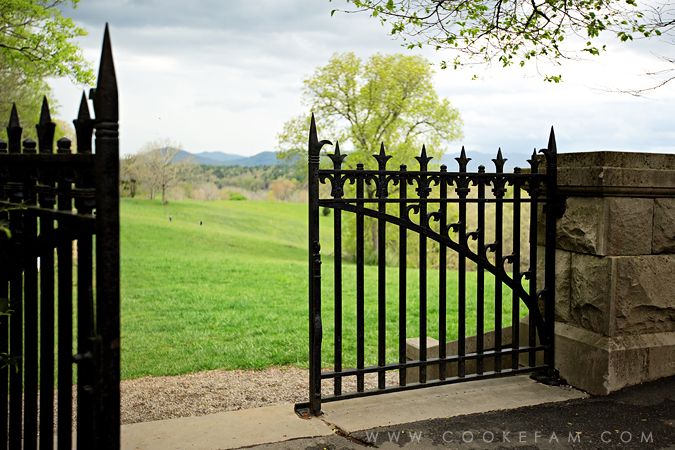 I wish the wisteria had been at full bloom. There was quite a bit of it on the far end of the arbor, but it was definitely on it's way out.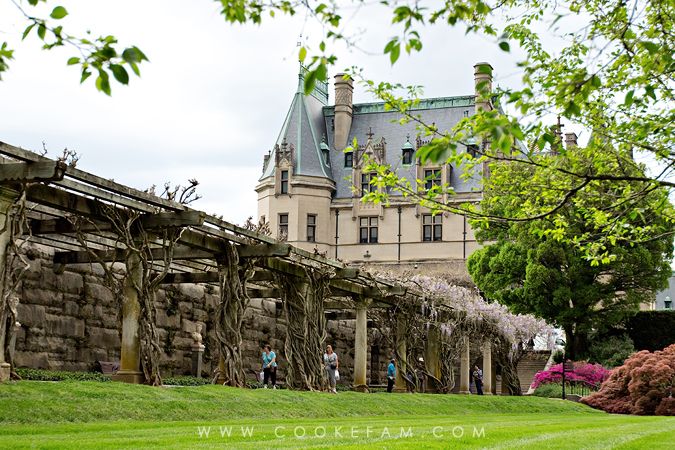 The tulips were on their last legs too. The major storm that had rolled through the night before (and soaked us on our way to dinner), had done a number on the already ageing tulip petals. In fact, they were ripped out the next day! But, when I squinted my eyes, I could imagine them at their height.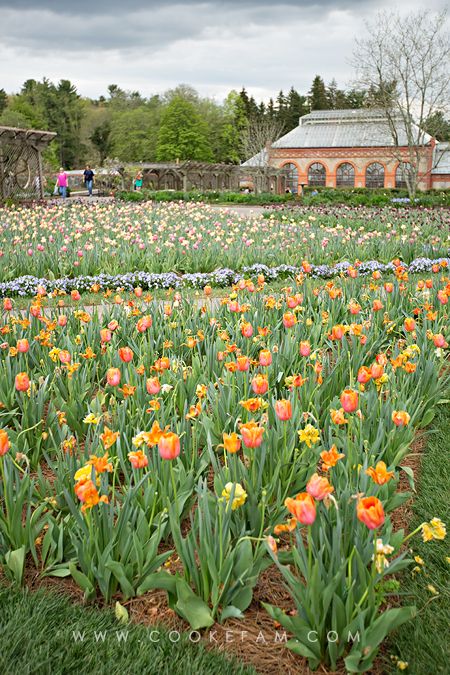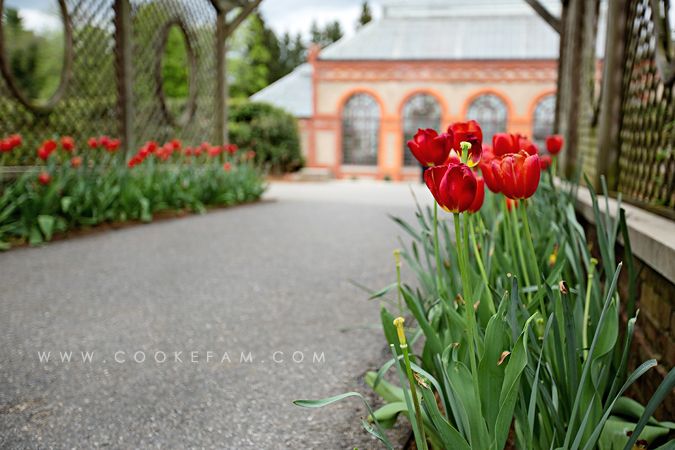 But one plant that was in full, magnificent bloom was the azalea. I walked through the azalea garden amazed at all the colors and how big the bushes were. But, of course, the rain decided to start again, so I made my way back to where Casey was parked and we started the drive out of the grounds.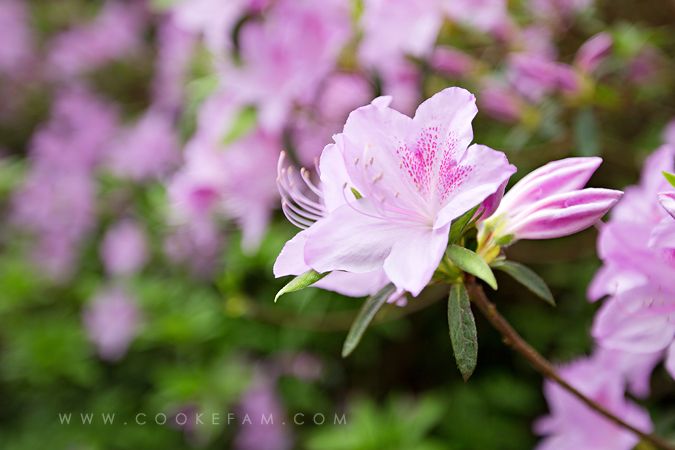 We did stop at the lake. It almost looks like fall colors even though this was mid-April.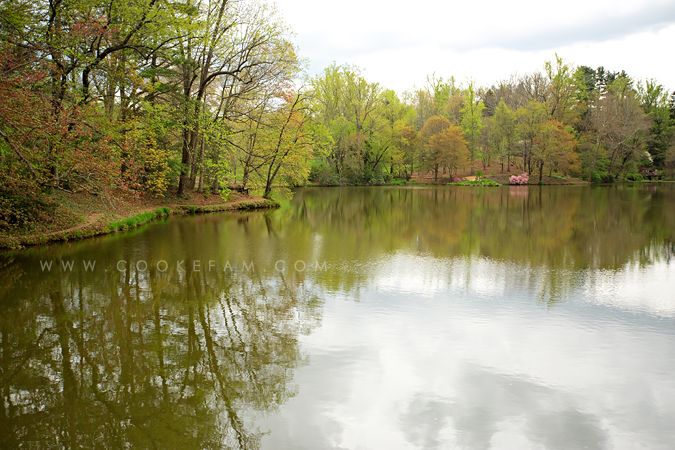 And just before the exit gate, we could not help noticing this huge yellow field. Apparently canola helps the estate with sustainability (and biofuel). Honestly, it was just amazing to see the yellow flowers as far as we could see in almost all directions.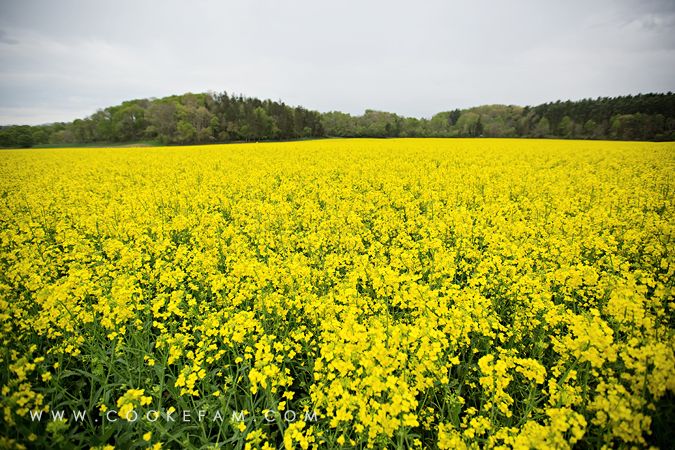 We just had time to rest for a minute, change, and then head out again for our dinner reservation that evening. We went to the farm-to-table restaurant downtown,
The Market Place
. I tried to take Casey to my most favorite restaurants while we were there and this was definitely one of them from my previous trip.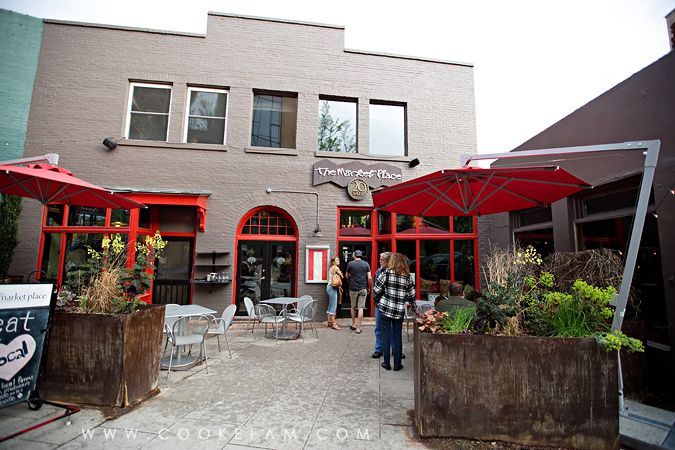 I do not have the official menu descriptions of these dishes, so the photos will have to mostly speak for themselves. This appetizer, however, is roasted brussels sprouts with walnuts, butternut squash puree and thick bacon.