On our last full day in Mexico, we had no plans or company events to attend. We had the whole day to ourselves. We got out of bed when we started to get hungry and headed down to the breakfast buffet. The breakfast buffet was one of my favorite meals...it had everything...including tacos and enchiladas. Yum! And a mimosa bar. Plus, they had chocolate croissants, which I submit were second only to the ones I've had in Paris. They were surprisingly good.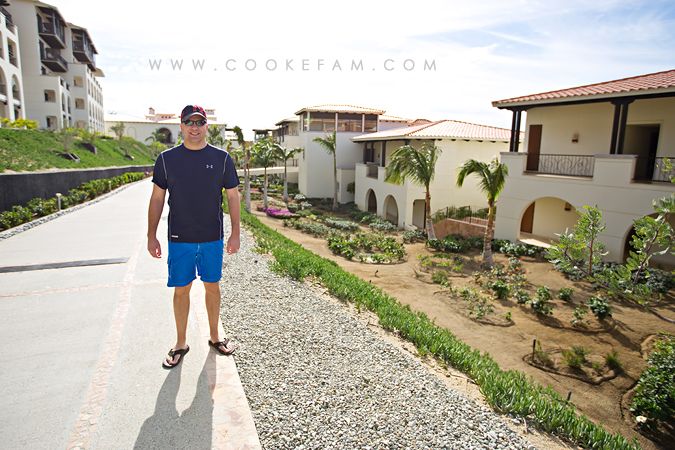 After breakfast, we gathered our swim gear and headed down to the beach. I should mention that the landscaping of the resort was one of its best features. There were always people watering or working on the plants, etc. It really was lovely and definitely added to the ambiance of the hotel. I really love and appreciate plants and flowers at a resort.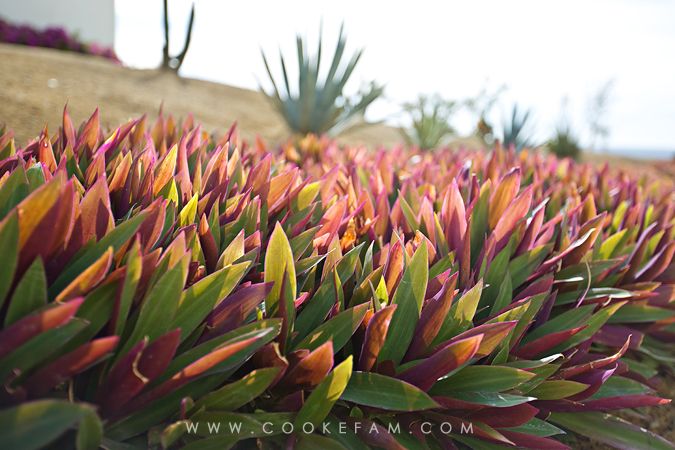 We made it down to the beach. As it was the day before, there were hardly any people down there. However, the waves were even more powerful and loud than the day before. It was really neat to watch and listen to them roll in and out.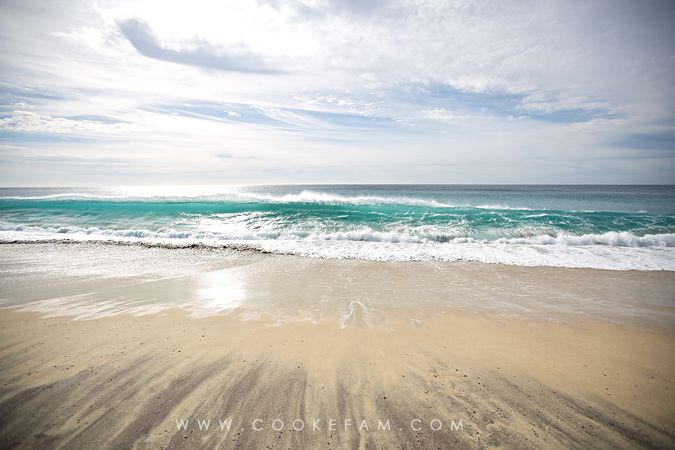 Casey took my photo...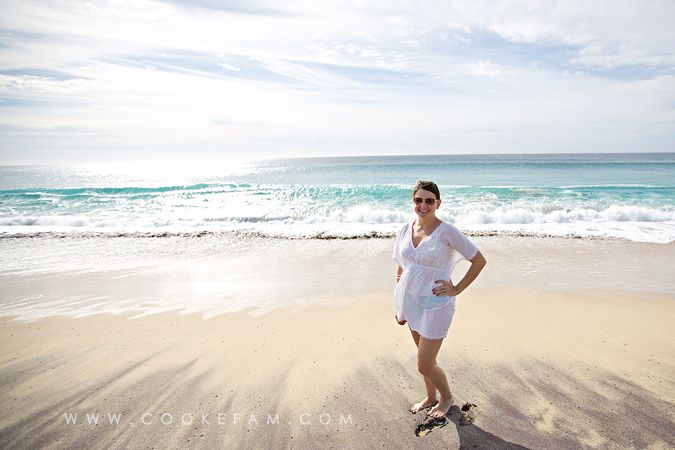 And then I took his...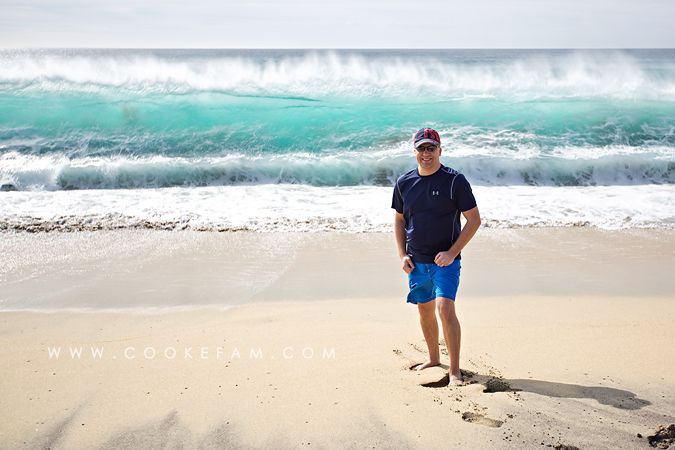 But he must have seen my eyes getting big because before I could say anything, he had turned around and seen the massive wave headed his way. He would have been drenched if he hadn't run up the beach in time.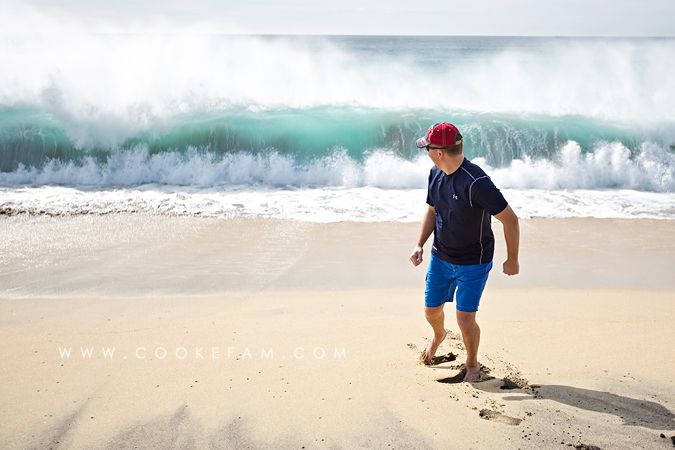 We walked along the beach for a while and another couple saw us trying to take a selfie with my phone. They offered to take a photo of us, so I handed them my big camera. I put it on auto, and what do you know? It's a decent photo. Now, because of the lighting, our bodies and faces were quite dark in the original out of camera shot. But it was nothing that a little Photoshop couldn't fix...and it was in focus, which you can't fix.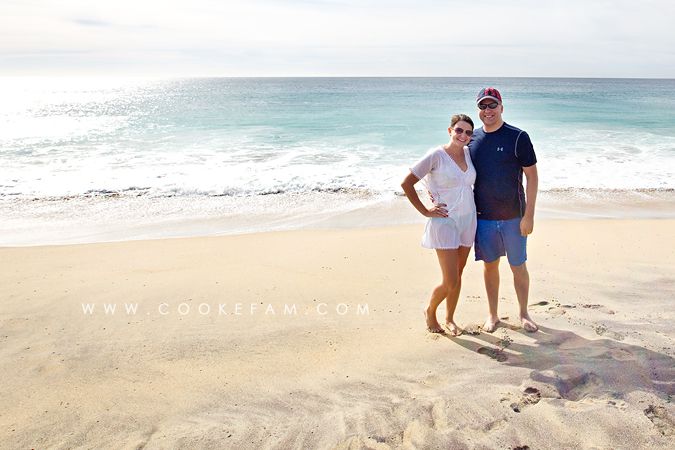 The waves generated quite a bit of foam because they were crashing into the sand so hard.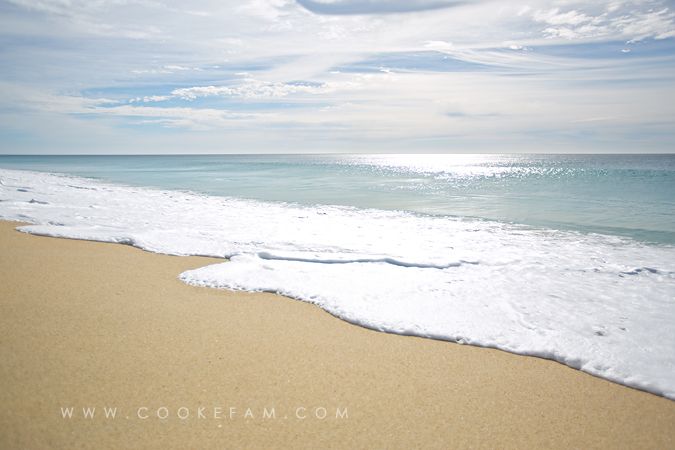 We walked down the beach some more...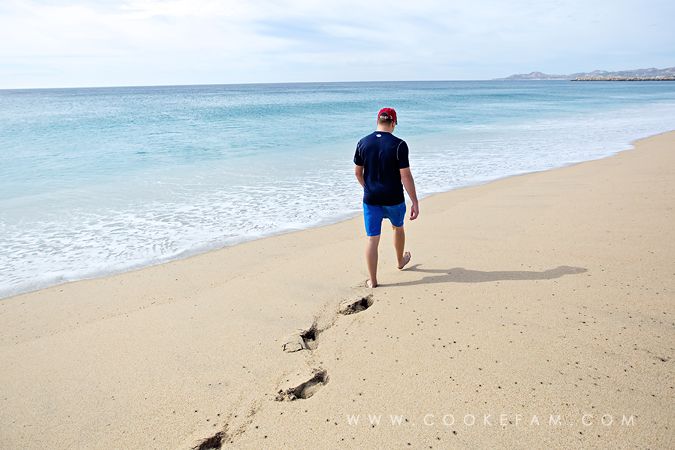 Casey decided to make a heart shape with his footprints and then our initials inside of it. It was hard to get the whole thing in my frame from the bottom of the beach because of the rise of the sand, so I took this photo from above even though the heart is facing the ocean.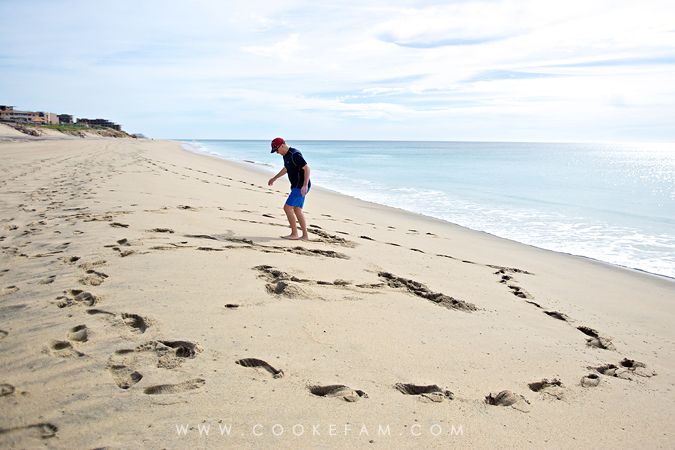 At some point we turned around and started walking back to the resort.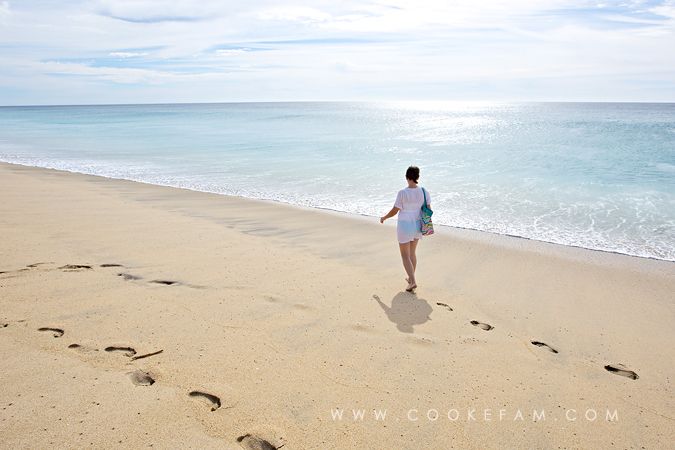 Every once in a while a wave would catch us by surprise and come up past us on the beach. It was just a little cold, but not shocking.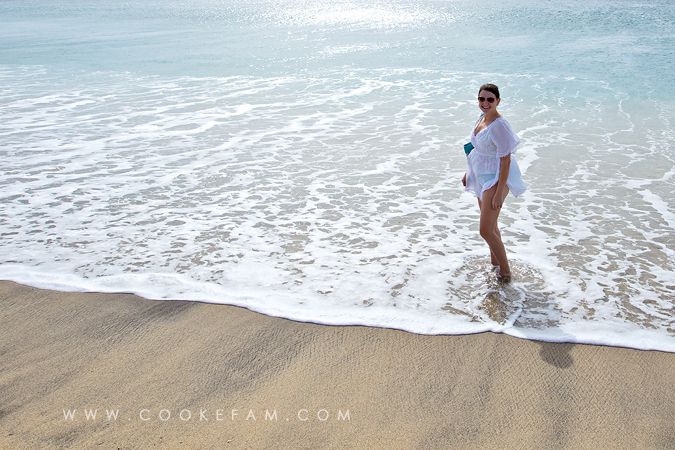 And at least a couple of times, it came up really far. The bottom of my bag got wet once!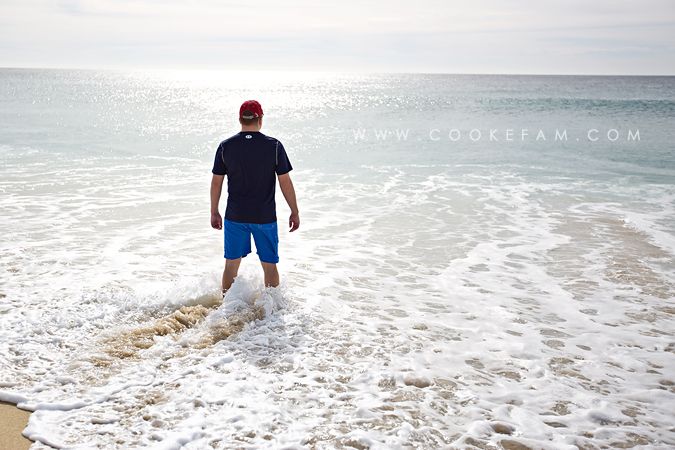 We made it back to the resort and snagged a couple of front-row lounge chairs.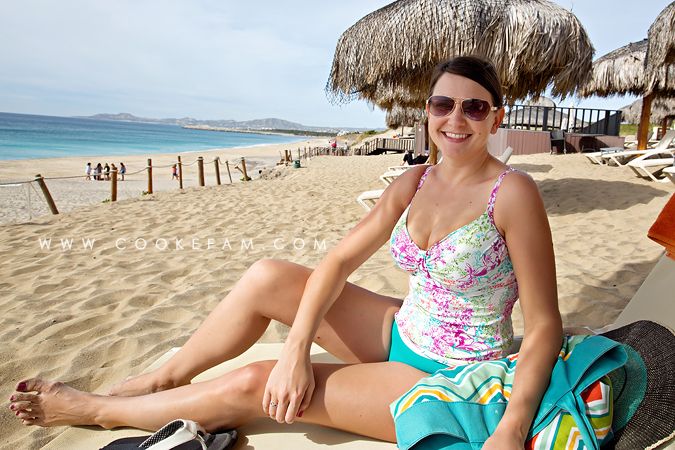 After applying some more sunscreen, we were ready to chill for the day.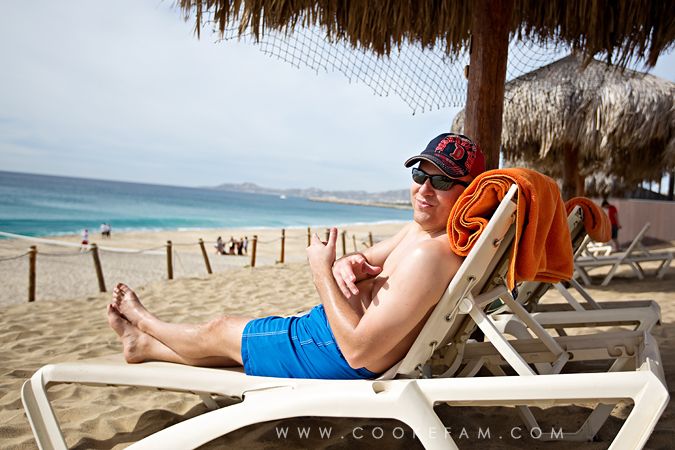 And this is where we did spend the majority of the day. We were up above the main beach, but had a straight view of the ocean. Sometimes we could tell how strong the waves were by their noise and we'd watch them for a second. Mostly we read and napped. Twice we spotted whales out a little ways from the shore. That was cool!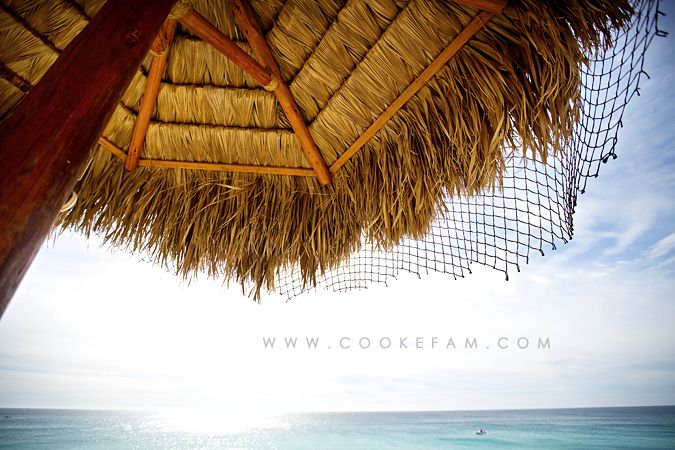 At lunch time we reluctantly got up and had a bite to eat. We stopped at the very casual burger bar and had a burger, quesadillas, and a small pizza. And of course, a couple of drinks. This one was my favorite...an orange blue margarita.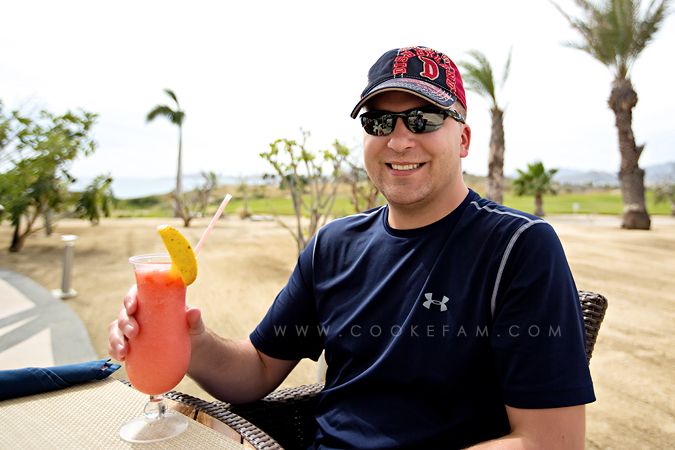 After spending the rest of the day down in those beach loungers again, we went back to the room in the late afternoon to shower and get dressed for dinner.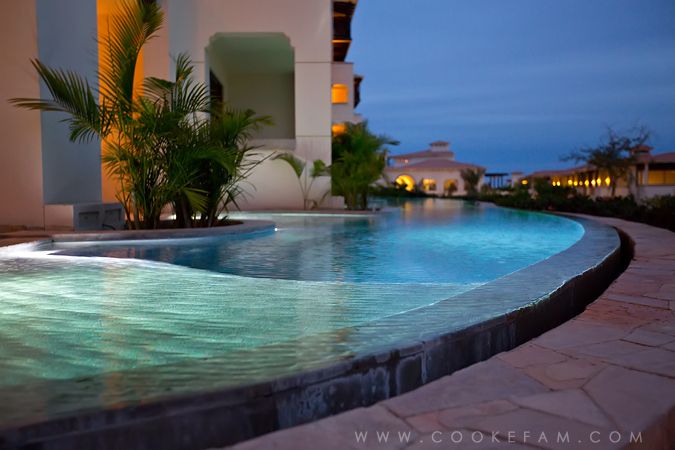 The resort was really beautiful at night with all the lighting.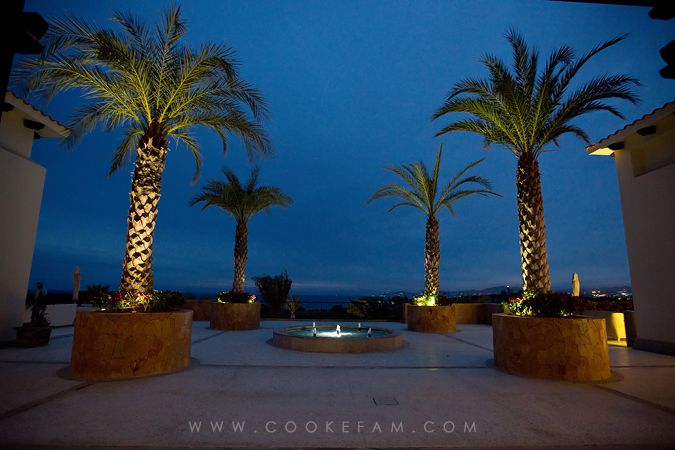 On the way to dinner, we stopped in the gift shop to pick up a couple of maracas and little turtles for the boys. Then, on our way out, we saw market stalls set up in the courtyard. They had all sorts of stuff. I didn't take any photos...probably because I felt badly about photographing all their wares and not buying any. I could never be a street photographer!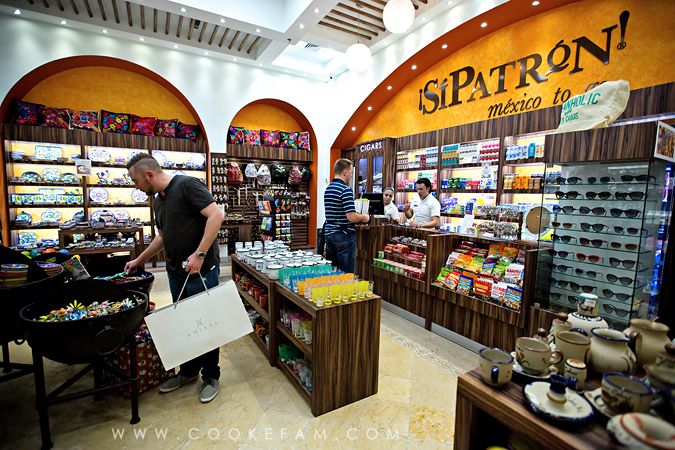 A staff member saw us trying to take photos of each other and offered to take one of us together. Again, I put my big camera on auto and handed it over. It's not a bad shot!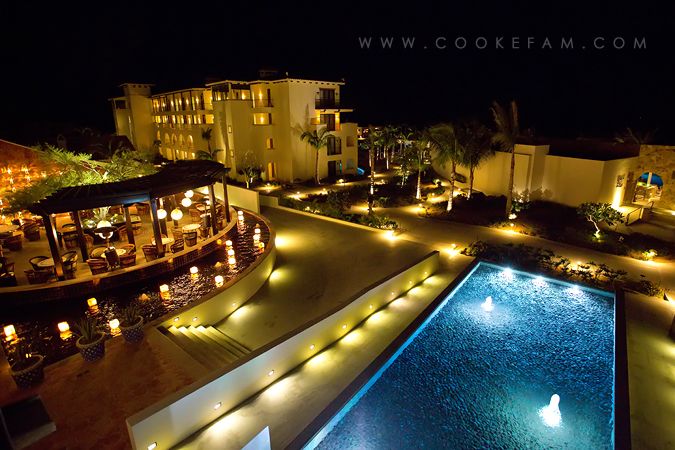 Our first dinner that night (yes, first) was at the Italian restaurant. It had a lot to live up to because this was the restaurant I heard mentioned time and time again when reading reviews of the resort before we left. Well, it was really good and we thoroughly enjoyed it. We ordered four small plates to split, and liked all of them a lot. But the shrimp and gnocchi was a favorite for both of us.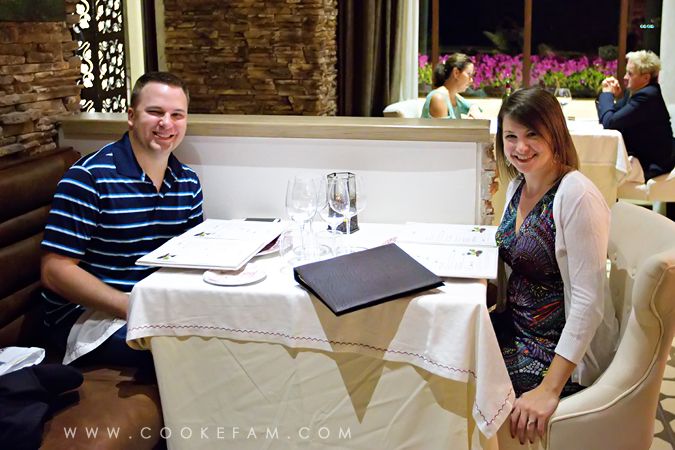 After our first dinner, we strolled around the hotel for a bit and then went back to the room to watch some TV. See, we had a second dinner planned for 9pm that night. Why? Well, Casey really wanted to eat at the Hibachi restaurant, but you have to make reservations, and you can only do that the day of your meal. We were told to call at 7am. And we did. And the earliest reservation they had was for 9pm! So, we took it and included some of other people from Casey's company that were also talking about getting reservations. But, we also wanted to try the Italian restaurant and knew that we couldn't make it all the way until 9pm to eat dinner. Thus...two dinners.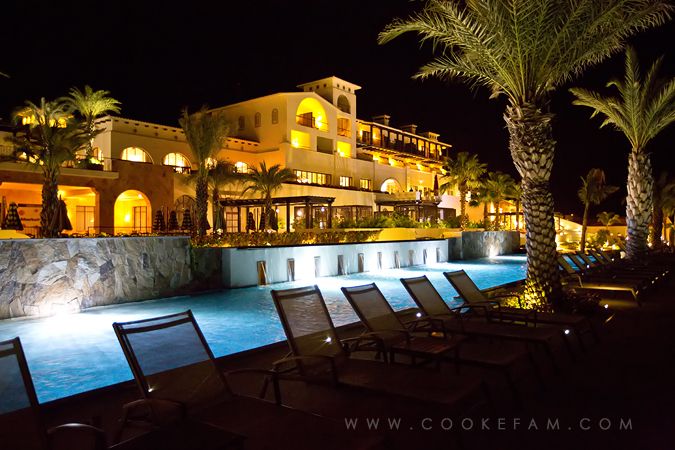 When 9pm rolled around we weren't exactly hungry even though we'd tried to eat sort of light at our first dinner. But, we were able to try everything. And just as I'd expected, it was good, but not great. We are a little spoiled when it comes to the quality of our hibachi experiences. (I'm looking at you
Kobe Steaks
).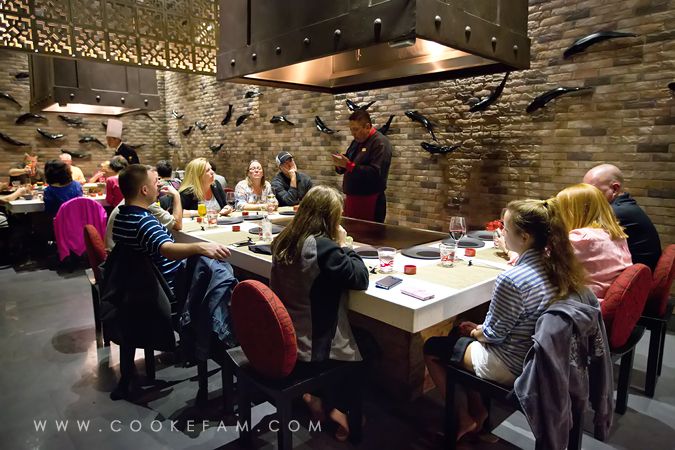 We left our second, really late dinner and went back to the room, taking in the peacefulness of the resort at night.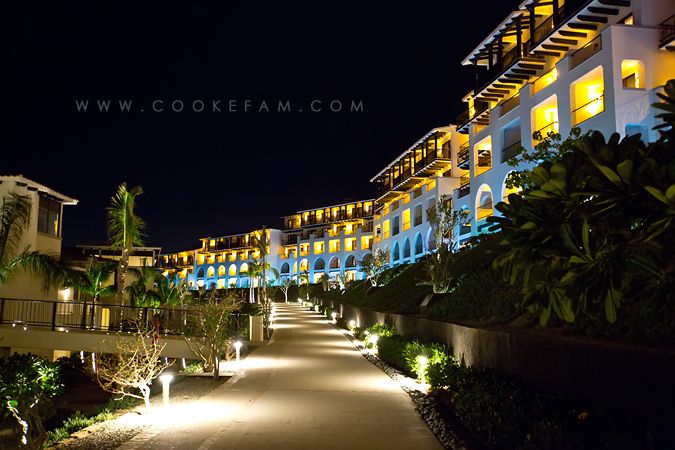 I didn't take any photos the next day because we basically got up, packed our bags, and left on our shuttle for the airport. We had such a great trip to Cabo even though it was relatively short. It's amazing what a few relaxing days away from your regular schedule will do for you. And I underestimated how wonderful the beach and some warmer weather could be at the beginning of February. I might have to plan a small trip at this time of year every year to beat my winter blues!