Our second day started out with sleeping in as all vacations should. Casey had an employees-only breakfast meeting from 9-11am, so he took off just before 9 for that. He had to wear his name tag...I had one too, but I made him pose for me with it on. He's a good sport!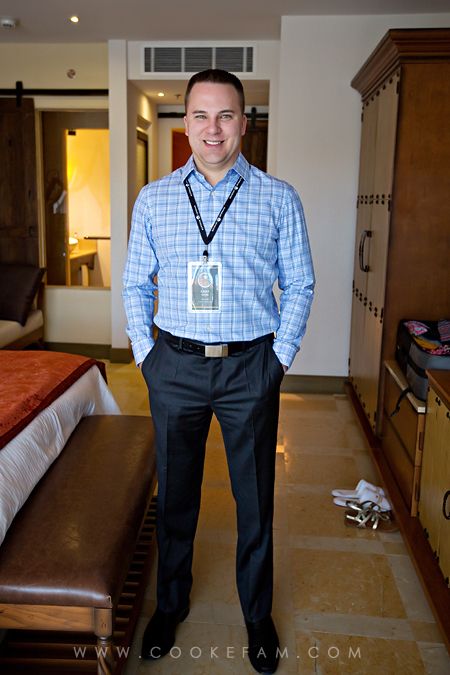 The first thing I did - even before he left - was order room service for breakfast! There are few things more fun than room service in bed. Especially involving waffles and bacon.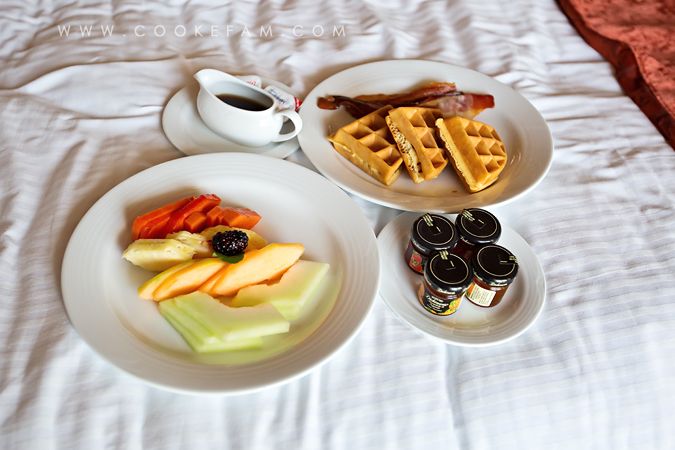 After I had eaten and dressed, I took my camera and set out to explore the resort. We had walked around a bit the day before, but not anywhere close to the whole thing.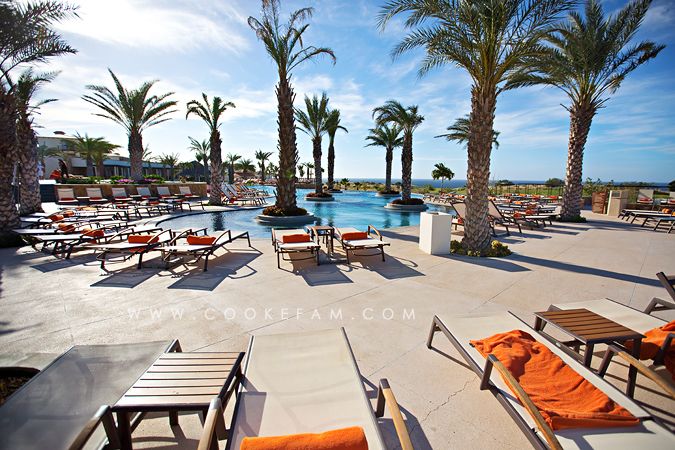 The fun thing was that this early in the morning (9:30-ish), hardly anyone was up and about except the resort staff.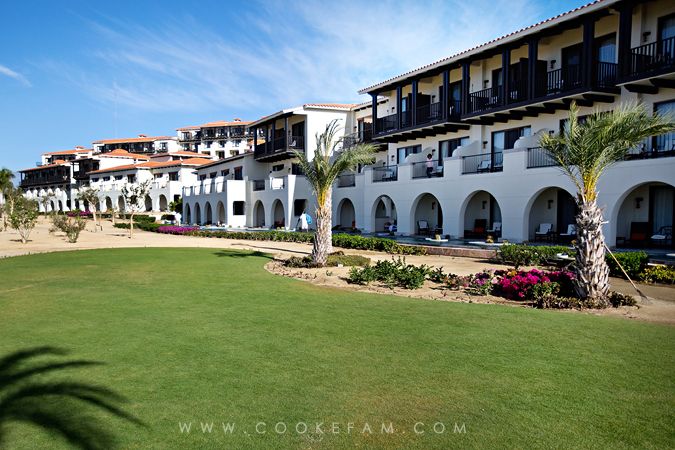 You'll never see this many open lounge chairs at the pool except first thing in the morning. And maybe late at night.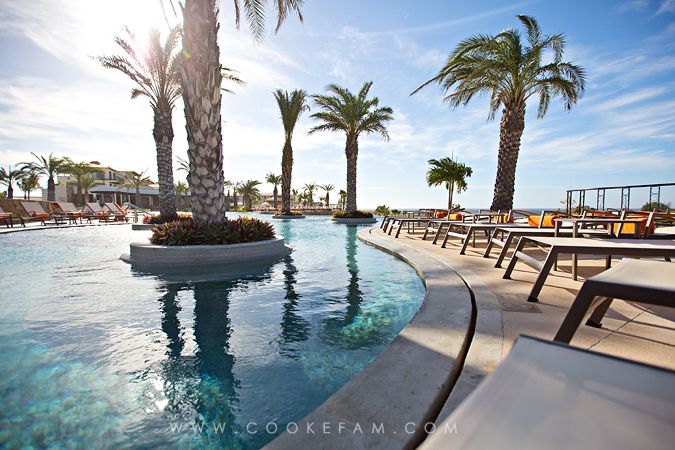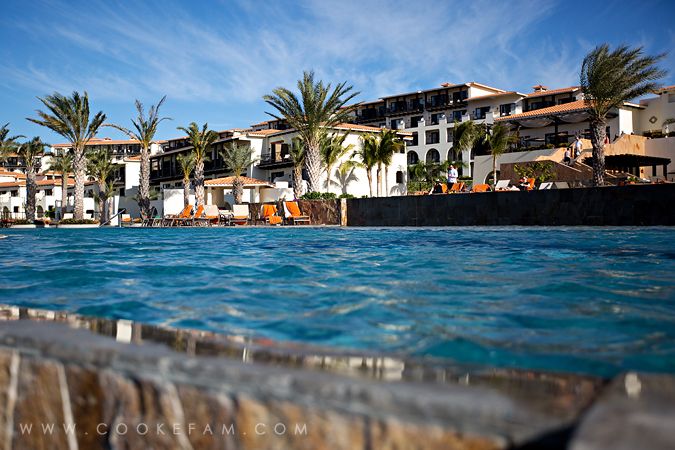 There were two pools, and we favored this quieter pool over by the ocean. Not only did it have a great view from its infinity edge, but there was no live or thumping music pumped out of speakers around here. We are old.
Prime view right by the hot tub, which would have been where you wanted to be if you were to get in any kind of water this early in the morning. It was mid-60s. Great for walking around, but a bit chilly for swimming in the actual pool.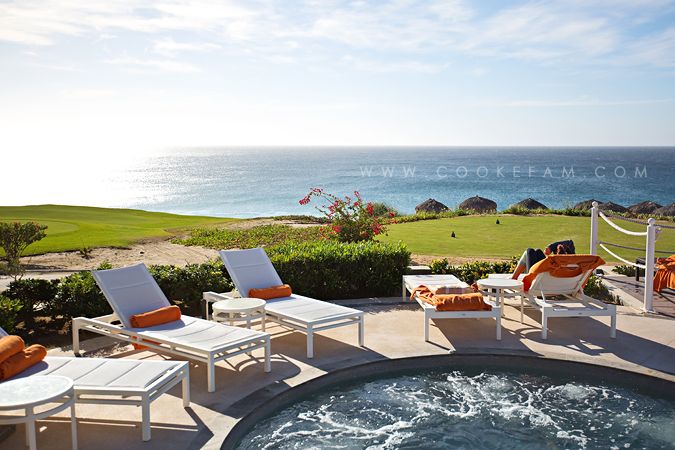 I walked ALL around the resort. I went out to the wedding gazebo, which had great beach views and these lovely grasses around it. There was a yoga class about to begin there, so I didn't linger.
Instead, I made my way down to the actual beach, passing a Zumba class on the beach deck where we'd had our cocktail party the night before. This beach was gorgeous. They strongly recommended that we not swim in it while we were there because the undertow was so strong. That made the beach practically deserted for much of the day. And even when there were people walking on it and taking in the view, it was so wide and stretched on forever that you still felt like it was just you and the ocean.
I stayed out by the beach for over an hour just listening to the waves. They were really strong and came up so much farther on the beach that I would have guessed at first. I had fun taking photos of the foam as it rolled up close to me. In fact, I took tons of photos. But they get redundant even to me, so I just selected my favorite three to put on this post.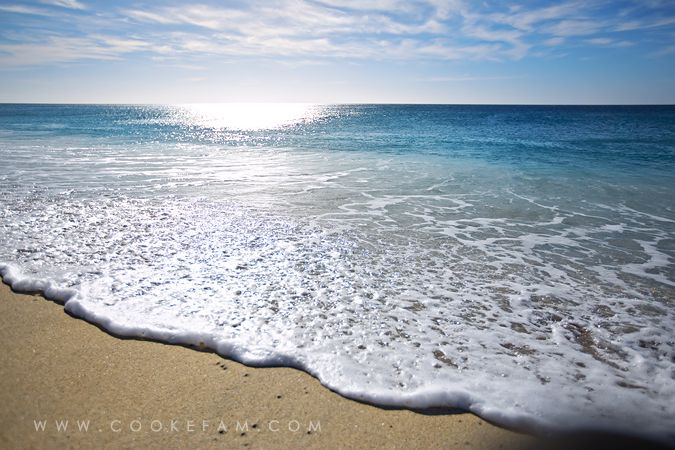 I sat down in the sand for a while, snapping photos and just enjoying the beach...one of my happy places. When it got close to the time when Casey would be out of his meeting, I reluctantly walked back to the resort.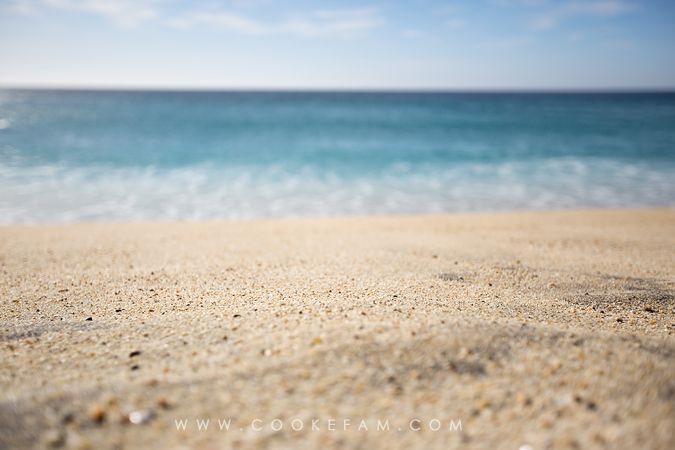 Casey and I met up and sought out food immediately. Not that it had been that long since breakfast, but still...
We chose the grill right beside the pool...the only restaurant open besides the buffet, which we had chosen the day before. I'll say one thing...my main dish was not impressive, but the chips, salsa, pico, and guacamole were top notch. I'd eat that stuff all day long. And Casey's shrimp tacos were excellent too.
Right after lunch we paid a visit to the bar for frozen strawberry margaritas. I know I said they were mostly just sugar, but they were pretty good after all.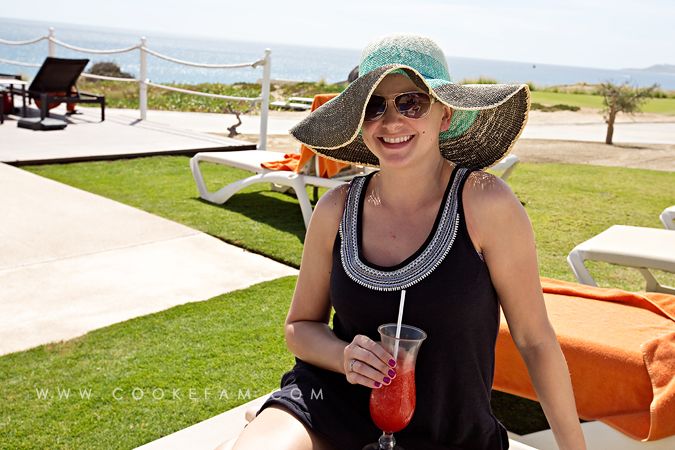 We also grabbed some good ol' fashioned nachos...even though we had just eaten. Heavens, vacations make you do crazy things. We set ourselves up in these chairs on the lawn looking out over the golf course and the ocean. We had someone bring us an umbrella too.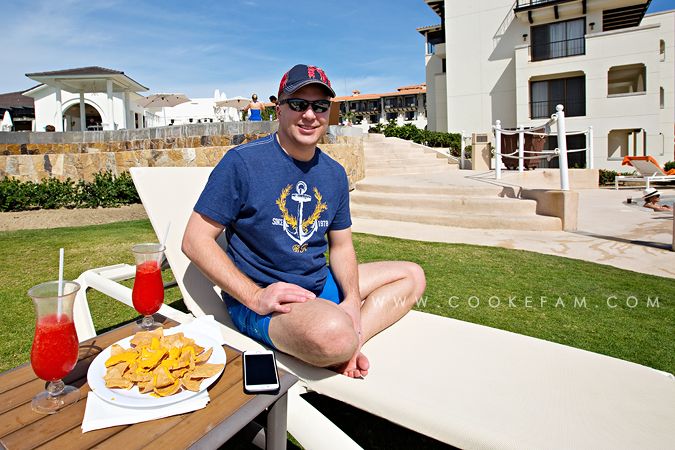 And then we had him move it to these chairs when they became available because the view was that much better. And that's where we spent the rest of the afternoon. We slept, ate our nachos, read our books, stared at the ocean, and had the most lovely time. And like I said before, there was no loud music and other such nonsense over here.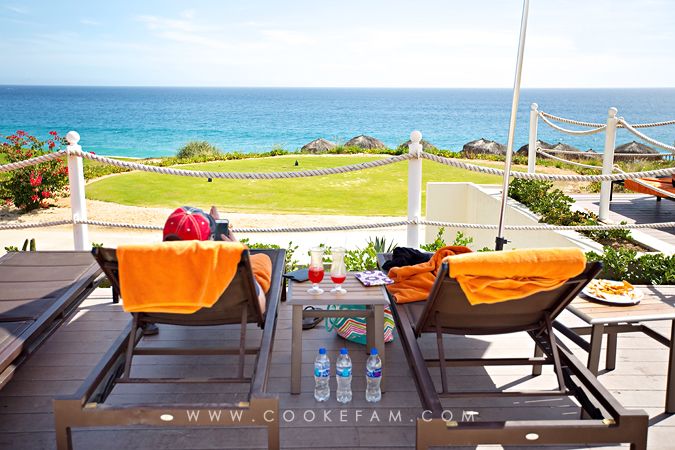 We pretty much had to pry ourselves out of our chairs to head back to the room. Casey took this photo of me by the fountain that fed from the main pool. We had to go back to the room to take showers and get ready for the big awards banquet that night.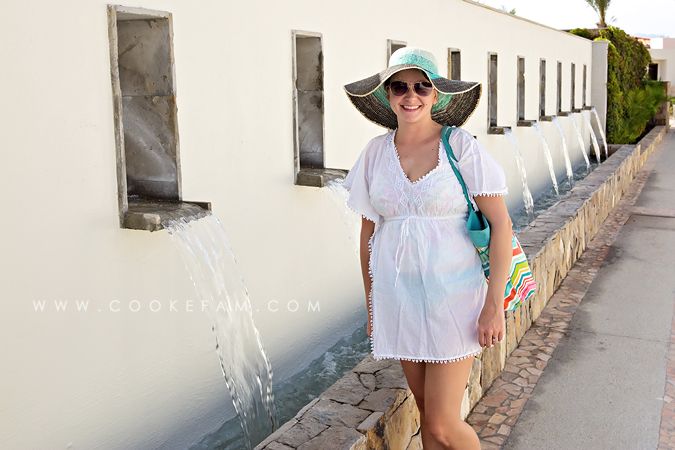 Before we headed to the dinner, we had one of the resort staff people take this out of focus shot of us in our finery. Never mind that we're blurry and my hair is subject to the constant wind...we don't dress up often, so it bore commemorating with a photo.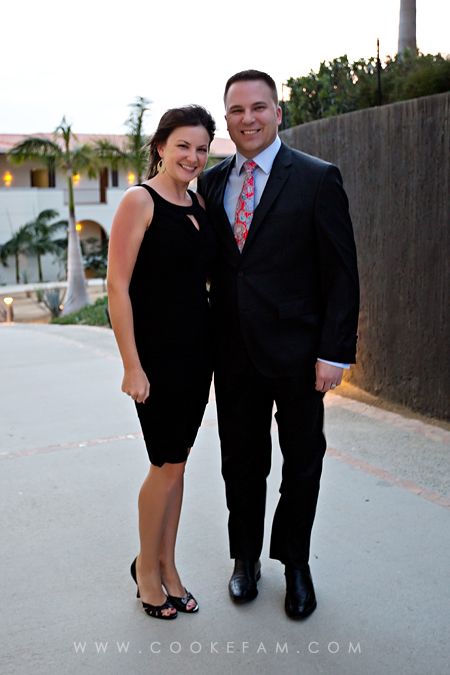 The awards banquet was held in one of the banquet rooms at the resort and was for the entire company. We had quite a good buffet for dinner and the awards part only lasted about an hour, which was tolerable. Especially since Casey and his partner got their award too for all their hard work in 2015. I was very proud of them and their achievements.