Our "Countdown to Christmas" activity today was a big one...the Gaylord ICE Exhibit featuring the movie, Santa Claus is Coming to Town. We have been trying to stick to one or two really special Christmas outings or activities and this is definitely one of them...and it happened on Day 2!
Mimi and Pop graciously treated us to this experience. The
last time
we went to the ICE Exhibit, it was crowded. So crowded. I was hesitant to ever go back because of our experience last time. But since the boys had an early release day today and supposedly weekdays during the day are slower, we decided to give it a try. Well, it worked. There was
no one
there. Ok, hardly anyone there. It was so perfect. And
so much fun
.
We drove separately, so while we were waiting for Mimi and Pop to arrive, we took a look around the atrium at all of their fun Christmas decorations.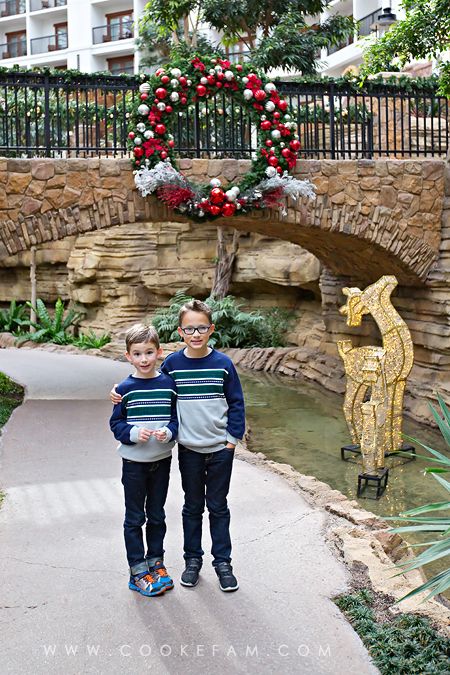 We only had to wait a few minutes because Mimi and Pop are nothing if not punctual! Then, the boys led us to the ICE Exhibit following all the signs in the hotel.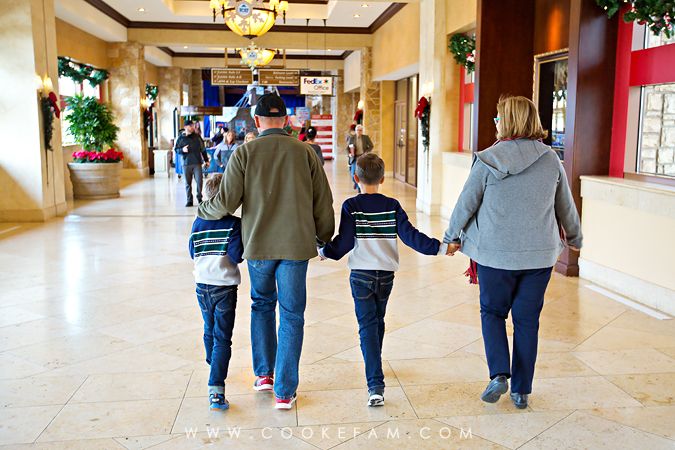 And unlike last time, we walked right in. We were smart and brought hats as well as gloves this time - something we learned to do when we did not bring hats last time.
First, a note on this theme: the boys LOVE this movie. I do too. It's a Christmas classic and one of our very favorites. It's up there with Rudolph for sure. So, this exhibit was all the more fun because the boys know this movie backwards and forwards, although I made sure we watched it two days ago so it would be fresh on their minds!
This is my third time to visit an ICE Exhibit here at the Gaylord and every single time I am blown away by the sculptures...they are perfect and amazing.
There were only a handful of people in the entire exhibit at the same time as us so we were able to really take our time and enjoy it. Night and day difference from two years ago. Am I harping on that too much? That's because it really, really makes a difference in the experience. Especially with kids.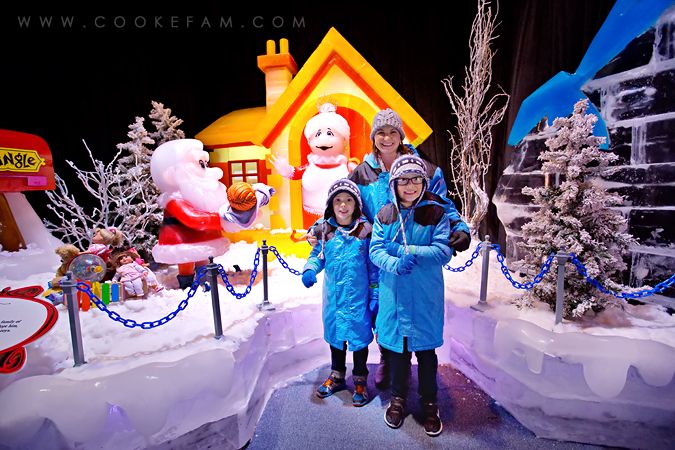 My favorite part of the exhibit was Sombertown. They had it set up just like a town square with the fountain in the middle and the town hall at one end. And all the shops were around it. It was so cute!
The boys were not mad - just imitating the Bergermeister's expression in the sculpture behind them. Haha!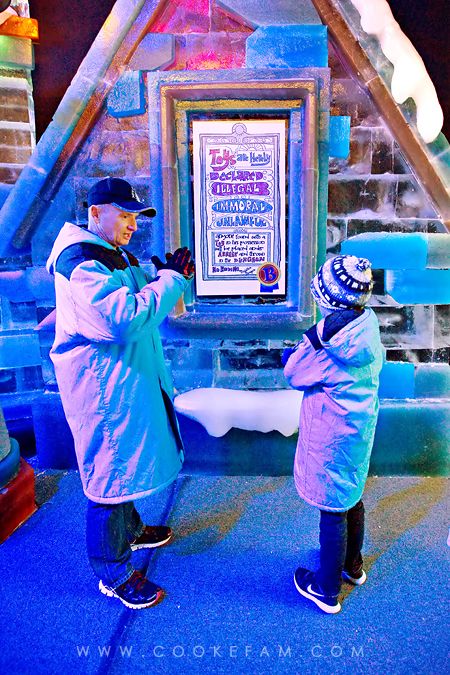 There was a place for the boys to join the Winter Warlock in jail, which they thought was fun.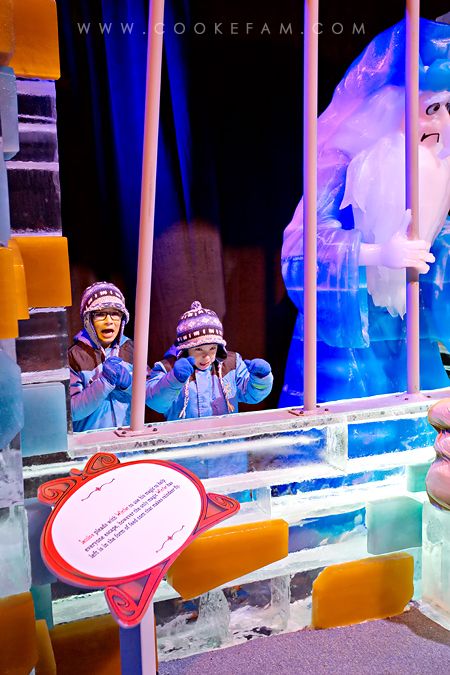 Then came the boys' favorite room...the North Pole and home to the ice slides!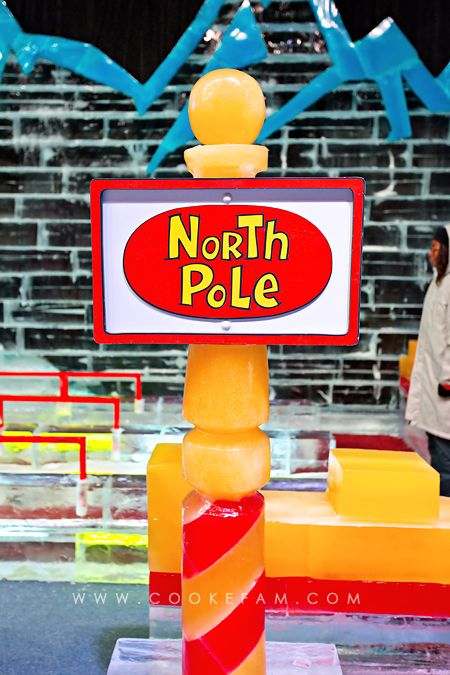 This section was adorable...and look how many people are NOT in here! It was amazing! Last time the boys got to go down the slides once. One time. That's it. This time, they went down them until they were frozen. Literally. More than a dozen times each.
They loved the slides. The attendants were trying to remind them to have their coats under them so they would really slide, because jeans can make you stop. Once they got that down, they were flying!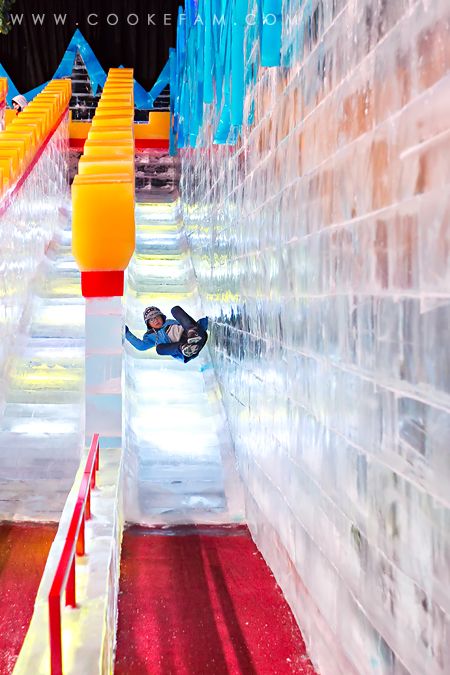 Like I said, they did these over and over and over again. So. much. fun.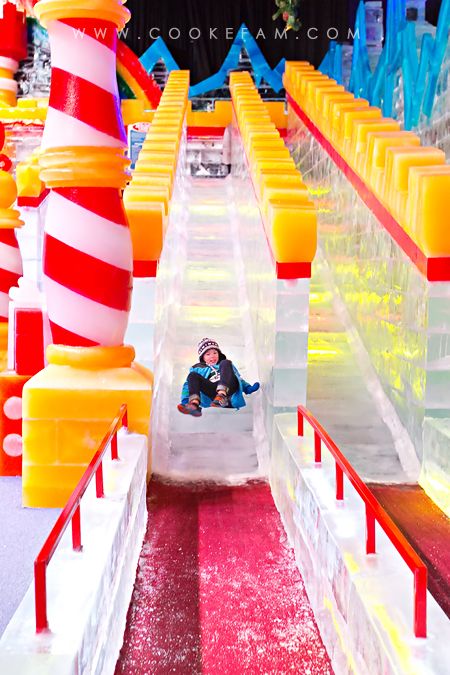 The whole slide area was themed like Santa's Toy Shop. So cute.
After the boys were too frozen to slide any more, we finished the last little bit of the exhibit.
The last part is always the crystal-clear nativity. Of course, everyone is always so cold by this point, we never stick around to enjoy it for very long.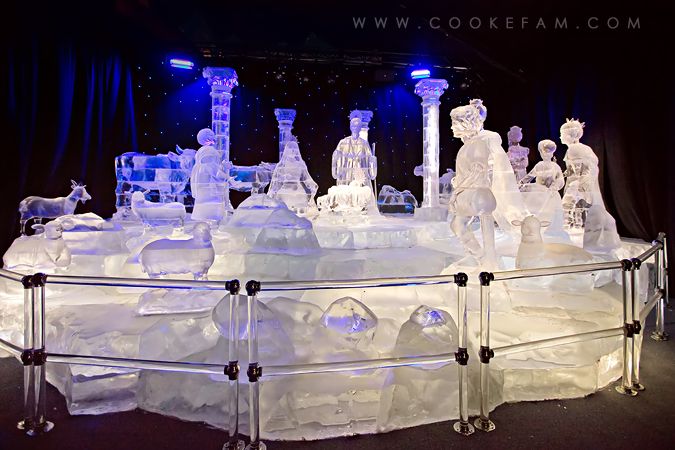 After turning in our blue coats and storing our hats and gloves, we visited the gift shop. Mimi and Pop treated the boys to one stuffed animal each, which totally made their day. And then we had one surprise left...snow tubing!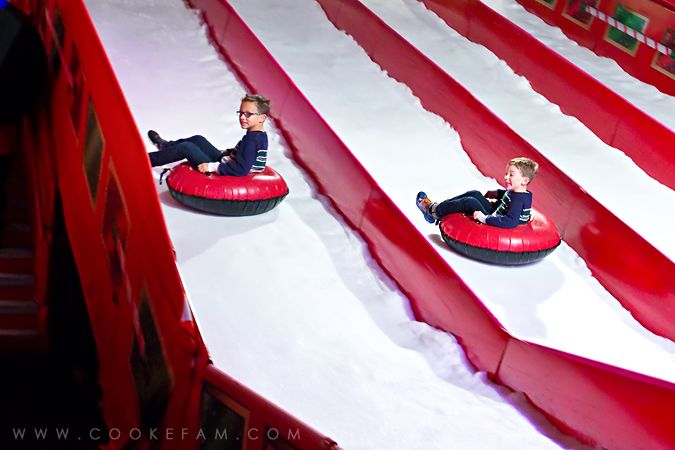 We had bought combo tickets for the boys and they got to go down these snow slides on tubes 12 times each. They loved it so much.
Here's Logan...again, holding nothing back. He might have enjoyed this a little bit. What a great experience this whole afternoon was. I would definitely come back again...now that I know when to come!