Ethan and I baked some cookies to take to his preschool teachers just for fun. I made a bag topper in Photoshop to go over a regular sandwich ziploc bag to dress it up. Allow me to digress a moment to tell a funny story about this baking session...
There are two types of cookies in there and one of them includes caramel bits (yum, I know!). Ethan wanted to try one, so I let him. But he apparently didn't care for the caramel bits because out of the corner of my eye, I saw him grab for the bag they came in to try and spit it out! I kind of shrieked and yanked the bag away so then he went for the bowl of cookie dough! So, I shrieked and yanked that away too! He was seriously about a microsecond away from ruining the dough and the bag of caramel bits. Good thing I was right there...he ended up spitting it out into my hand. We had a little talk about what to do in a situation like that. And it does not involve spitting out unwanted items into the nearest container while baking! I think he got it.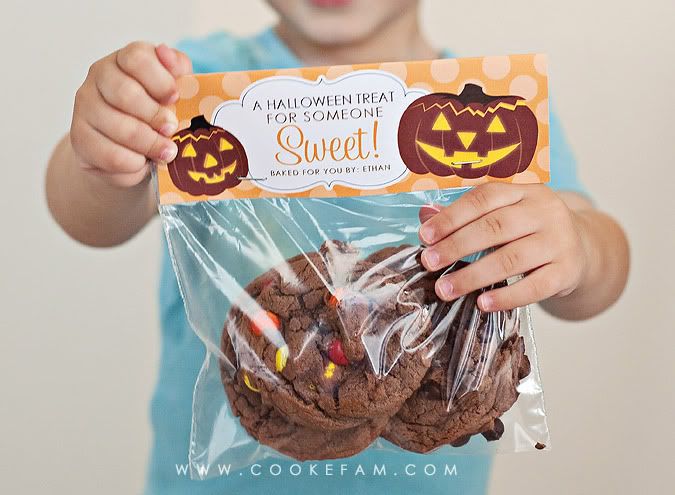 You can download this (without Ethan's name on it) by clicking on the image of the topper below in case you want to surprise someone with some sweet treats too. It will also be on the
free printables page
. Ethan and I did something very similar
last year
during my fall baking madness. (That treat bag topper is also available for download on the
printables page
.)
(Click image to download)
When the Google Docs page fully loads, go to "file" on the far left and select "download original."