Finally! The first installment of my "series" on our New York trip. I've actually had this post ready to go for a little while, but I had other things I wanted to post first. Also, be warned that there are going to be a lot of photos in these posts...and therefore, they are long. Here we go...

We got up bright and early (5:30am) to get ready for our flight to New York on Saturday morning. I had originally booked a flight an hour later so we wouldn't have to get up so early, but American Airlines changed the flight times. So much for careful planning.
I always love looking out the window on an airplane. The perspective is just so unique. Even though I have flown quite a few times in my life, it never gets old. For most of the flight, the clouds were just a white wall reflecting sunlight, but I got this one of the clouds as we were descending into New York.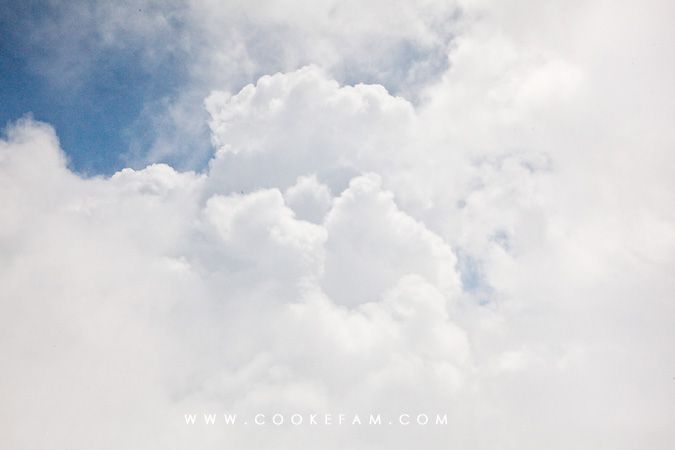 It was weird because when we were above the clouds, it was blindingly sunny. As we got below the clouds, it was a grey and dreary day in New York. Here we are about to land at LaGuardia....you can see how foggy it was that day.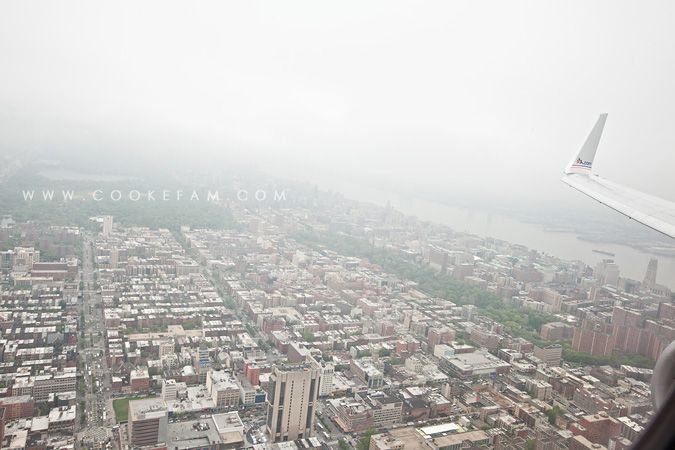 We took a cab to our hotel, which was
Hotel Sofitel
. Oh, how we loved this hotel. It's a French hotel so all the employees always greeted us with "
bonjour!
" And just look at the stone work on the building facade. It was so centrally located too...on 44th between 5th and 6th.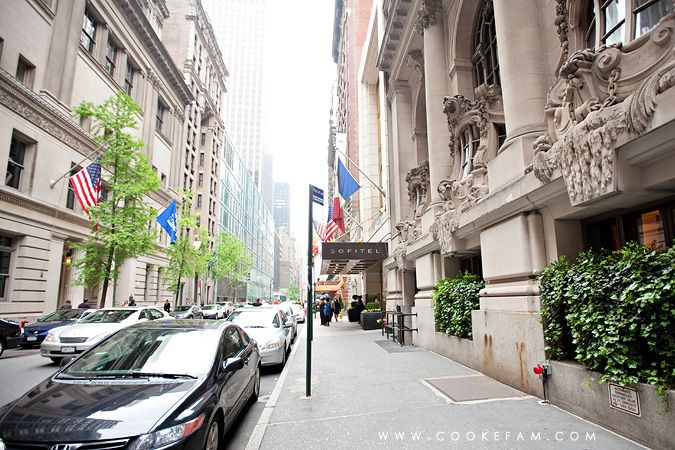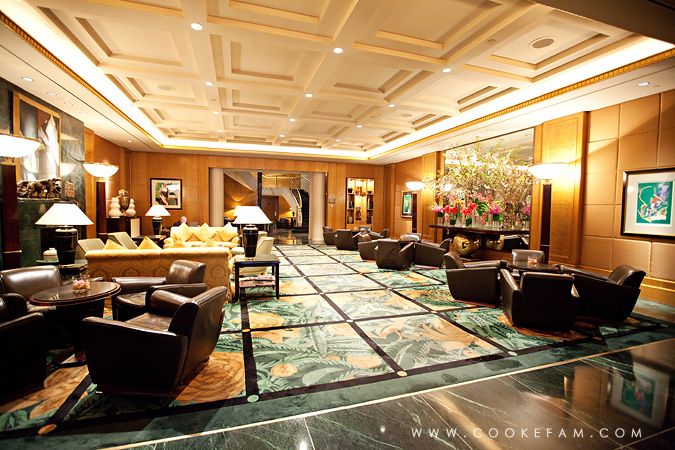 We weren't able to check into our room just yet, so we left our bags with the concierge and took off to Rockefeller Center, which was only a few blocks from our hotel.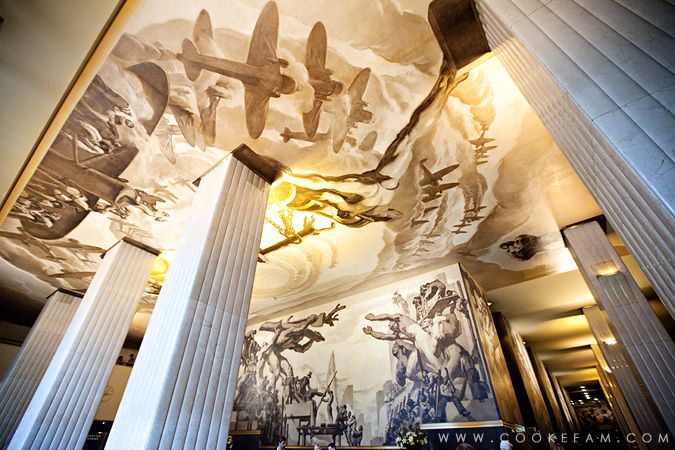 We ate a late lunch at
Lenny's
in the lower concourse of the 30 Rock building. It was a great sandwich.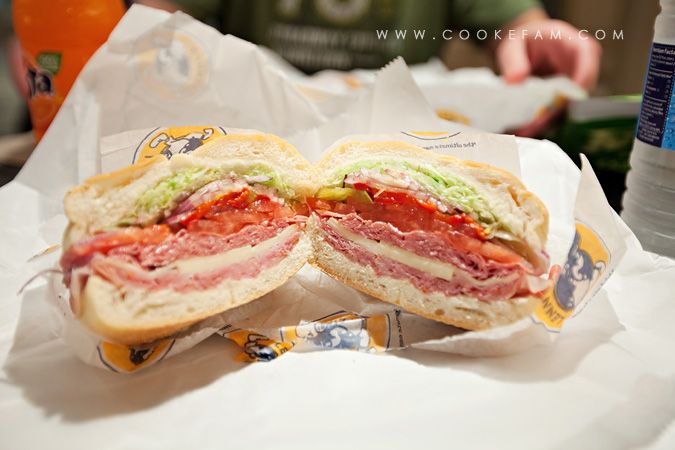 As we were walking around looking at the shops in the concourse after lunch, we went past Ben & Jerry's...and then made a quick u-turn.
Ben & Jerry's
never disappoints.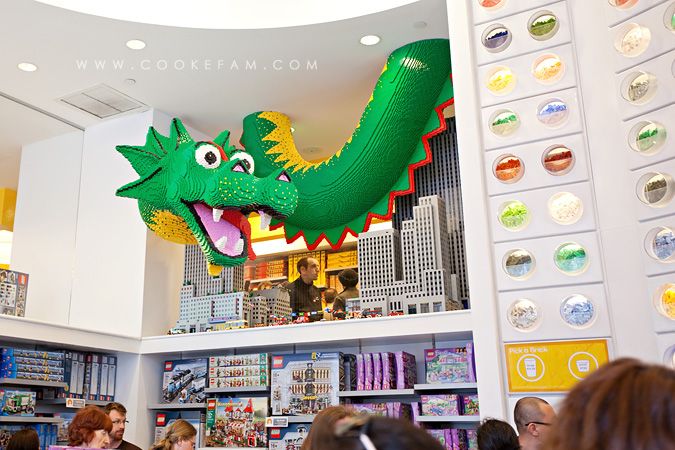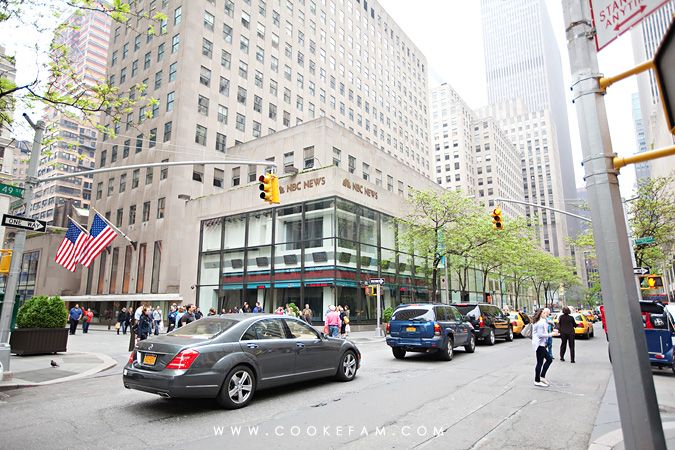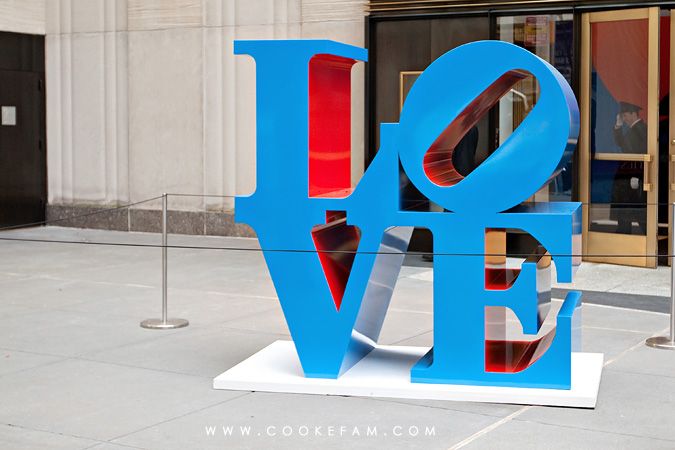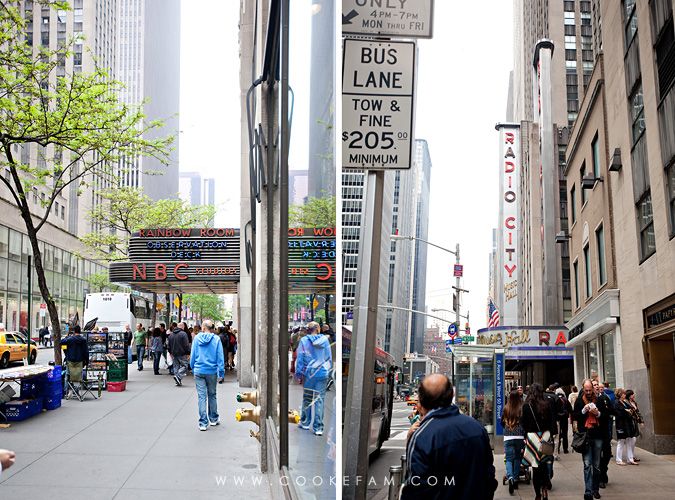 We had tickets to the
Top of the Rock
that afternoon too. We decided to do this over the Empire State Building for a couple of reasons. First, they give you a time slot during which you can go up to the observation decks. You can stay as long as you want, but the natural flow of people allows for that and still keeps the elevator lines moving very quickly. We only waited for one or two elevators on the way up and down. At the Empire State Building, you can wait in line for a
long
time. I remember the lines there...that's how bad they can be (it's been over 10 years since I've been to NYC).
The second reason was that I had heard the views were great...and they were. Especially the Central Park (North) side. Except, as I mentioned before, the day was grey and foggy. I was kind of bummed about that, but the photos sort of have a dreamy quality with all the fog (to put a positive spin on the situation). I just wish we had more visibility that day. Going at sunset or at night would also be fantastic.
Here's the view to the North. Central Park and the Upper West Side (left) and Upper East Side (right).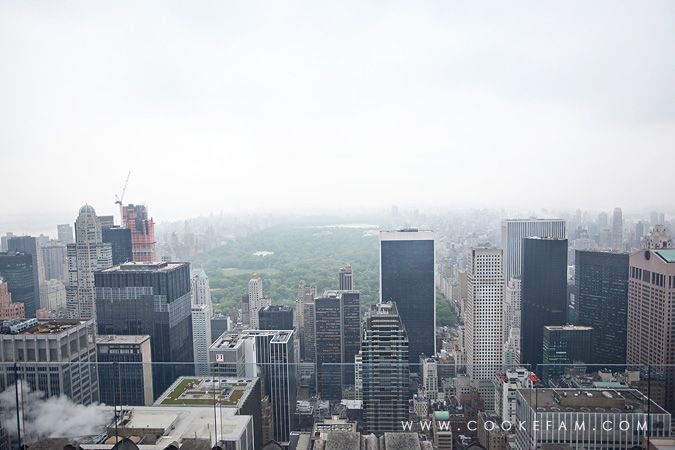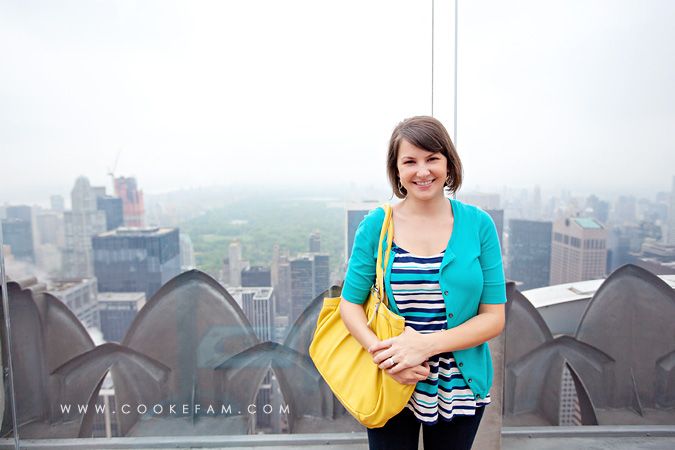 There's two decks at the Top of the Rock. This photo shows the lower deck with the glass all around. The upper deck does not have the glass.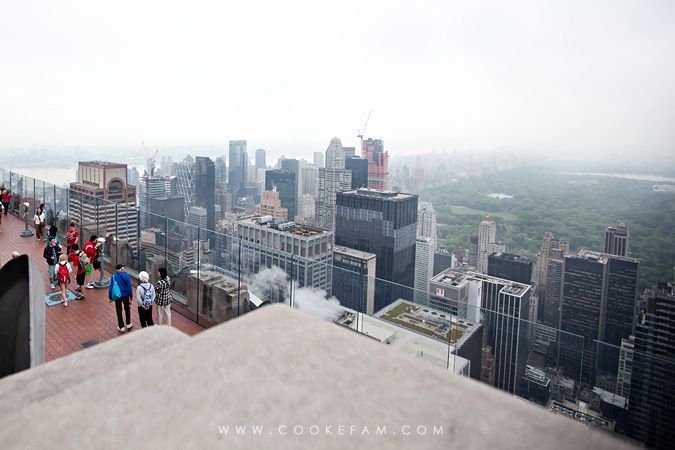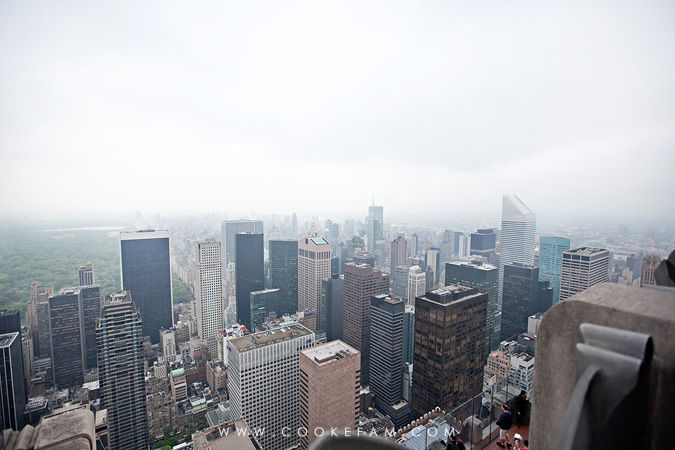 On the other side of the building you can see the view to the South (Lower Manhattan) and the Empire State Building is prominent.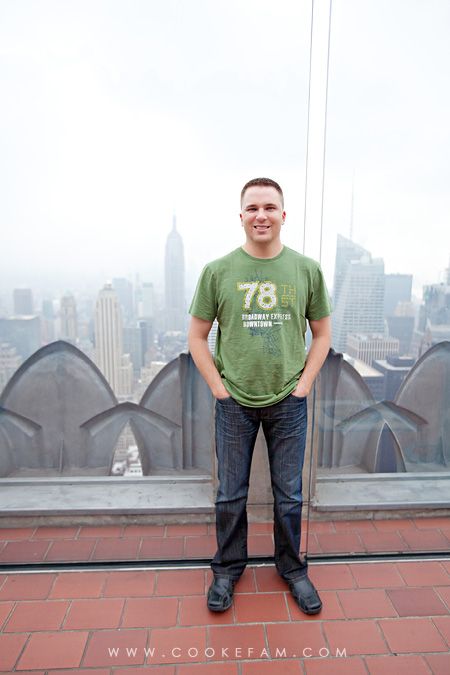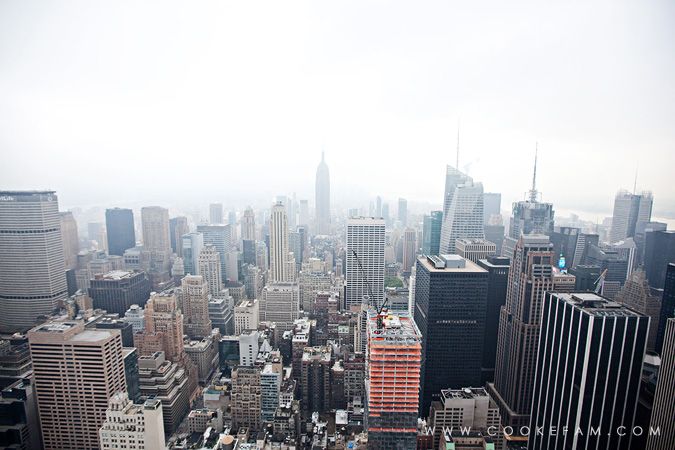 Terrible iPhone photo, but the only one of the two of us together: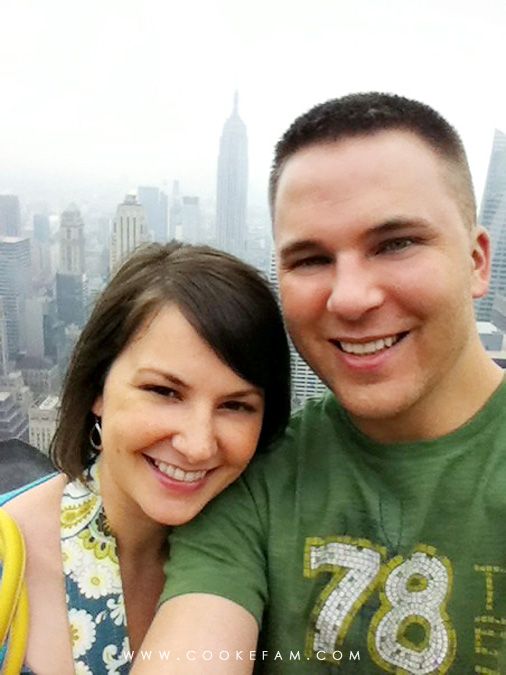 While we were walking to the elevators to go down, I looked out a window and saw the Empire State Building framed in the window and signage on the outside of the building.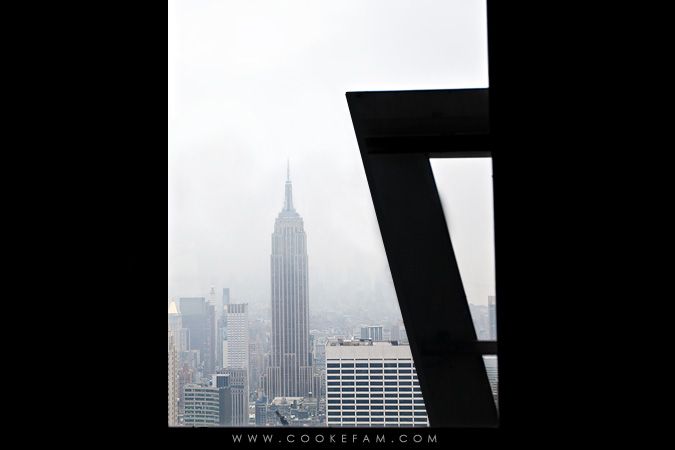 By then, it was past time for us to check into our room at the hotel, so we headed back. Here is our room: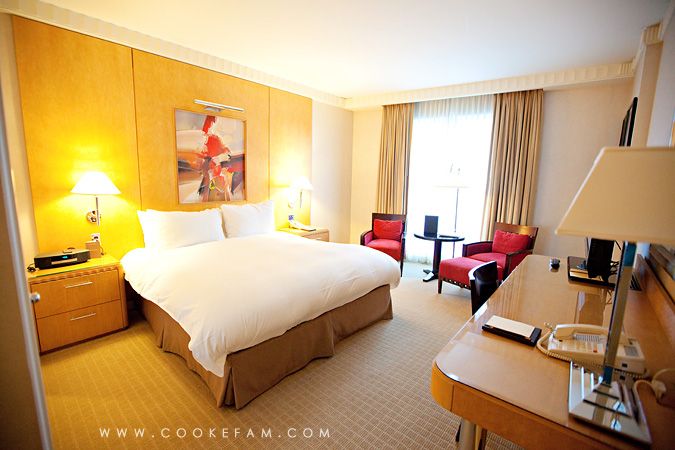 That bed was heavenly. It was topped with a feather bed, four down pillows, and a down comforter. And really, really soft sheets. Loved it.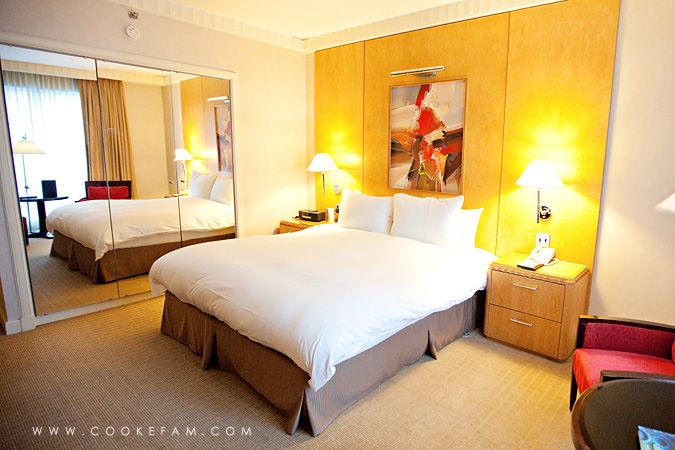 The bathroom was quite large for a NY hotel. The rainfall shower head was perfect. And because it's a French hotel, the toiletry products were
Hermes
(soap, shampoo, lotion, etc.)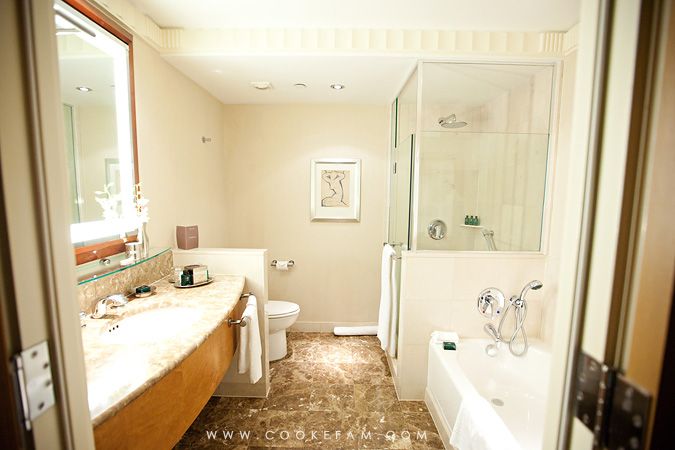 After we got settled, we took off our shoes and promptly fell asleep on the wonderful bed. After a little nap, we got up and freshened up for dinner and a Broadway show. We stayed really casual that night and did not regret it.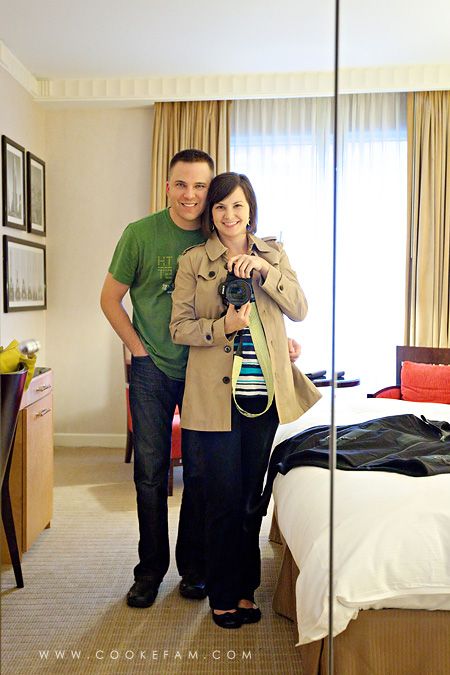 On our way to dinner, we passed through Times Square, which was also only a few blocks from our hotel.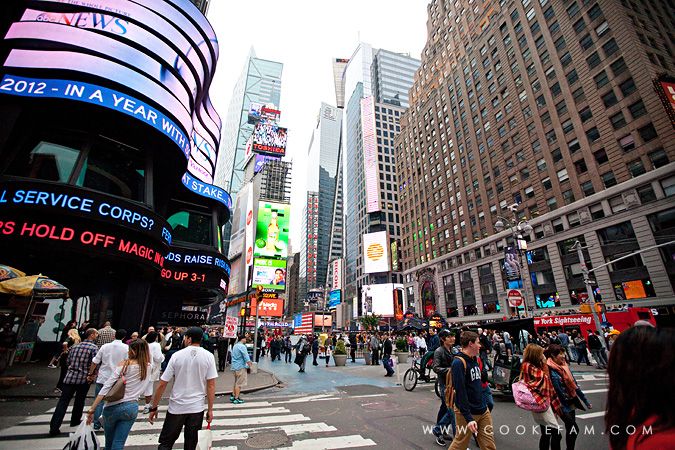 We had planned to eat at
John's Pizzeria
that night before our show. It's supposed to be one of the best pizza places in NYC. Well, that's a well-known fact and the crowds proved it. Unfortunately for us, even though we showed up almost 2 hours before our show, their upstairs seating was closed and therefore, they were
packed
. We determined after a little while that we had no hope of getting to our show on time, so we bailed...hoping to return
after
the show. Thank goodness we'd had a late lunch.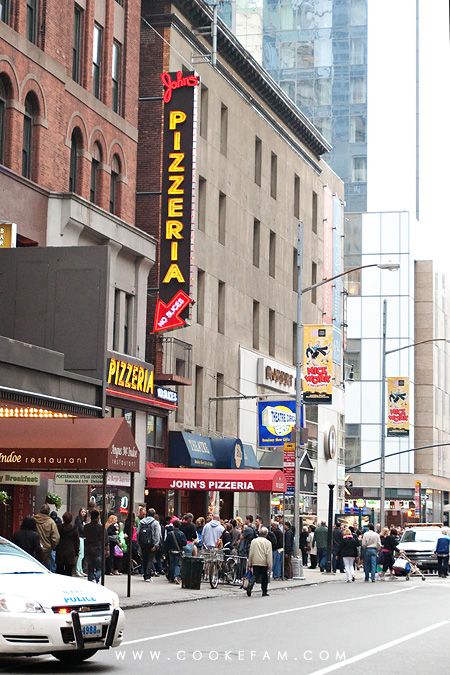 We figured we could get a light snack to hold us until after the show. We spotted one of a million street vendors selling pretzels and decided to go for it. The grape soda was great, but the pretzel will now be known as the worst pretzel I've ever had. It tasted like cardboard with salt.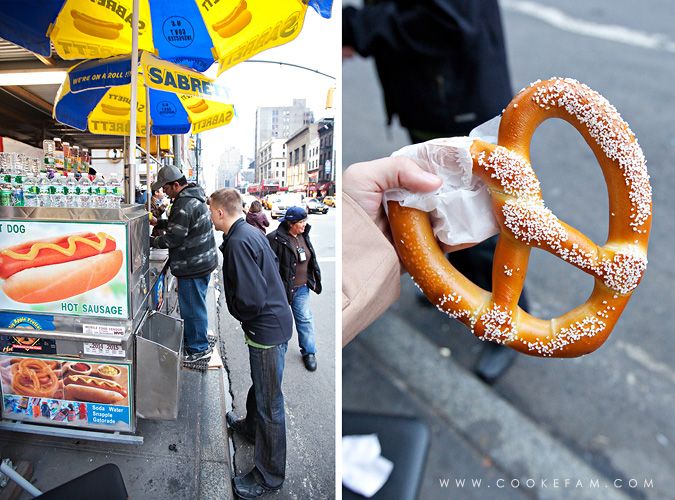 We went in a couple of stores on Times Square since we had some time to kill. The Disney Store was so fun. Times Square is so fascinating and almost mesmerizing to me. It's always changing because the ads are changing and there's just so much going on. Everywhere you look there's something different to see. The fact that it's all lit up is catchy too.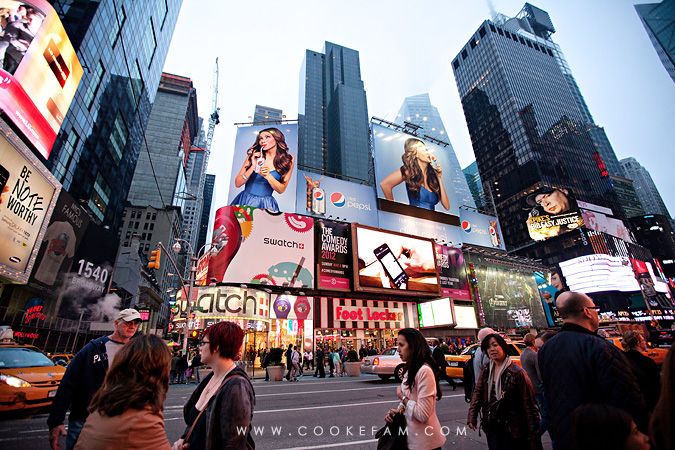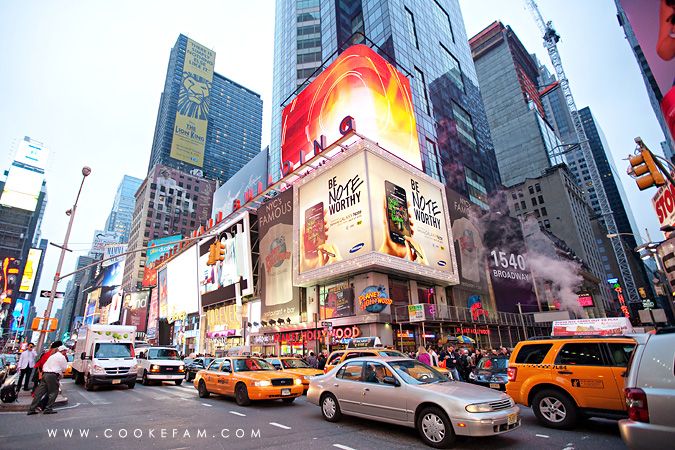 Finally, it was time for our show...
The Lion King
. I had seen this show years ago, but really enjoyed it a second time. It was Casey's first time to see it. We both thought it was fantastic. The puppetry, the costumes, the sets, and the hauntingly beautiful music make for a spectacular show.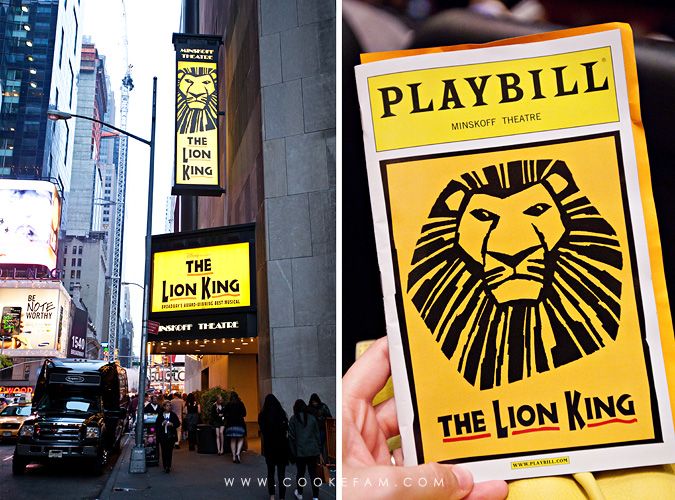 And after the show (at about 10:30pm), John's was still open! We finally got our pizza. Did it live up to its reputation? Absolutely. It was delicious. I just love wood-baked pizza.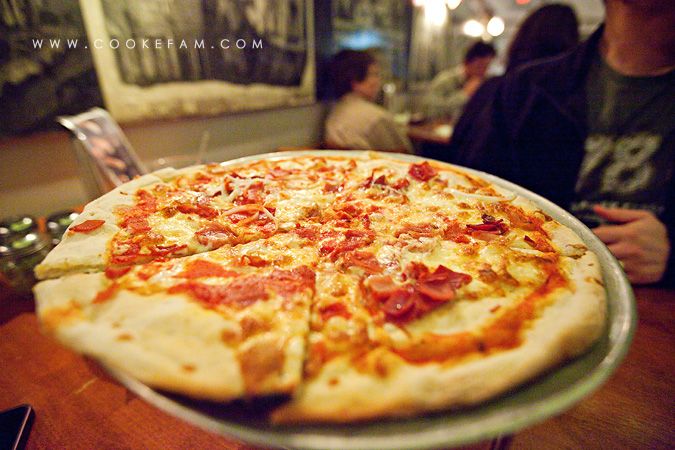 We sat in the upstairs seating area, which was open at that point. The photo below shows one of the four ovens (two downstairs, two upstairs) that cook the pizzas. I loved that they made them outside of the kitchens so that you can watch them toss and stretch the dough while you're waiting for your pizza.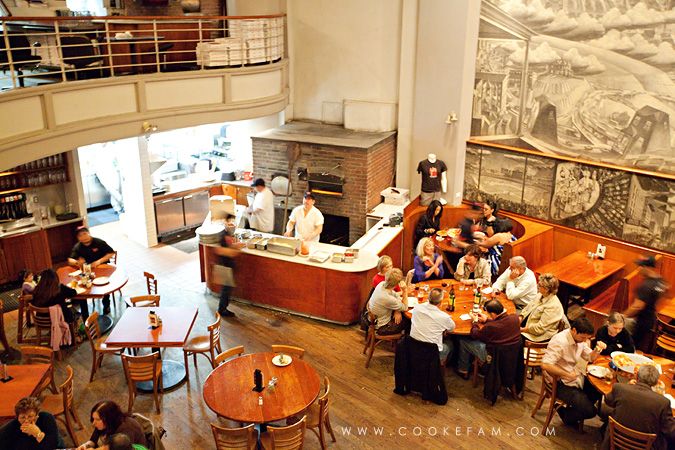 A little walk through Times Square at night (about 11:30pm) on the way back to the hotel. It was still as bright and packed as it is during the day.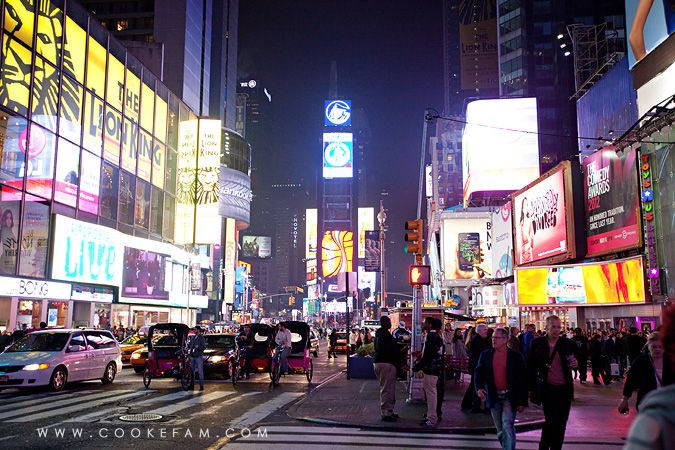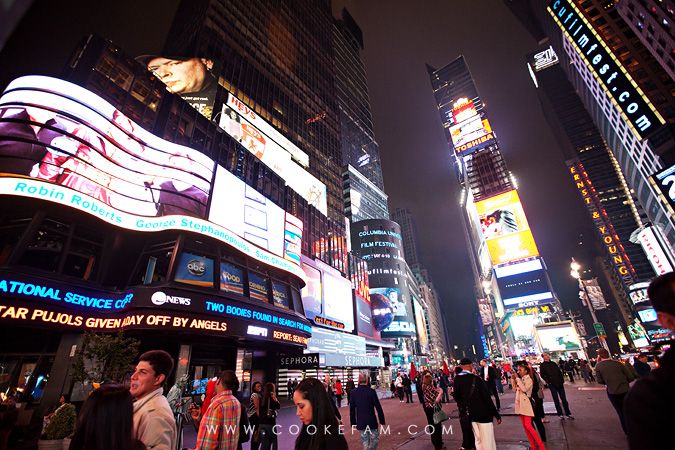 Our hotel at night...so welcoming.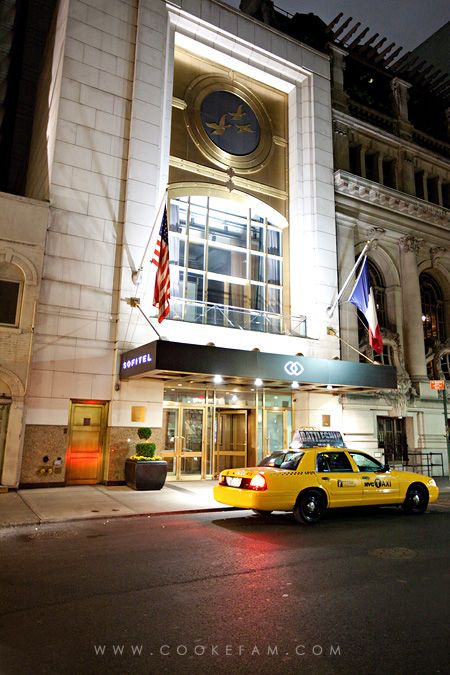 At night in the lobby, they light about 20 candles on this table with the fresh flowers and branches. I think the photo does not fully show how beautiful that table looked. And then, we literally fell into bed after this long, but fun day.