I briefly mentioned the
other day
that I only took photos on
one
of the days we were at the lake house for our family vacation this summer. The rest of the days, I barely even picked up my camera once (with a couple of small exceptions). In some ways, that was
really
hard for me because my camera is like an extension of my body and I kind of felt naked without it. I truly enjoy documenting our life and it feels funny to not do that for once.
But, since we were there for 5 days, and we did a lot of the same things, I figured I'd be totally in the moment with no camera most of the time and just pick one day to document. And then, the thought occurred to me that I should do a lake house version of the "day in our life" posts I've done in the past (
2009
,
2010
,
2012
). So here you have it...a pretty typical day at the lake house for our family right now (in the middle of summer). Only one thing is different from my previous posts...there are no times on this one because we are not on a schedule on vacation! We pretty much know when the boys are hungry or tired, so we just go off that.
First thing in the morning, we bring both of the boys into bed with us when they wake up (around 7am) to watch cartoons. Right now that is usually Mickey Mouse Clubhouse or Jake and the Neverland Pirates. It gives Casey and me a few more minutes to doze before we have to get up. Vacation mornings are supposed to be lazy, but the boys don't always get the memo!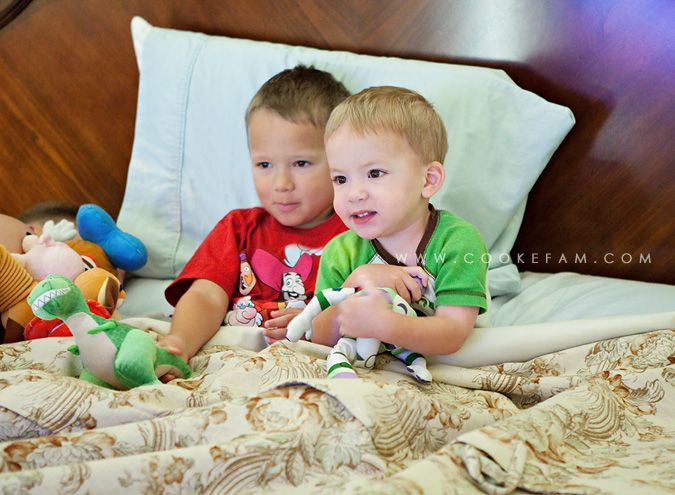 When Ethan starts telling me he's hungry and Logan grabs me by the hand and pulls me into the kichen, saying "c'mon, mama," I know it's time to make breakfast. Some days at the lake house we take time to make a special and fun breakfast like pancakes, waffles, etc. But some days, we just do our regular thing so we can move on to some fun activities and not linger over breakfast. This day was a regular breakfast kind of day. I think the boys had oatmeal, yogurt (for Logan), and fruit (for Ethan).
I think this may be the last time Logan sits in the high chair at the lake house. When we went back two weeks after this for some time with my parents out there, he wanted nothing to do with the high chair...he's a big boy now. He has been sitting in a booster seat at home for a while now, so I'm not that surprised.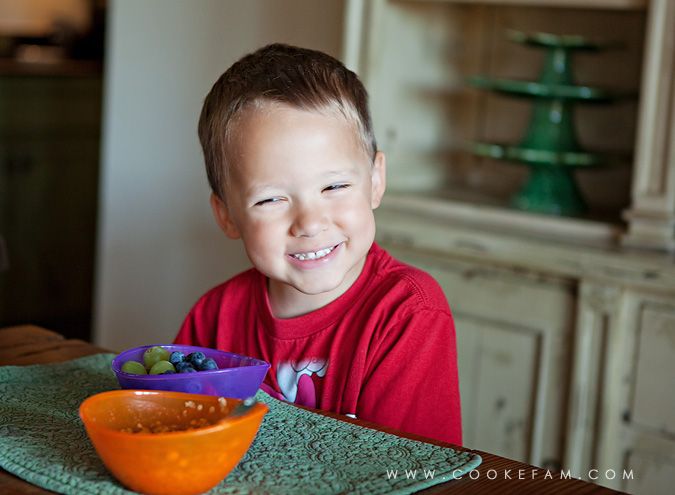 After breakfast, the boys go play in the living room with some of the new toys Mimi has brought out to the lake house for them. Logan is shirtless because he got yogurt on his shirt at breakfast.
Logan must not have gotten as much sleep as he really needed since he's already taking a snooze!
Notice the Jake and the Neverland Pirates shirt that Ethan is wearing. He pretty much picks out his clothes now, so of course, he's wearing one of his "character" shirts!
After a few minutes of play and time for us to clean up after breakfast, we got dressed in our swim suits and headed out to see the horses! Strange attire, I know, for the barn and horses. But, we wanted to go straight from the horses to the pool because we knew we'd be hot and ready for a dip.
Ethan is not shy (usually) with the horses...he walks right up and starts feeding before the rest of us can even get up there. And I love that he talks to the horses too.
I think I did a pretty good job of handing off the camera to Casey a few times during the day to catch me doing things with the boys. I usually forget to do that.
Ethan is holding his hand completely flat like you're supposed to when feeding horses. They don't really bite, because they use their lips to grab the carrot. But, occasionally, you can get "nipped" by their teeth if you hold the carrot with your fingers.
Logan is holding the carrot incorrectly...and you can see how concerned I am about that! Ha! No encounters with horse teeth that time, though. But feeding the horses by himself is actually a big step for him! He thinks it is so fun, but he's still wary of the horses.
When we ran out of carrots, we took a stroll through the barn where the horses are kept. There were a few in their stalls so we said hello.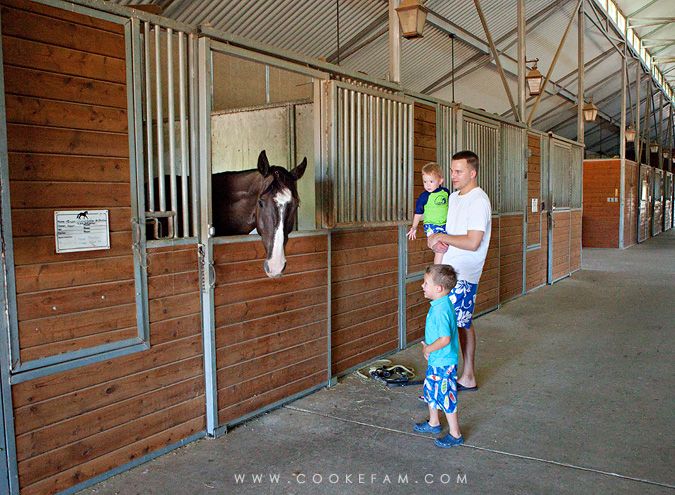 Then, as promised, we went swimming at the pool. Ethan is swimming to the rock that you can sort of see underwater in front of him. He is so proud to do this on his own. And because we have a swimmer now, we spent far less time at the toddler pool. We still went over there a few times for Logan.
Ethan with a scary smile and Logan completely disinterested...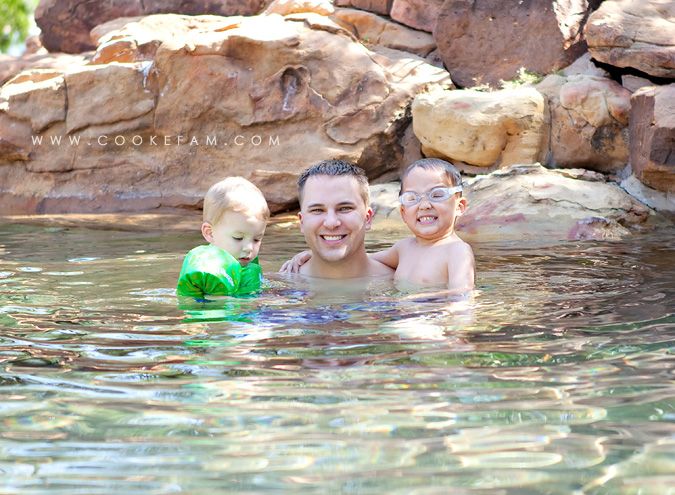 Daddy shows Ethan how to do a canon ball...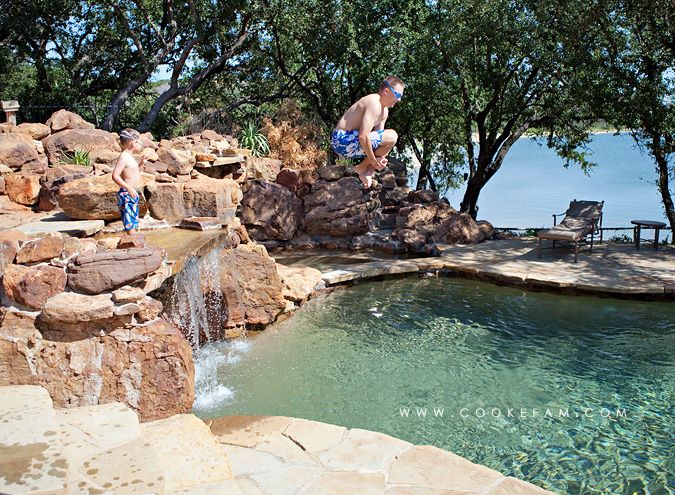 And Ethan jumps off the waterfall for the first time! And had a blast doing it!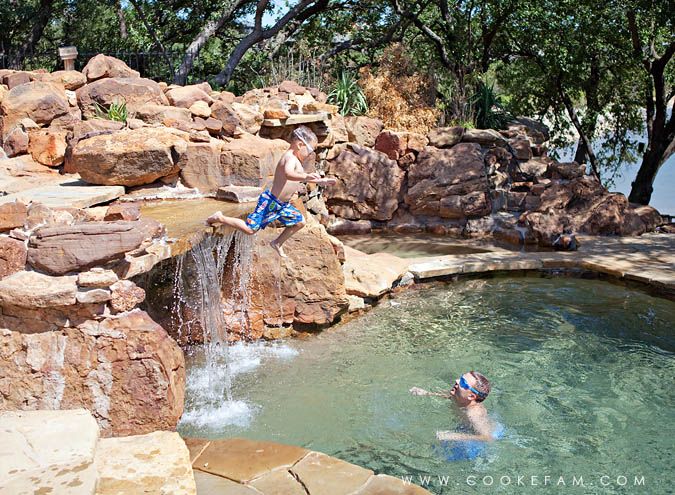 Below the waterfall is fun too. Ethan likes to swim out from under it.
And Logan loves to feel the water on his hands. He also loves to wash his hands in the sink at home because of the running water, so the waterfall is a favorite of his.
It never fails that Logan gets tired of the water at some point and wants a snack. But, he's usually happy for a while sitting on the chair and leisurely eating his pretzels. It gives us a while longer before he's ready to go back to the house.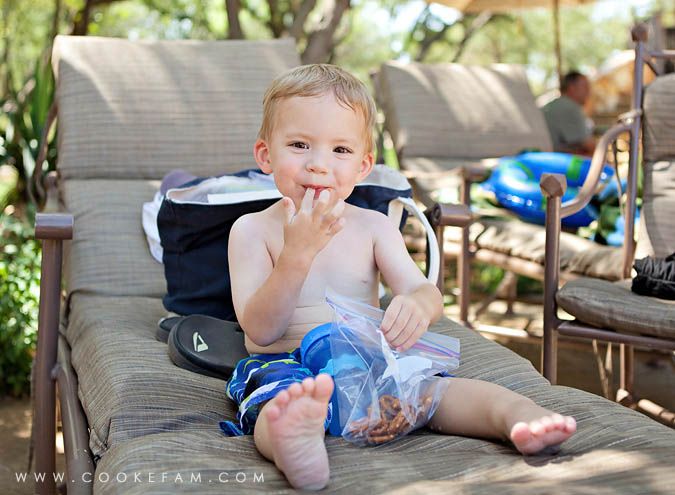 Straight from a snack at the pool to lunch at the house...looks like peanut butter sandwiches today.
After lunch, the boys go down for naps. On this day both boys slept really well because they were worn out from our morning. Casey and I usually read or do stuff on our laptops while the boys sleep. Sometimes we catch a brief nap too!
After naps, Ethan is begging to go back to the pool. I love their crazy faces in the photo below. It also captures my lake house style...no makeup (I don't even bring it with me), and this time, I didn't even blow dry my hair while we were there. Thus, the hat.
More jumping off the waterfall. When he first started jumping, he would swim to Casey and then to the wall. By the time we left, he just swam to the wall and hopped out to go jump again.
Logan did swim with me, but while I was taking photos, he hung out on the step and watched the action. He was playing with that squirt toy that is floating away in the water...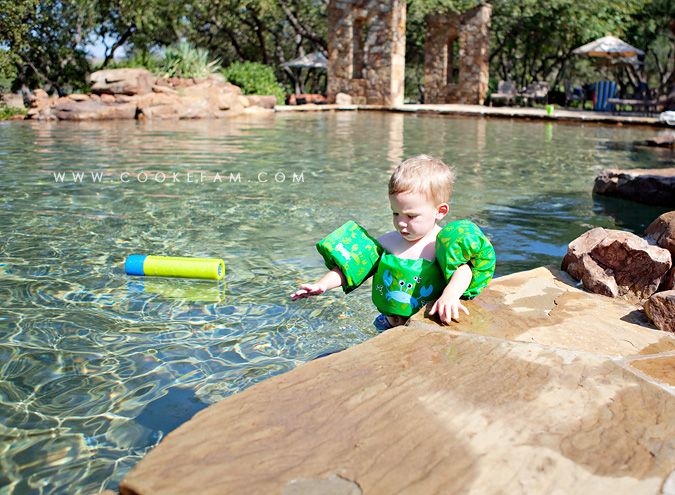 Then, he found a car that someone had left behind and it became his new best friend.
Another one of Ethan's favorite things to do at the pool is collect dive sticks from the bottom. He will do this over and over again. Here he is swimming back to the steps after getting one...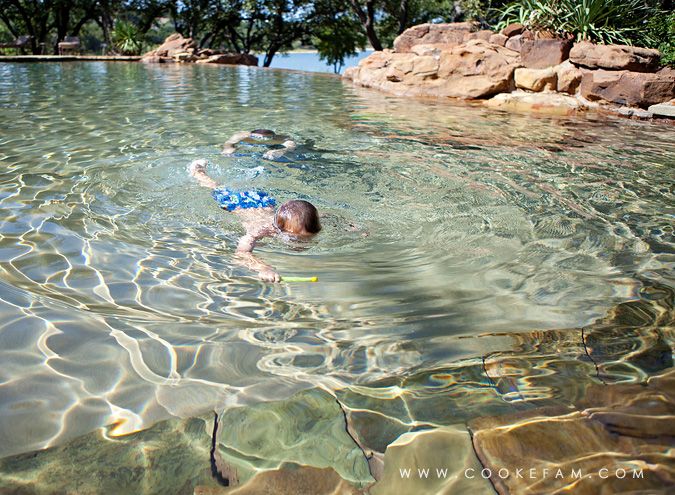 When we could tell that evening was approaching, we packed up at the pool and headed home for dinner, which is not pictured. I'm pretty sure this was the night we had chicken tacos. But after dinner is when the real meal took place...s'mores! This was the boys first time to ever roast marshmallows and taste s'mores!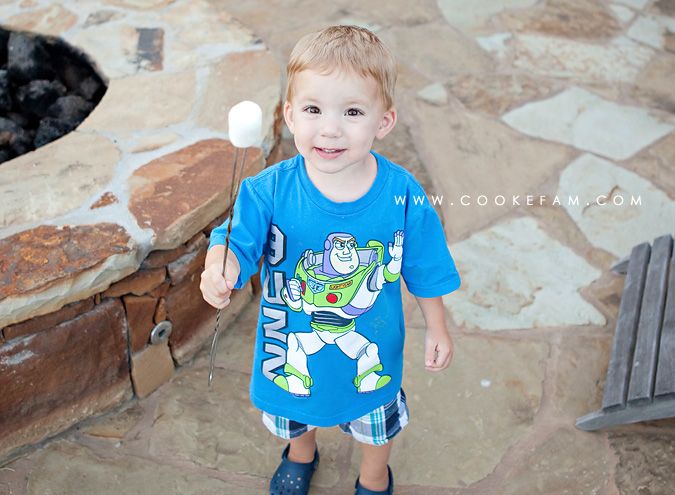 They were excited!
Logan is impressed with the fire pit...
Daddy shows them how to roast their marshmallows. Logan was totally on board, but Ethan was slightly more hesitant about the hot fire, which is completely in line with their personalities.
Well, I think he liked it. And true to form, he got sticky, and didn't like that. Good thing we hadn't taken baths yet.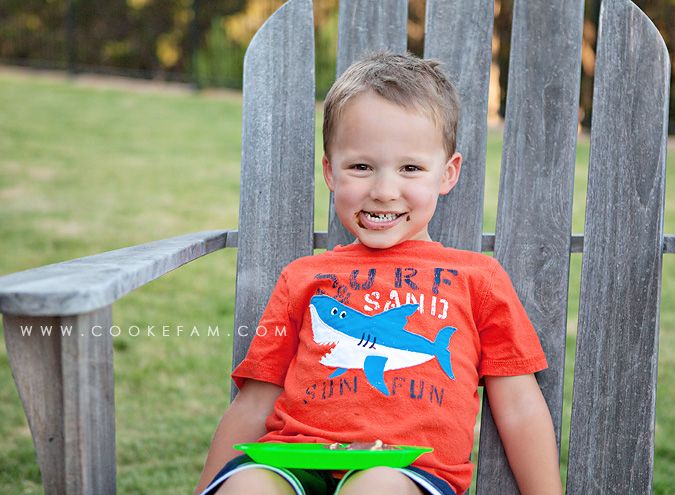 Logan liked it too. Although he ate his graham crackers separately after a while and kept calling them "coo-kees" (cookies), which is absolutely his favorite food group.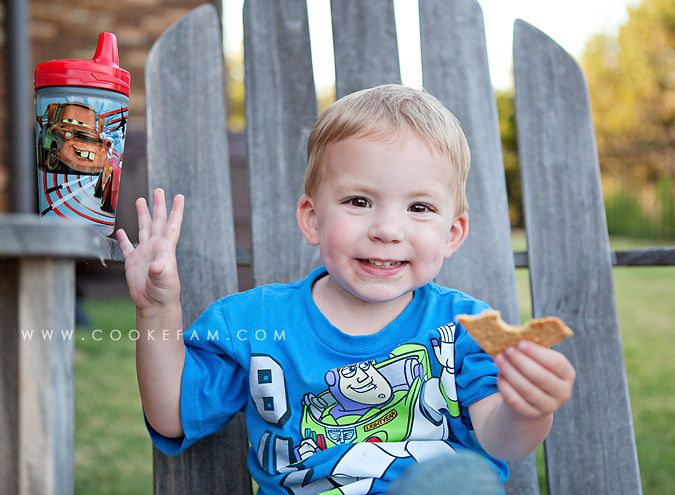 For some reason, I didn't finish out the day with photos. But, the boys took a bath, put on PJs, and went to bed. Casey and I just chilled for a while, watched some TV, and read a little before going to bed ourselves...probably way later than we should.
On this trip, we did some things on other days that we usually do like collecting and throwing rocks into the lake, riding in the golf cart...and one new one...involving the media room (in tomorrow's post).
Our days at the lake house are a true mixture of relaxation and exhaustion. Fun activities, doing whatever we want, and being perfectly and happily tired at the end of the day!
- THE END -