For some reason, our crazy sprinkler water hose attachment is like a gateway summer activity at our house. It seems to be
the first thing we pull out
when warm weather looks like it's here to stay. It must be because it can be enjoyed without having to inflate anything, go anywhere, or submerge ourselves in what is still rather cold water at the pool.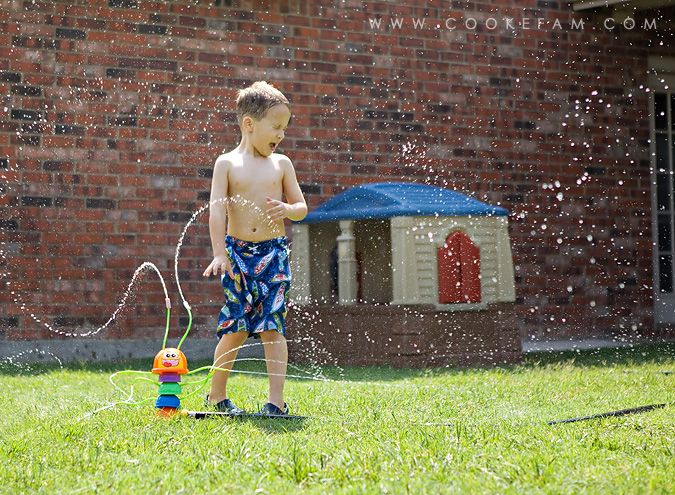 Ethan always dives right in and gets soaked. No hesitation.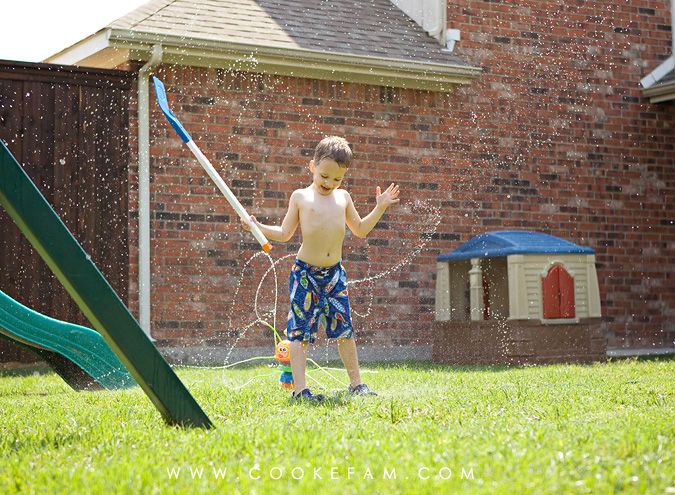 Logan skirted the sprays of the sprinkler for as long as possible. I'm not sure what he's saying to me in the photo below, but it looks serious. There's finger-pointing going on.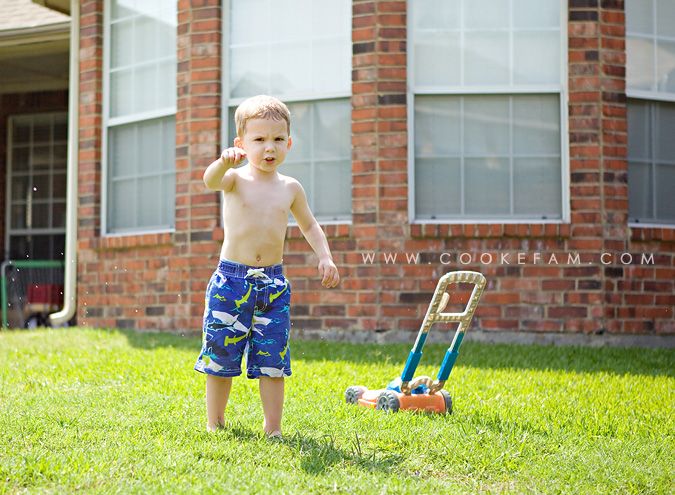 After a while, Ethan figured out that he could fill up a bucket and dump the water on himself, the slide, or whatever else he found suitable.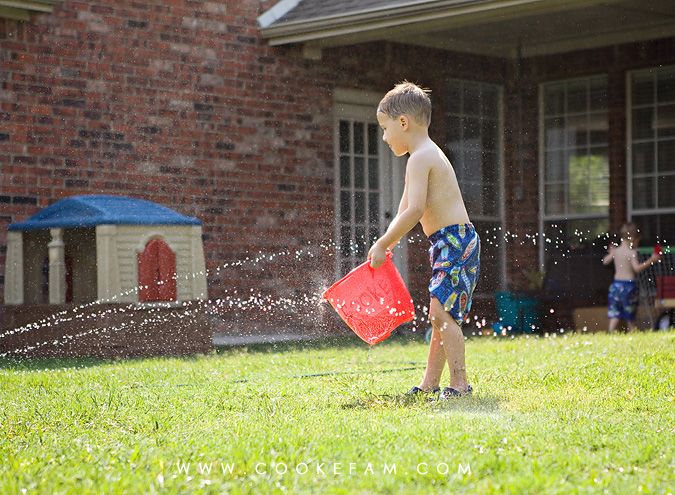 It never takes very long for Logan to follow and copy whatever it is that Ethan is doing.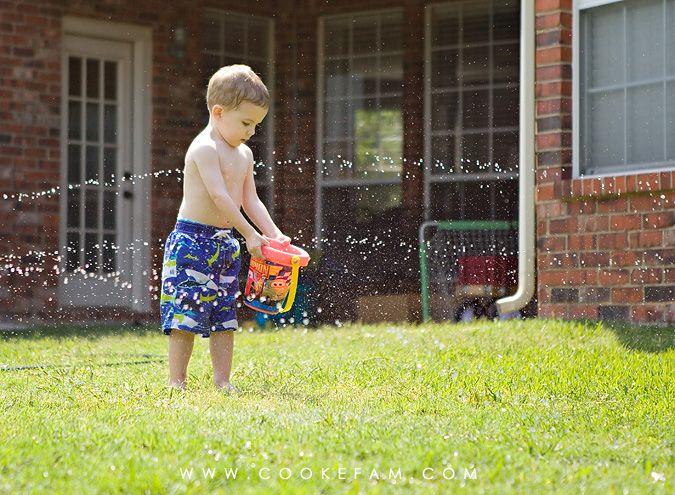 Ethan also figured out how to manipulate the sprinkler "arms" to spray the water wherever he wanted.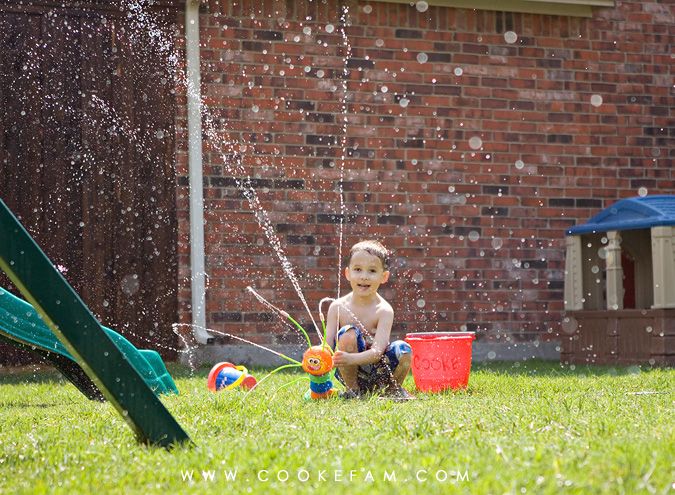 Ethan always wants to make a water slide when we have the sprinkler on. He sets it up to spray on the slide as he goes down...and it's one of his favorite things to do in our back yard.
Logan came around to trying it too, although he made daddy hold back the water most of the time.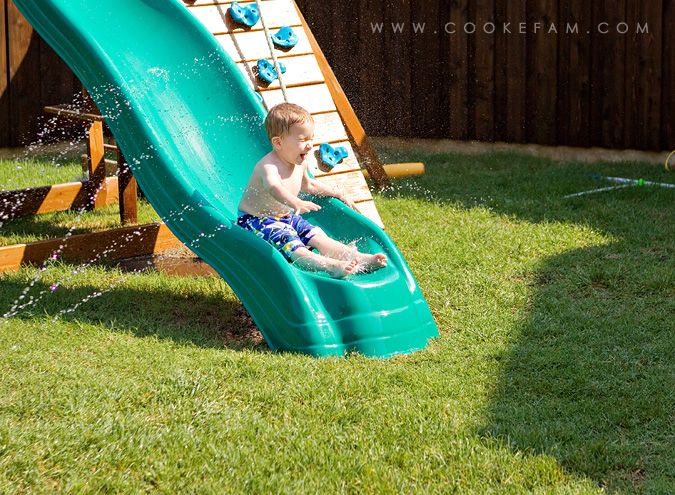 Until he figured out that getting sprayed can be fun...he's all smiles coming off the slide. It almost looks like he will land on both feet.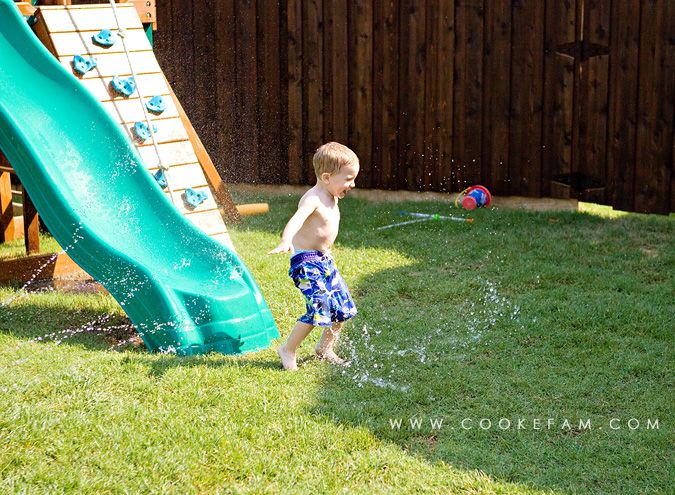 Wait, not so fast...forward momentum is pretty strong this time. But, he's still smiling.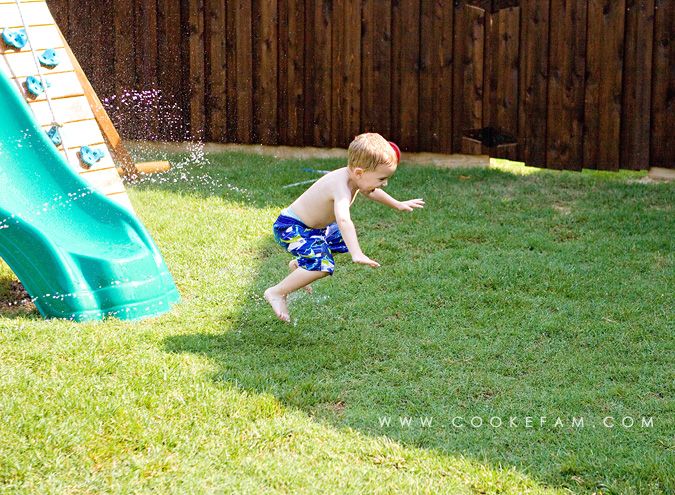 Until he does a belly flop onto the lawn. Ouch.
He benched himself after his fall. Such a cute pouter. (He did decide to slide a few more times, though).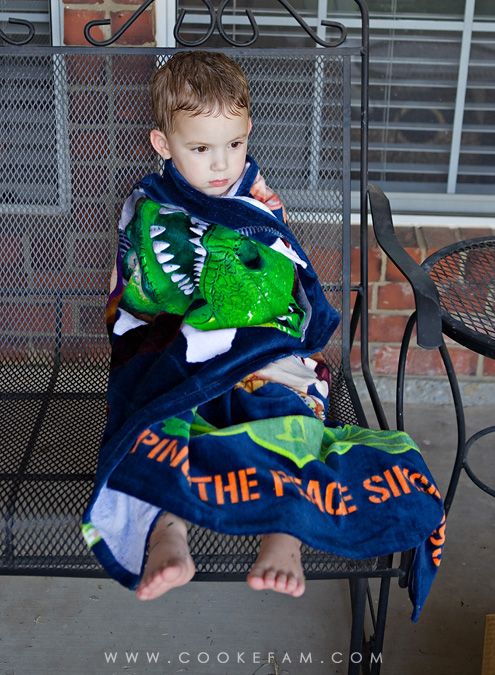 And he's back with one of the pool toys. He's "watering the plants", as he says.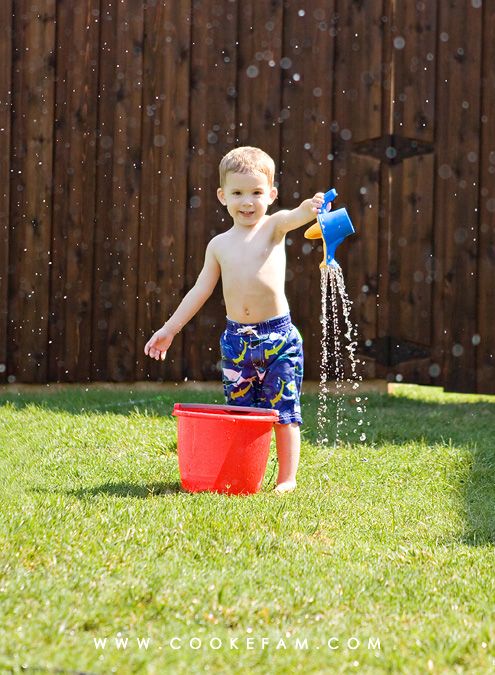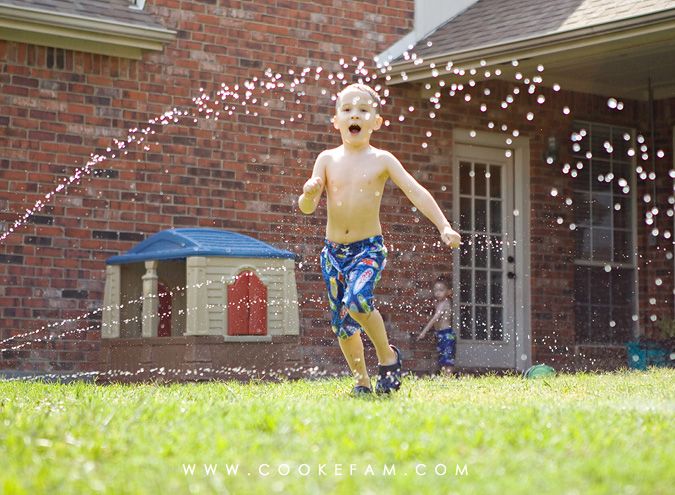 Ethan just never stops moving. He does not waste a minute of play time outside.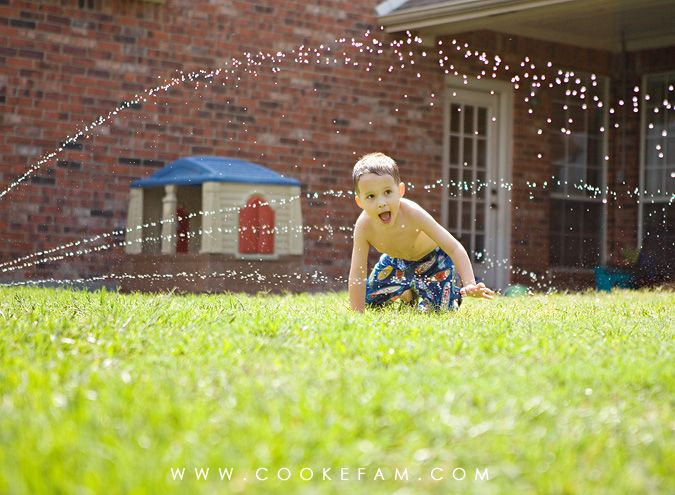 Then, daddy thought up a fun game...he held down the sprinkler arms all at once and told the boys to come sit by the sprinkler. Then, he let go really quickly and took off...leaving them to get sprayed.
They kind of loved it. And thought it was hilarious.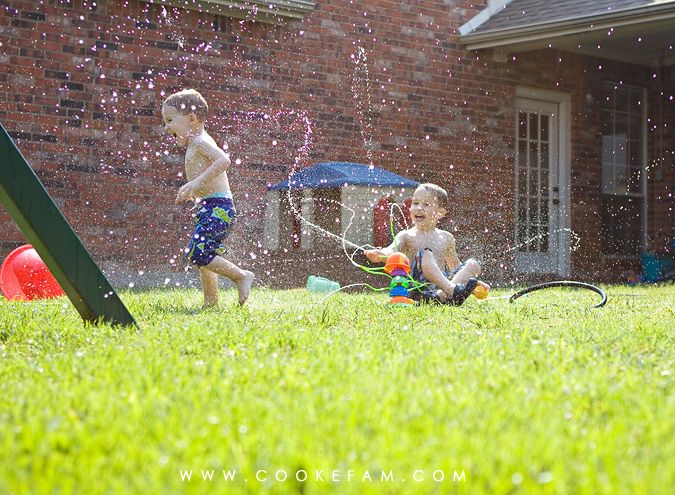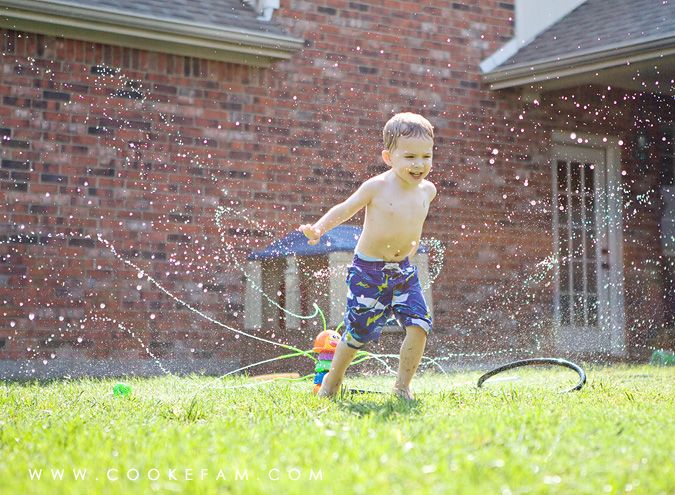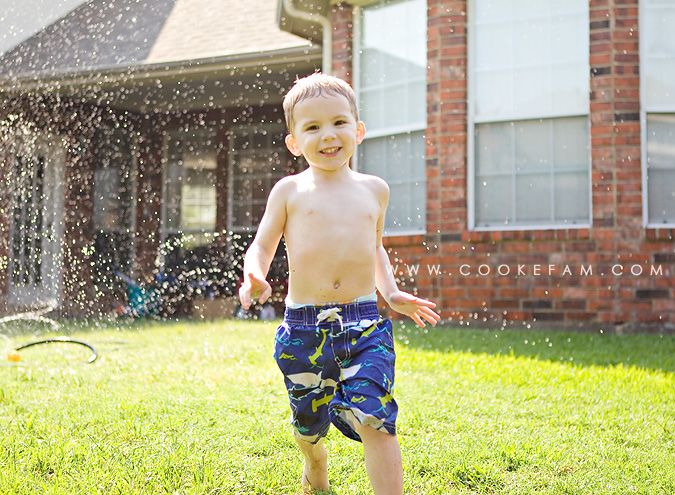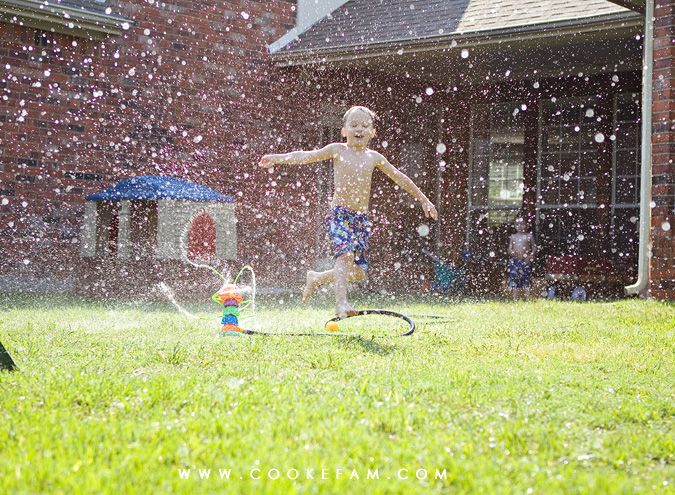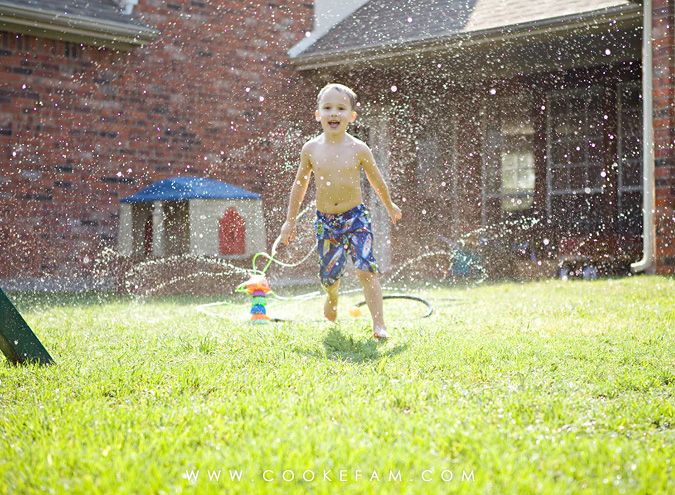 Yes, they had fun. Apparently, running around like wild animals for almost two hours will make you tired. But, as every mom knows...that's a good thing!