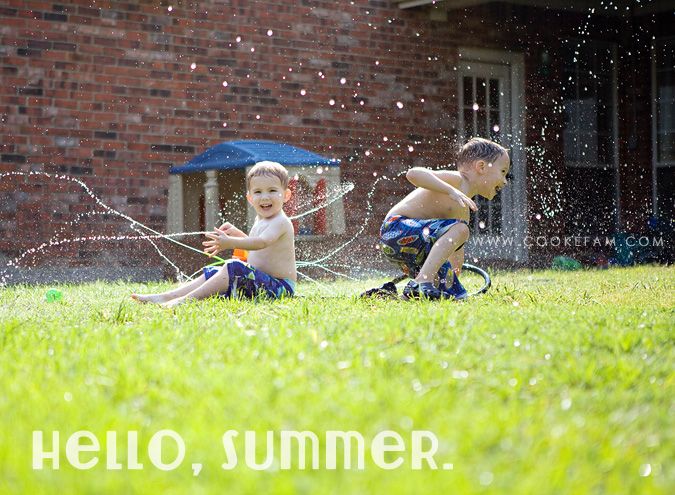 I am
so
excited for summer. Next school year Ethan will be in Kindergarten, which translates to more time at school than home and I will miss him. I know that Logan will miss his brother and playmate/friend too. So, we are living it up this summer and enjoying every minute of being together.
Last year, I made a schedule of things we'd do each day of the week during the summer months, but then we never actually followed the schedule. I kind of winged it (which is
so
not like me), and surprisingly, this did not trouble me at all. We had fun and we relaxed. We did things and we didn't do things.
So this year, all I did was make a list of activities I thought would be fun for us to do together this summer. Truth be told, I have been thinking about this summer list since March. No joke. I am a warm weather person. This list is
not
a to-do list of things I will check off, but more of an idea list that I can refer to when I feel like doing an "activity." I am not much of an "activity" mom, but some of these are so easy and the summer really gives us time to have fun with a few of them. (I might do one or two a week.) Summer, let's do this!
Water Activities:
Swimming (obviously)
Slip n' Slide (thanks to Nonnie and Papaw for the awesome one they got for Ethan for his birthday)
Sprinklers
Car Wash (see
previous post
)
Paint fence with water
Outside (non-water) Activities:
Scavenger Hunt
Photo Safari
Picnic
Bubbles
Bike Rides
Playing with shaving cream (like
last year
, but a little different)
Sink or Float experiment
Art
(which are usually also outside activities at our house):
Watercolors
Finger Paint
Paint Rocks
Nature Collage
Q-tip painting
Field Trips
:
Dallas Zoo
Children's Museum(s)
Aquarium
Hawaiian Falls
Splash Parks
Arboretum
Movies (in a theater)
Edibles (baking/cooking):
Homemade popsicles
Homemade ice cream
Dino footprint cookies
S'mores
Homemade Lemonade
Other Scheduled Activities (already on our calendar):
Swim lessons
Summer playdates with church group
Summer school (at preschool)
Lake House visits
Sea World Trip