This year was my 10 year reunion at my alma mater. How can it have been 10 years already? That's nuts. We have been meaning to go to
ACU
homecoming for several years now and keep getting thwarted in some way or another. This year we actually managed to make it happen.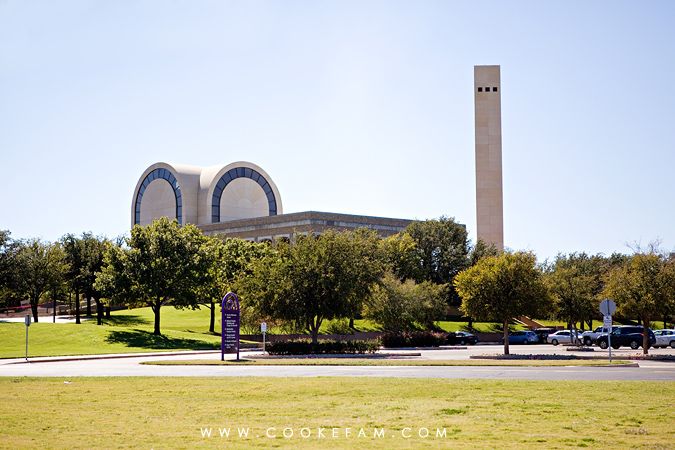 We arrived at about 6pm on Friday night right when it started to pour down freezing rain. They had to move the Friday evening carnival indoors to some of the gyms. The boys, of course, did not want to miss out on the bounce houses. And there were many of them. Here they are in line for the obstacle course...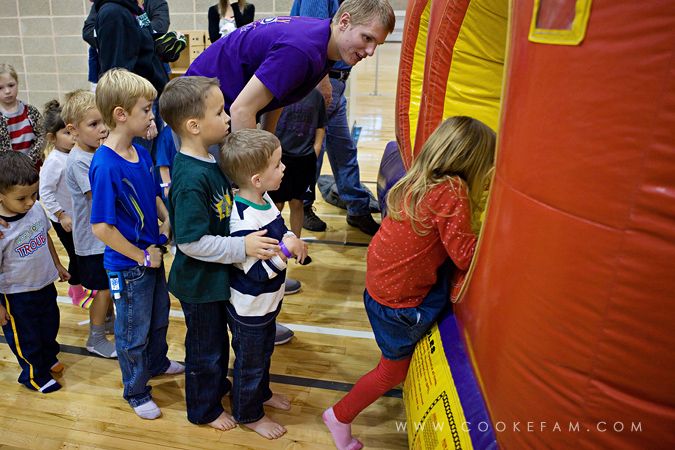 Logan started first...
And Ethan told the student attendant that he needed to go in right after Logan because they're brothers. Sweet.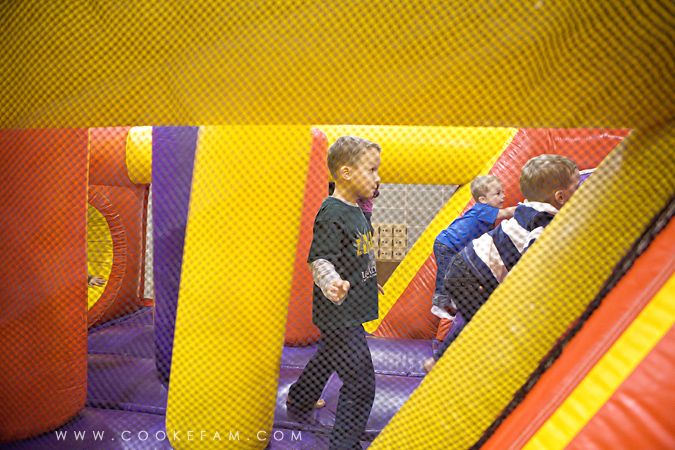 Right at the end, the kids had to squeeze through those horizontal tubes to get out. Ethan managed with no problem.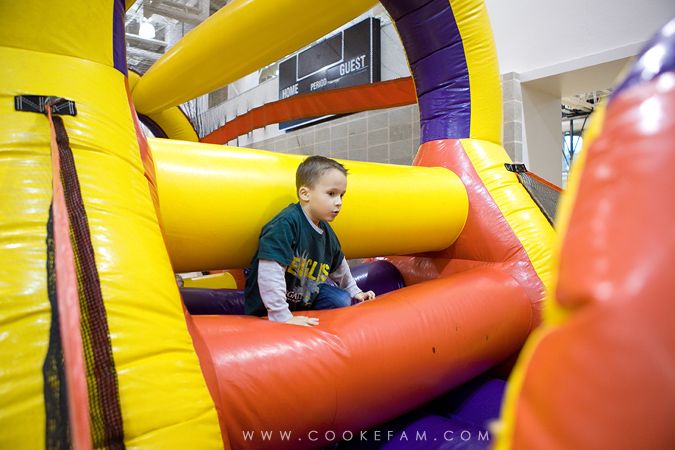 Logan, on the other hand, got stuck right after I snapped this photo and devolved immediately into a crying mess. I had to send Ethan back in to lift him out. Poor thing. (The second time he did it, he knew what to do and was fine.)
While we waited in line for some of the bounce houses, the boys had a little fun dancing and playing around.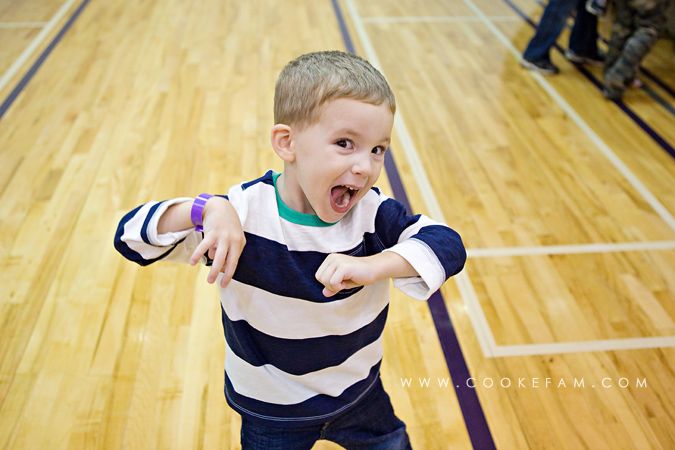 Logan is working on some serious moves here...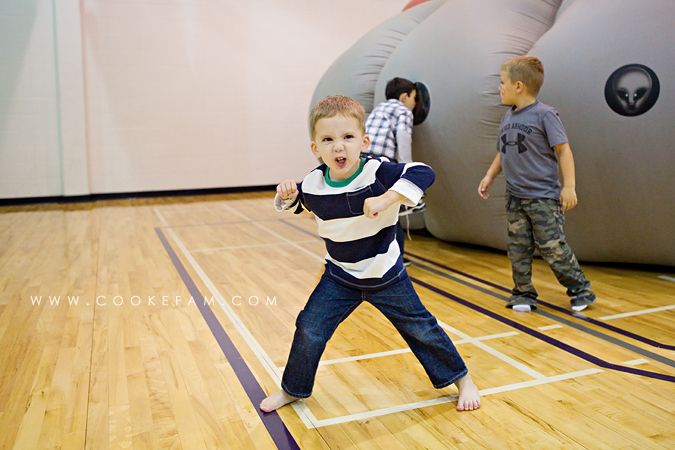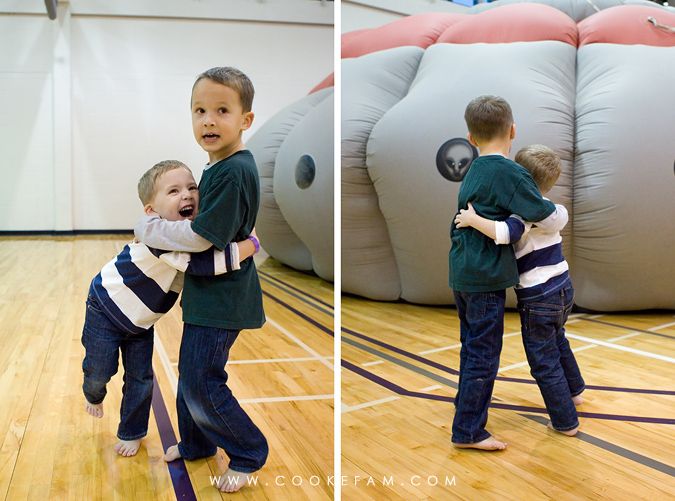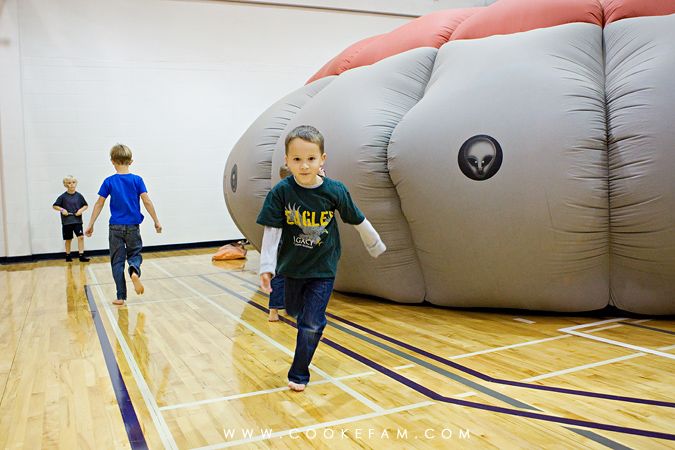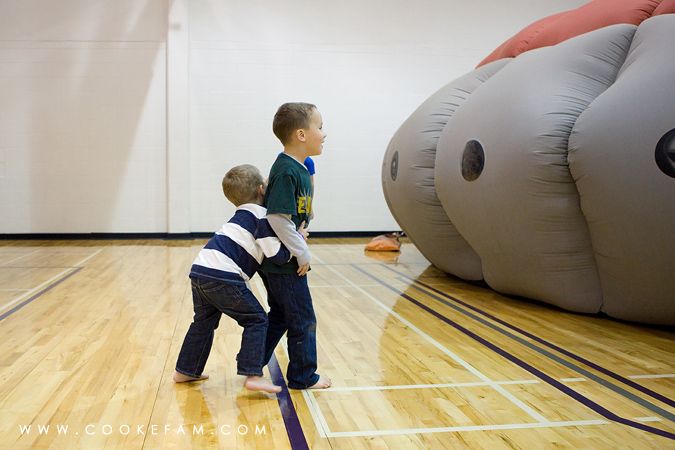 After they were done with the bounce houses, they went around to some of the carnival games. Going fishing was a favorite. Ethan kept wanting to do it again and again. Easiest way to win a prize, for sure.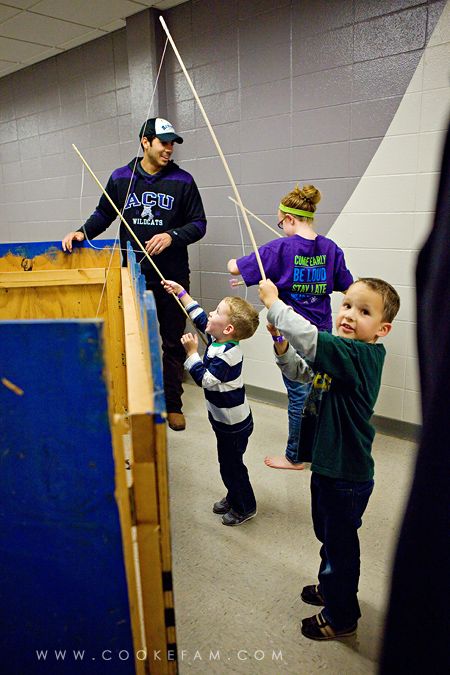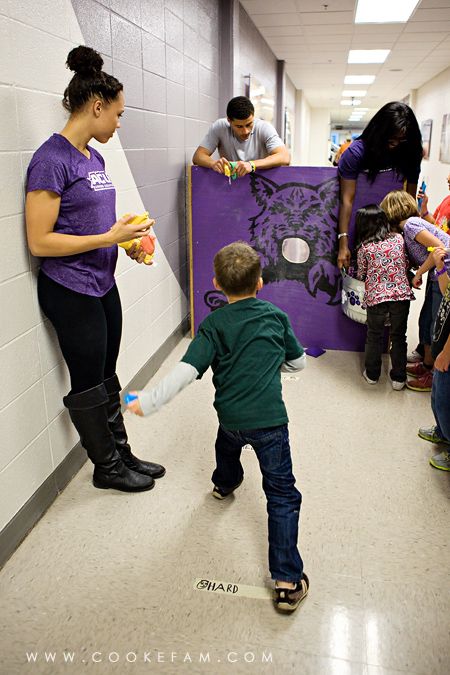 Yes, two noisy "lip whistles" are a parents favorite toy. Sigh.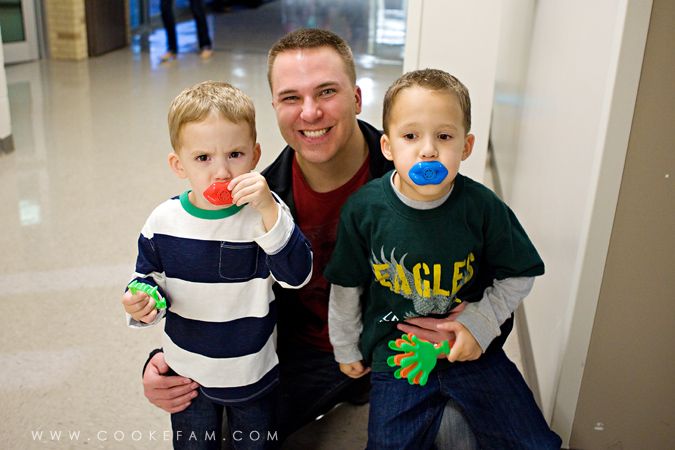 Then the boys had their faces painted. Ethan chose a pumpkin.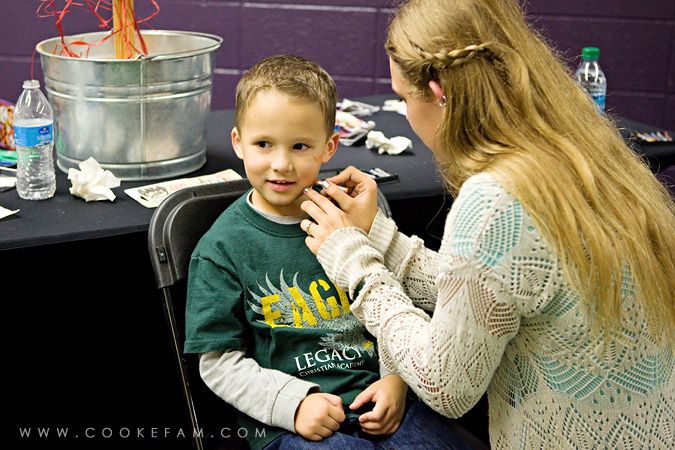 And Logan chose to look like the face of a pumpkin. Both loved it.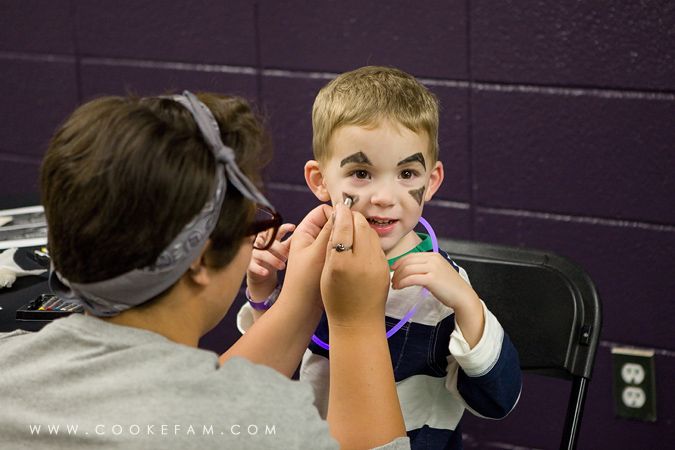 There was a concert going on in Moody Coliseum at the time and they were handing out those glow necklaces. The boys thought they were in heaven with all these trinkets and games.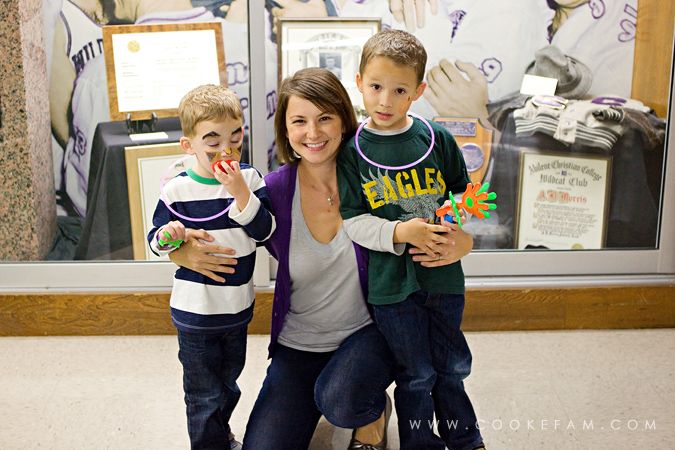 We took off after a little while to get dinner. We chose one of our favorite places from when we were in college...Los Arcos. It has changed very little in a decade. Casey even recognized a few waitresses. Their fajitas are still just as good too.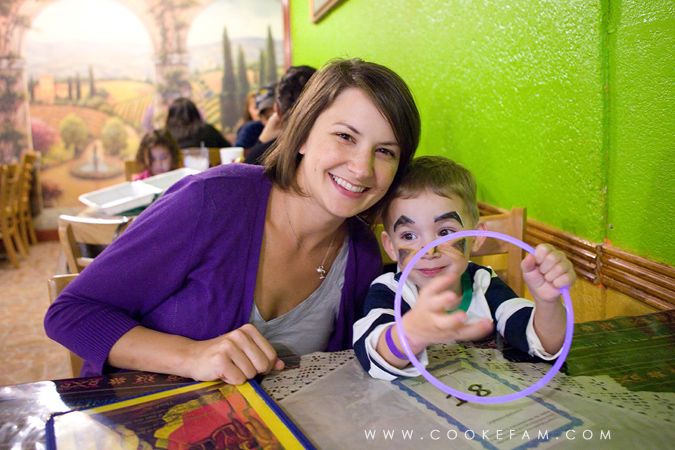 That night in the hotel, the boys got to share a bed for the first time ever. And in fact, this was the first time for our family of four to sleep in the same room. Rest assured that we did not have high expectations for sleep that night. The boys loved sleeping together and made it all the way to 4:30am before starting to wake up. After going to sleep around 10pm. Yeah.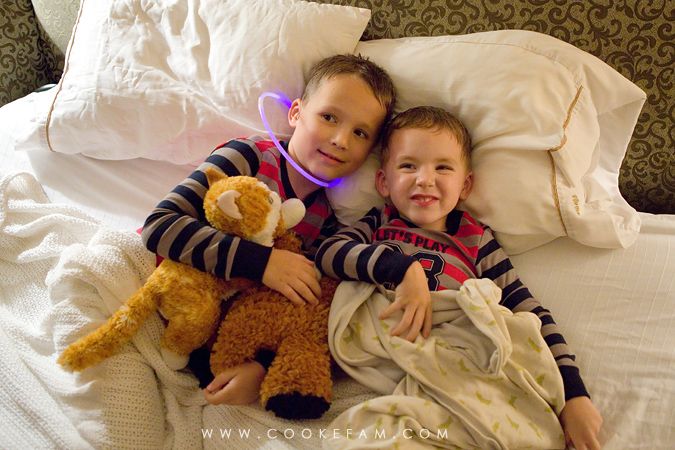 But since we were up early, we got to the parade route in time enough to stake out a spot in front of the admin building. And by the way, it was super cold that morning. A cold front had blown in with the rain the day before. It was a chilly 40 degrees or so.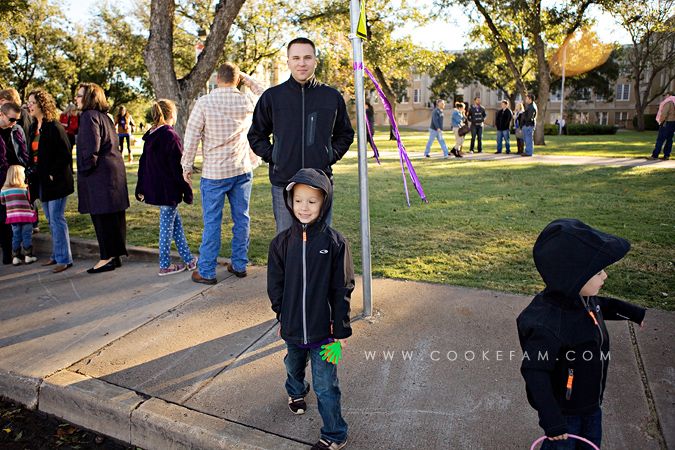 The parade was a hit. The boys loved the band, the floats, and the fact that they had candy thrown at them. What's not to love?
Ethan brought his clapper (one of his prizes from the carnival), which he used with enthusiasm.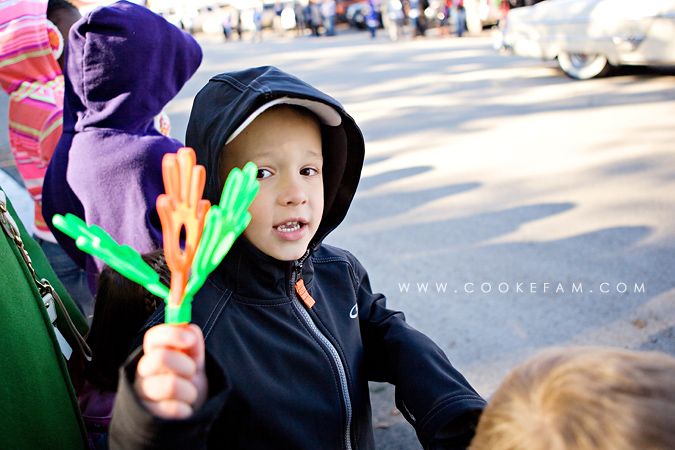 They may not look thrilled here (of course), but they really loved the parade.
That morning I got to meet up with two very special girls (women) that I haven't seen in a long time. Kristen - it's been a decade since I've seen her. And my college roommate, Holly, who I hadn't seen in 5 years. Loved, loved, loved seeing them and catching up and meeting their kids in person. We were missing all of our other friends who couldn't make it too.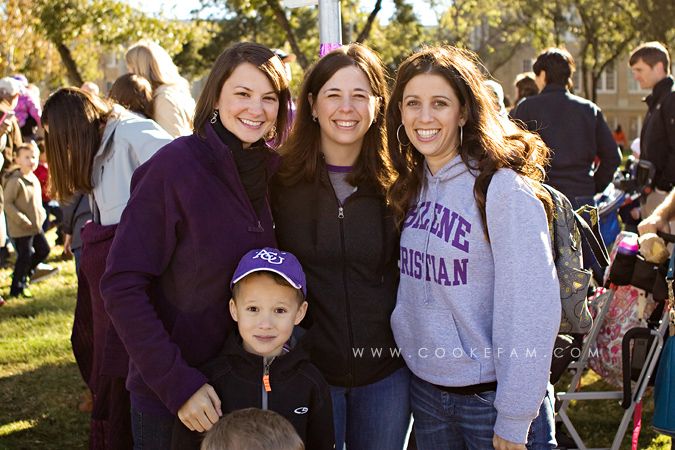 We made plans to meet back up for lunch and then split up to do our own thing for a while. Kristen snapped this photo of our family before we all took off in different directions. Although I would have liked to check in on homecoming chapel, we decided that with two tired boys, our best bet was to wander around campus.
So that's what we did...and it was awesome. There was something so fun about showing our boys where we lived and studied for four years. And it's an especially special place for us because it's where we met and dated for four years. There are so many memories we have on that campus.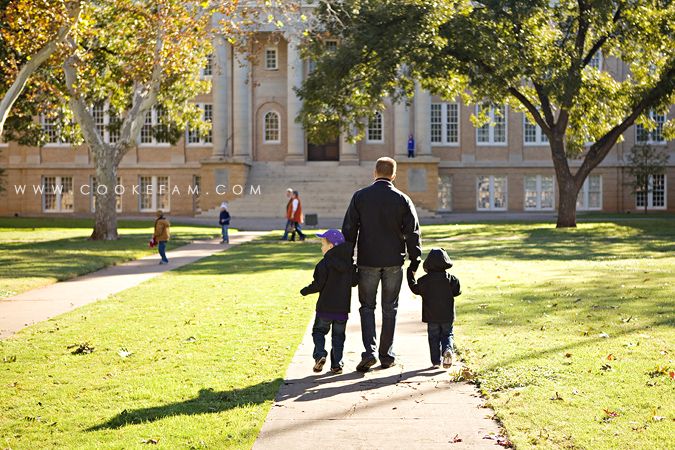 It may have been cold, but it was still a gorgeous, sunny day.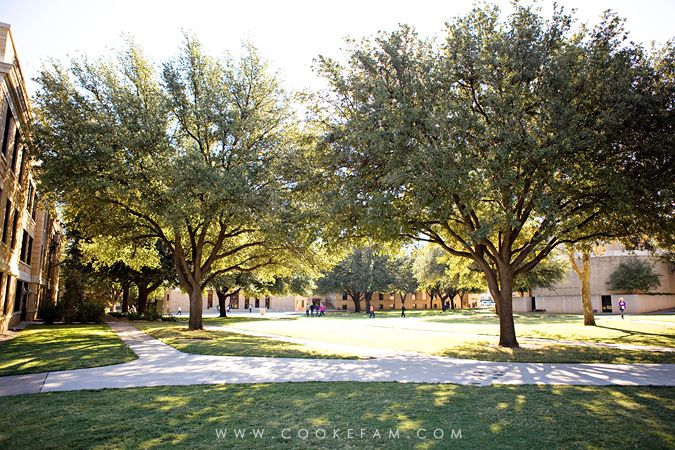 I was expecting two cranky boys, but they actually had the best time running around and asking all sorts of questions about college.
We had to revisit the exact place that Casey and I met 14 years ago. Back then, it was called the Bean Sprout, and that wall up ahead wasn't there...it was a service counter for the basement restaurant in the campus center. The booths are still there.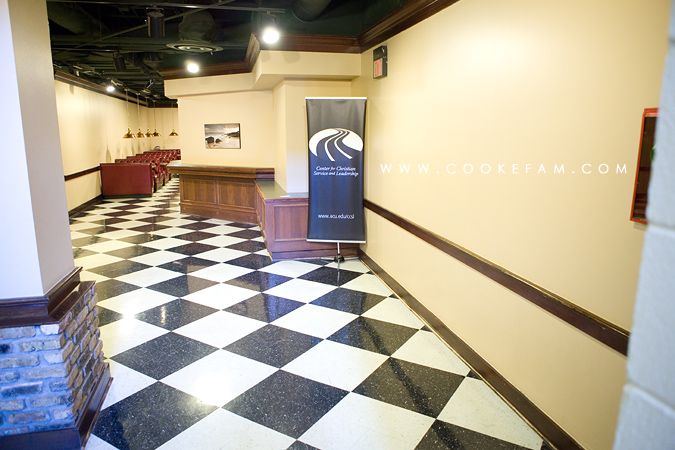 We also made our way over to the bible building.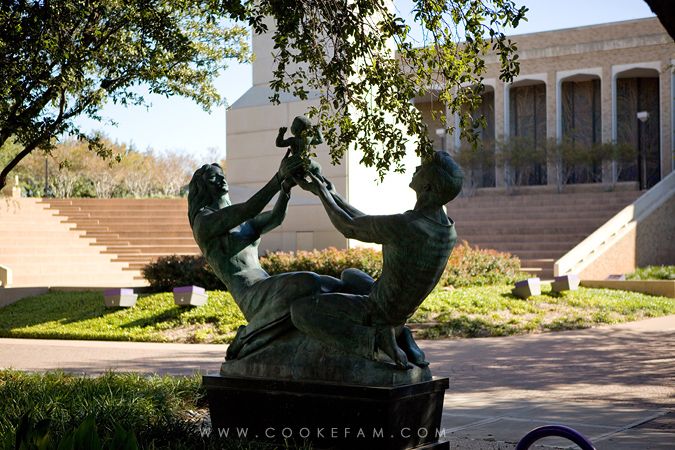 And stopped by the big globe, of course. Not pictured - we showed the boys the Ian A. Fair conference room, although the door was locked. That's their great-grandfather, who was the Dean of the College of Biblical Studies some years ago.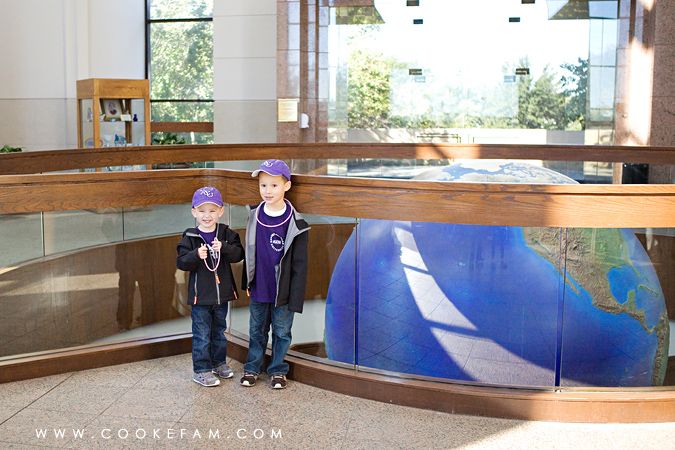 We popped into the chapel too, which was mesmerizing to the boys.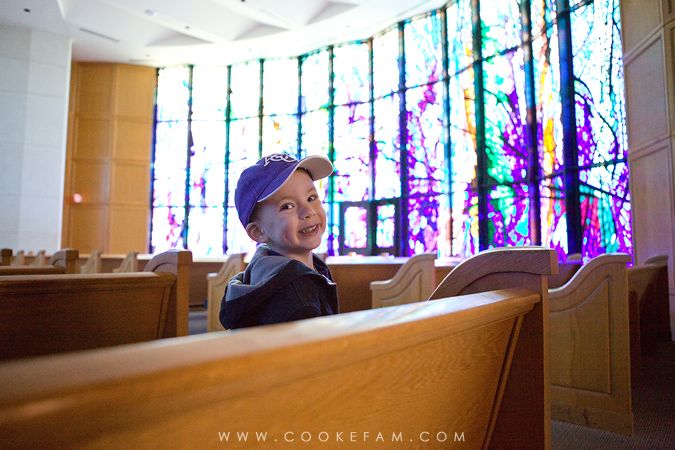 Ethan kept pointing out all the purple to me since it is my favorite color.
This is a hallway I know well...I used to work in the Graduate School of Theology.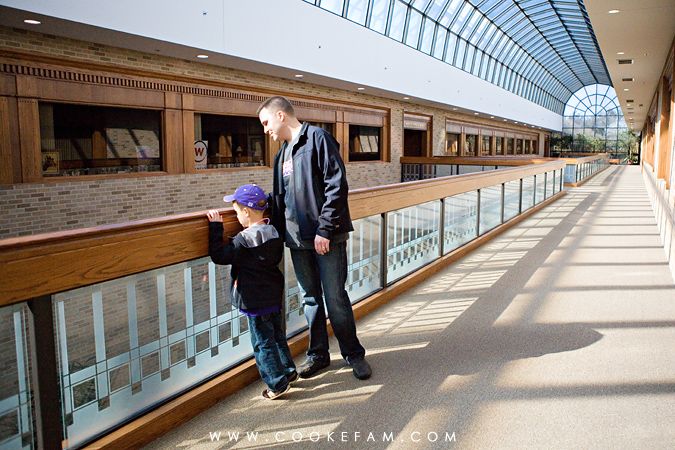 We exited on the top floor and made our way down the amphitheater...the location of of many devos during our college years.
And then, we went over to Jacob's Ladder, a sculpture that was built after our college years. This was our first time to see it in person.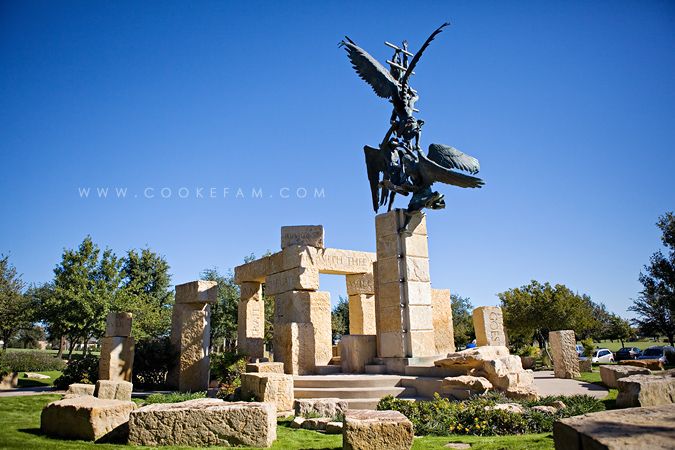 I wish I could remember what Logan said or did that was so funny while I was taking this photo.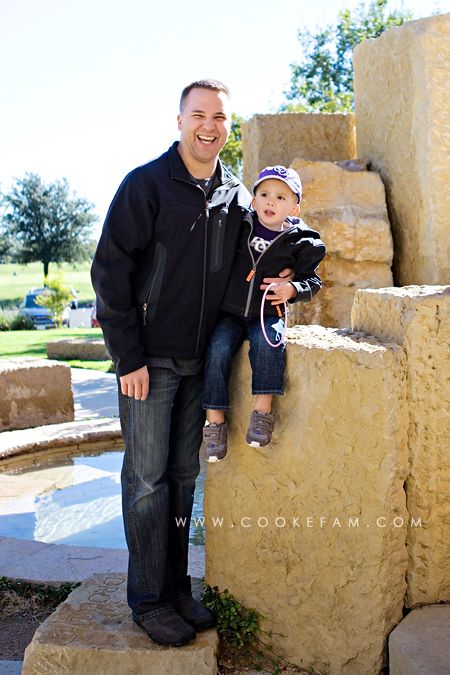 It's really a beautiful sculpture...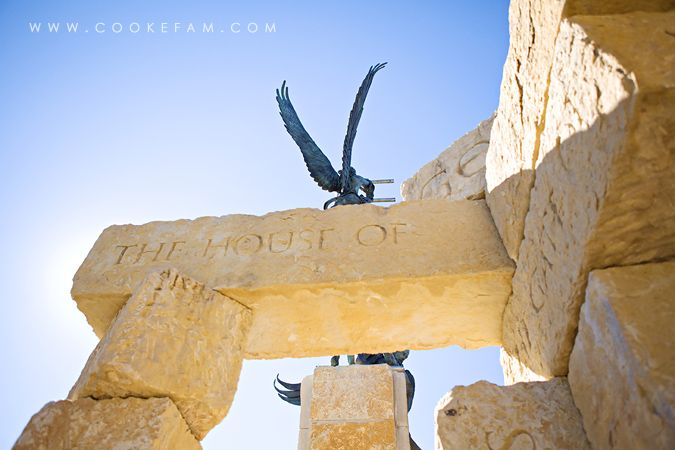 The boys (all three of them) are being silly in front of the education building. Posing with statues.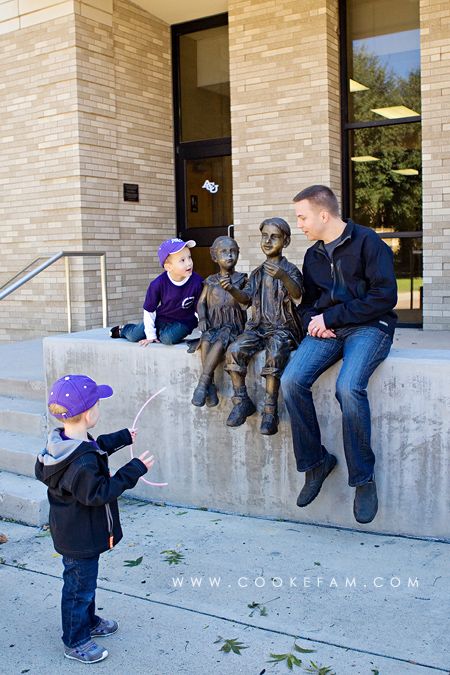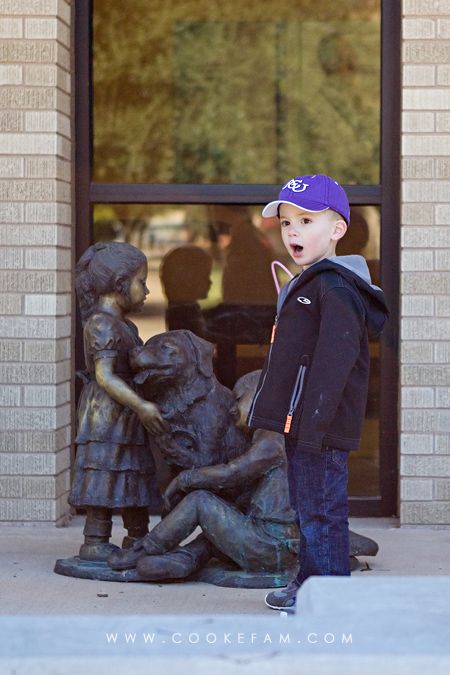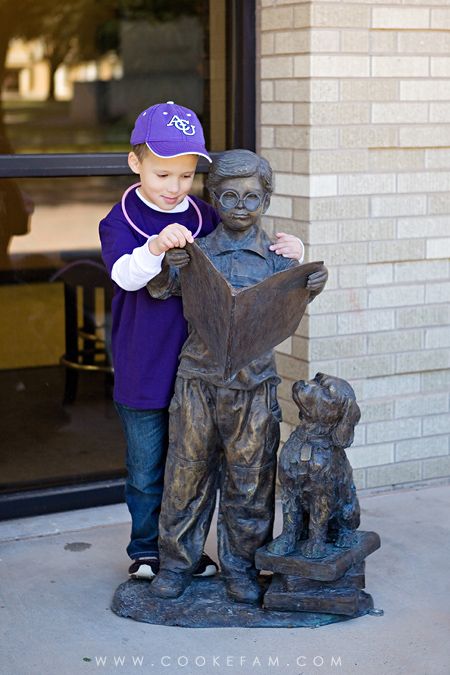 Ethan totally got a kick out of the purple bike racks. He was loving all of the purple stuff and wanted me to take his photo next to every one.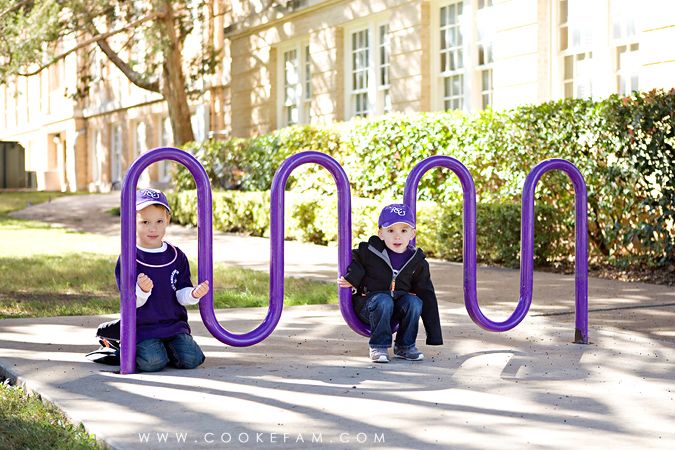 I thought it was cool too...even the purple curbs. (I did not take this shot to show off my shoes, that's for sure.) I must have chosen ACU because of the school colors!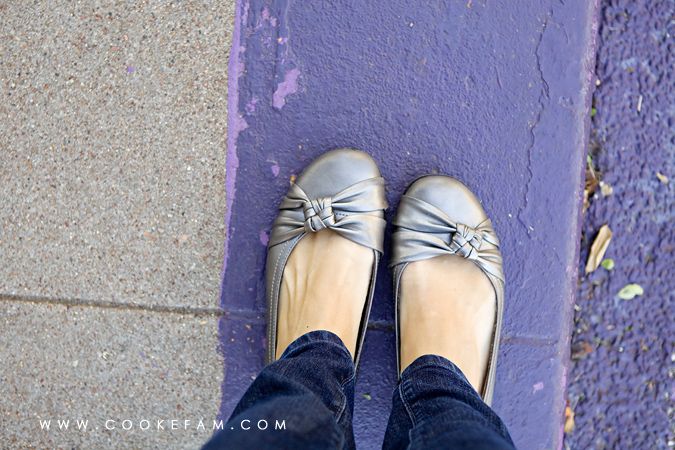 I have fond memories of the admin building steps. My pass the crown ceremony was here when Casey and I got engaged. And I remember some beautiful weather days when we had our English classes outside here. (I was an English major).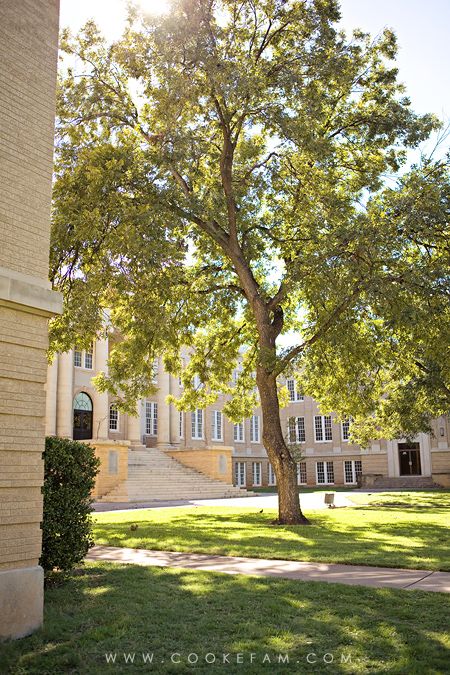 And look at this! Ethan took this photo of me and Casey! He did such a great job considering he had a tough time just holding the camera up (it's big and heavy).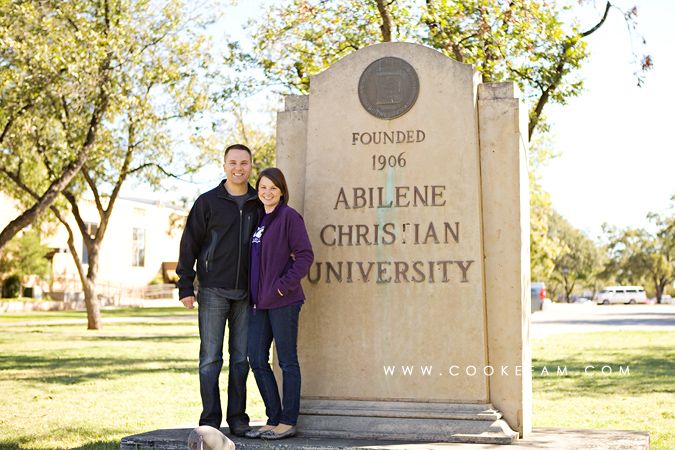 After all that walking around, we worked up an appetite. Good thing we were meeting back up with Kristen, Holly, and their families for lunch at Betty Rose's...a very close and very yummy BBQ establishment in Abilene. And a place we went to often when we were students.
The picnic table seating seemed perfect for our gaggle of children until they ALL started falling through the gap between the table and bench. Such a fun lunch, though. It was kind of surreal sitting there together again just like we had 10-14 years earlier. All of our husbands are alumni too. It's really fun to hang out with people who knew both of us before we were married.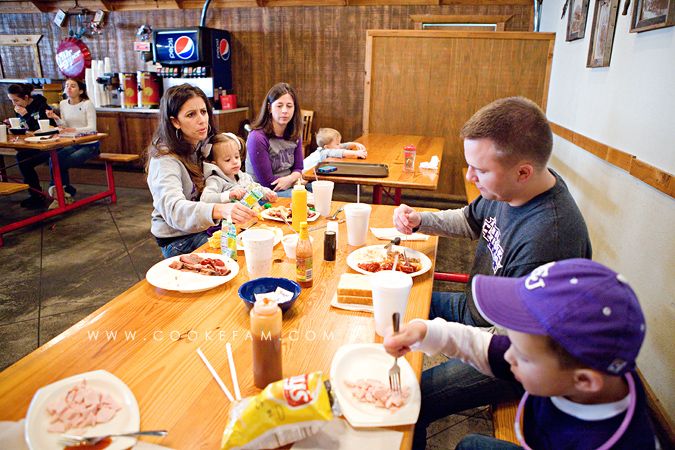 Right after lunch, we loaded up our car and took off toward a small town just north of Abilene to meet my mom, who took the boys with her. They went to the lake house while Casey and I headed back to Abilene for my reunion dinner that night. When we rolled back into town, we went downtown and stopped at McKay's bakery for an afternoon treat. Yum.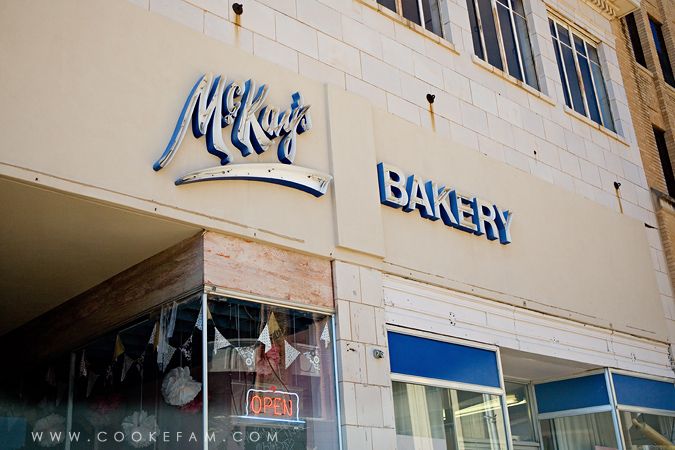 Then, we went back to campus and checked out all the things we didn't get to that morning. There are so many improvements and new buildings on campus that we hadn't seen. We went into the Hunter Welcome Center and took a look at the new (to us) Faubus Fountain Lake. We also made a stop in the renovated library...they certainly never had this in the library when we were studying there...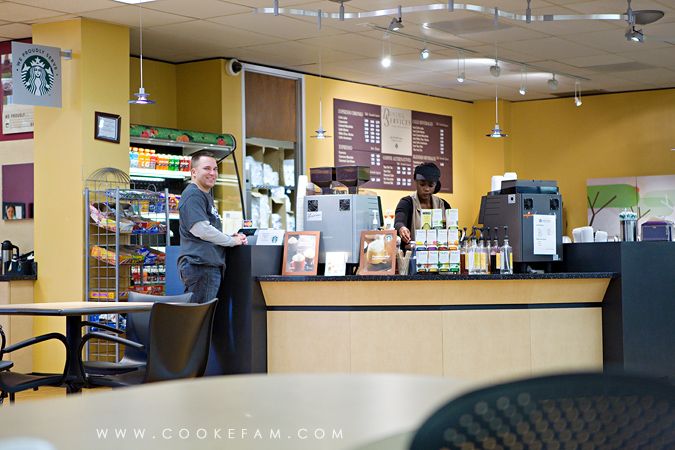 Starbucks coffee (hot chocolate) and a place to charge my phone. Perfect. That evening we went to my reunion dinner and saw lots of people from my 2003 graduating class. It was a fun night...and I didn't take my camera, so there are no photos of that. After the dinner, we said goodbye to Abilene, the ACU campus, and drove to the lake house where we spent the night.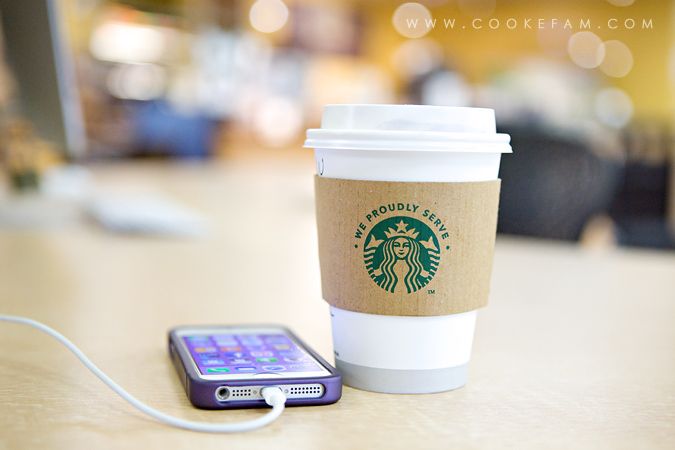 I don't know what my expectations of the weekend were, really. But they were far surpassed. We had a great time. Despite their lack of sleep, the boys did great and had a blast. And Casey and I did too. It was so fun to revisit our college days together. I don't think we're going to wait another 10 years to go back next time.