My previous two posts on our Disneyland trip have been fairly brief. Not so with this one. Meeting the characters at Disneyland was one of my most favorite parts of our trip...made up of many favorite moments with each character.
Our boys
loved
meeting characters. I had bought each of them a personalized autograph book from
Never Ever Grow Up
on Etsy so they could collect autographs. I suspected this would be fun for them, but I did not expect their level of enthusiasm for it. Disney does such a good job with these experiences...the characters go above and beyond to make the few minutes spent with your kids truly magical.
Here are all the characters we met, in chronological order.

Our boys spotted Pluto within one minute of stepping onto the Main Street area of Disneyland on our first day at the parks.
He was their very first character to meet and they talked about Pluto fondly for the rest of the trip.
Next up were Chip and Dale. These guys were so funny. They (silently...the costumed characters don't speak) communicated with our boys and made them giggle with their antics.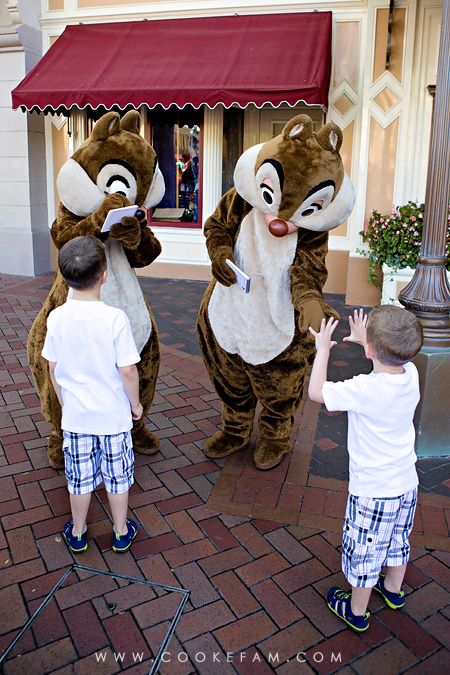 And this photo with the mischievous chipmunks is one of my favorite character photos.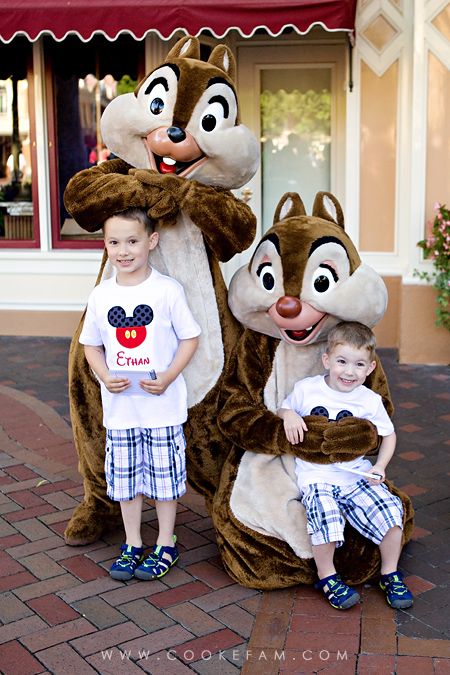 Donald was just a few feet away from Chip and Dale. We had already met three characters within 15 minutes of being in the park. It was awesome. And the boys were thrilled to meet Donald. (They really wanted to meet Daisy too, but we never did see her anywhere.)
The last of our Main Street meet-and-greets was Minnie. She was about to take off for a "break" so we didn't have time to get a photo in good lighting...thus, this is my least favorite character photo. Oh, well. The boys don't care about that...they got to meet Minnie!
We accidentally stumbled upon the entrance to Pixie Hollow later that day and got to meet two of the fairies. I should note here that the boys are
obsessed
with the Tinker Bell movies right now...and especially the most recent release of
The Pirate Fairy
. Here's a little tidbit just to illustrate how awesome these characters are. Fawn (the fairy below in orange) is an animal fairy, but in The Pirate Fairy, she becomes a light fairy through the magic of pixie dust alchemy. Well, Logan mentioned that she was a light fairy and
she didn't miss a beat.
She started talking to them about Zarina (the Pirate Fairy in the so-called movie) and how she switched all their talents. It completely blew the boys away for her to just be chatting with them like that. It was awesome.
Then, they got to meet Tinker Bell herself. Look at how cute her meeting area is. It's supposed to be right in front of her house. Another area in which Disney excels...we felt like we really were in Pixie Hollow. The same was true for other character meeting areas too, as you'll see.
Tinkerbell immediately engaged the boys in conversation and asked them about Captain Hook and what would scare him (Tick Tock Crock, of course). They adored talking to her and she was an expert with them. I am so impressed how they never break character...even when talking to the adults!
After a typical character pose, Tinker Bell mixed it up a little and asked the boys to make a scary growl. They did...and she did too, which they thought was so cool! One of my favorite moments.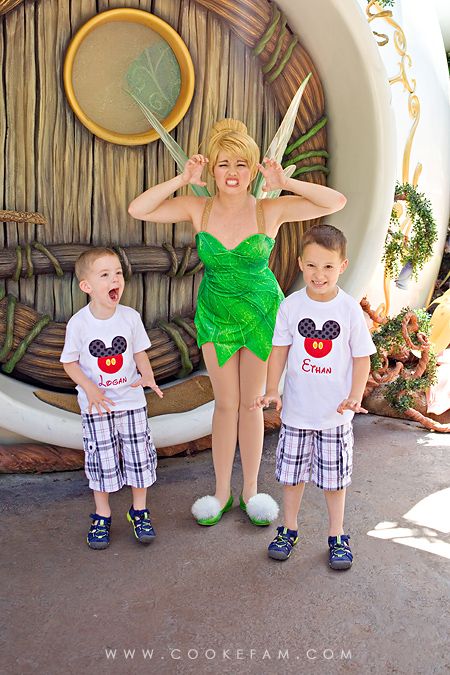 The next day was spent in Disney's California Adventure park. And of course, we spent a considerable amount of time in the amazing Cars Land (a whole post about that coming soon). We noticed people lining up to meet Lighting McQueen in front of the Cozy Cone Motel and jumped at that chance. He actually talked to the boys, which was really fun. They were just in awe of meeting him.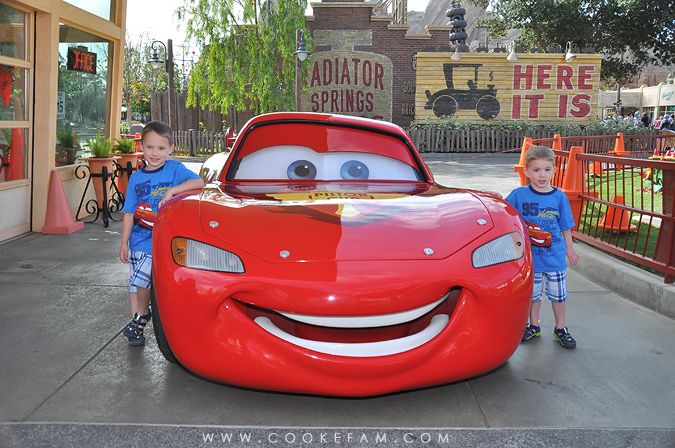 Down the street a little was Red. Little did we know that this was a rare appearance. We never saw Red again so it's great that we got to see him and take photos with him that first morning. All of the vehicles were to scale, which Ethan noticed.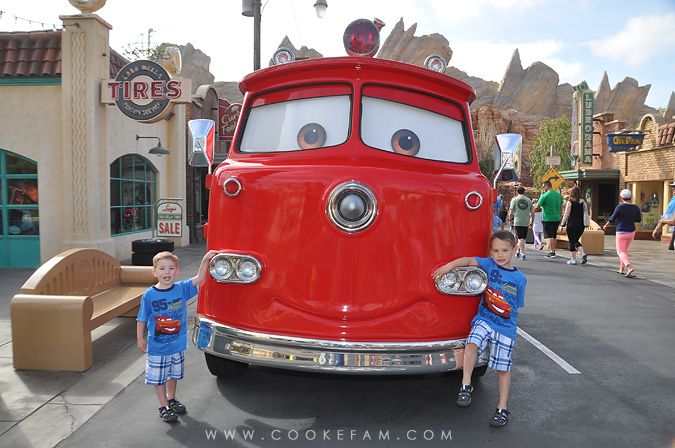 This little tractor was really more of a statue than a character. But the boys wanted to go "meet" it anyway. It's in a little alcove right next to Mater's Junk Yard and tractor ride.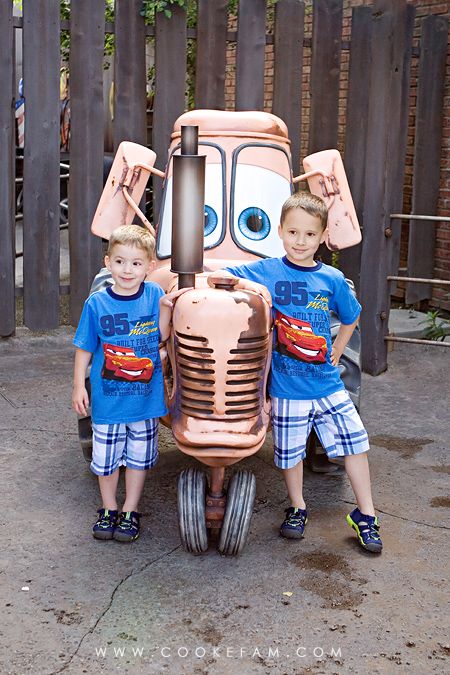 And then, we got to meet Mater himself. Right in front of the Cozy Cone again. He was funny (he talked like Lighting) and made the boys laugh. Meeting Mater and Lighting was definitely a highlight. Both boys are such huge Cars fans.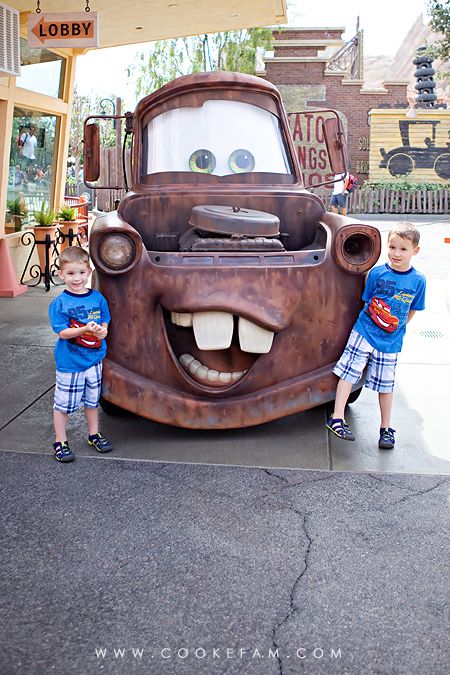 Later that day, right outside of the Disney Jr. LIVE show, we got to meet Doc McStuffins. Here's another fun tidbit about meeting characters...their autographs often have a piece of their unique character in them. For instance, Doc McStuffins signed her name with a bandaid drawn beside it. The boys were so excited about it and immediately showed us.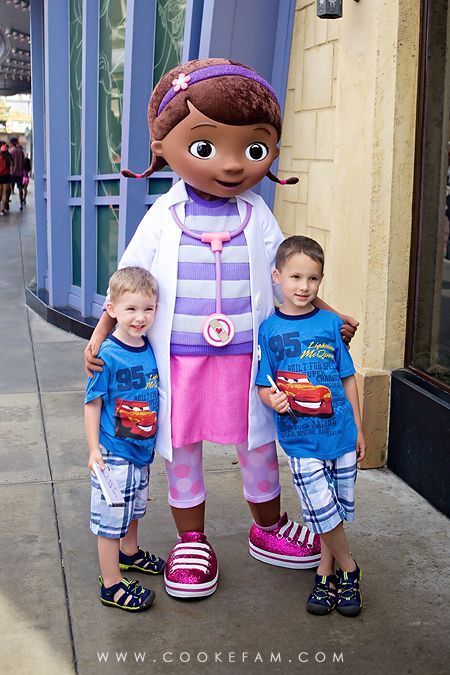 And back in Bugs Land, we were the very last ones allowed to line up to meet Flick.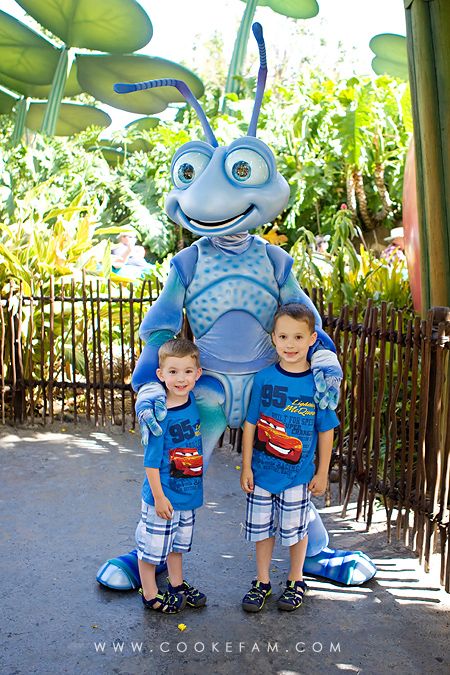 Again, he didn't talk, but he totally enthralled the boys...especially with his fist bump and exploding hands right before we left. You should have seen the boys smiles after that. They'd been doing that a lot on our trip and it totally surprised them for Flick to do it with them.
The next day we were back in Disneyland and more specifically, Toon Town. Right in front of Goofy's house, we met Goofy. As you can see, Ethan was wearing his brand-new Goofy hat (I love their Goofy and Micky hats that we got at The Mad Hatter hat shop!). The characters totally notice if you are wearing some of their merchandise and Goofy took the opportunity to be, well...goofy and wear Ethan's hat on his nose!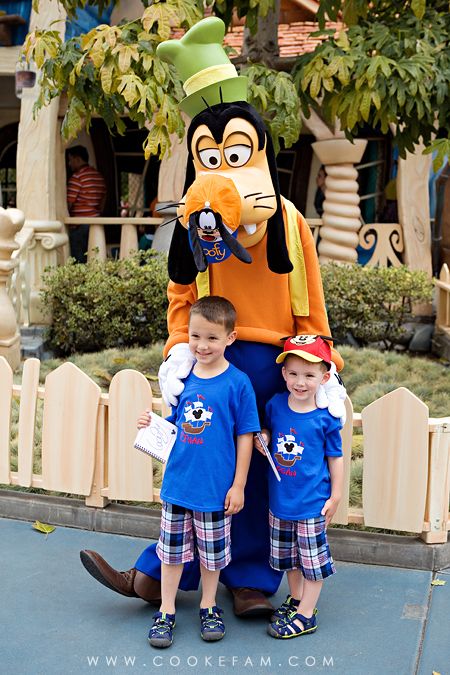 The boys loved it and things like this are what make these brief character encounters so special and memorable. Ethan even got in a solo hug at the end of our visit with Goofy.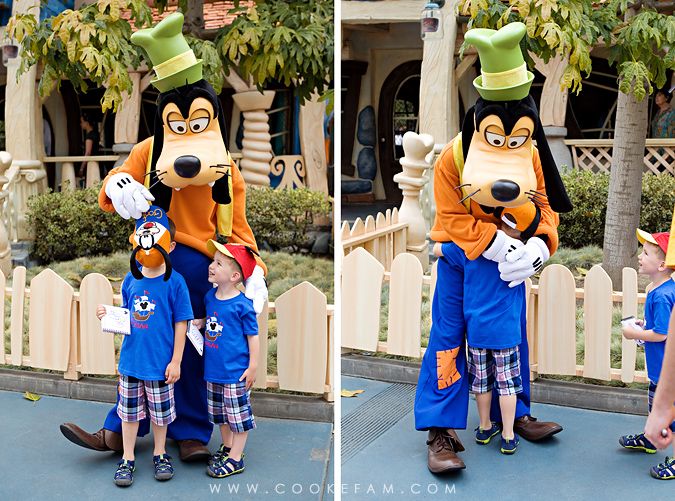 After Goofy, we stood in our longest character line to meet Mickey. Most of the characters took 10 minutes or much less to meet. We waited about 30 minutes (maybe a little more) to meet Mickey. But, of course, you can't go to Disneyland without meeting Mickey!
Later that day, on the opposite side of the park in Critter Country, we got to meet some Winnie the Pooh characters. First, it was Tigger. He was hilarious too, just like Goofy. But this time, he picked on Logan, covering his face in the first photo. The boys ended up pretty even in the special treatment department.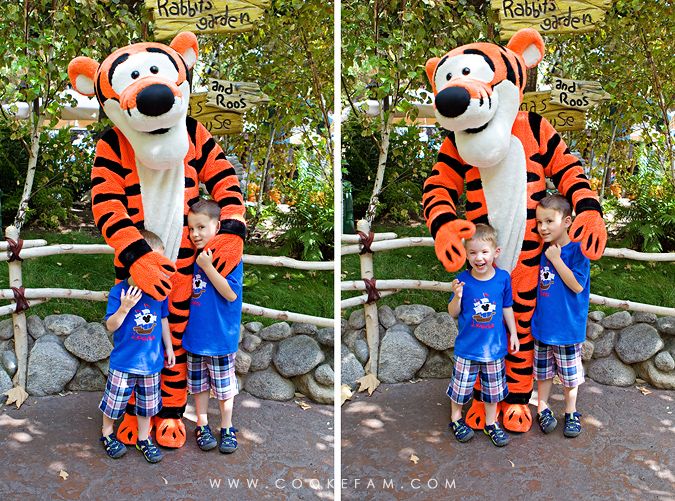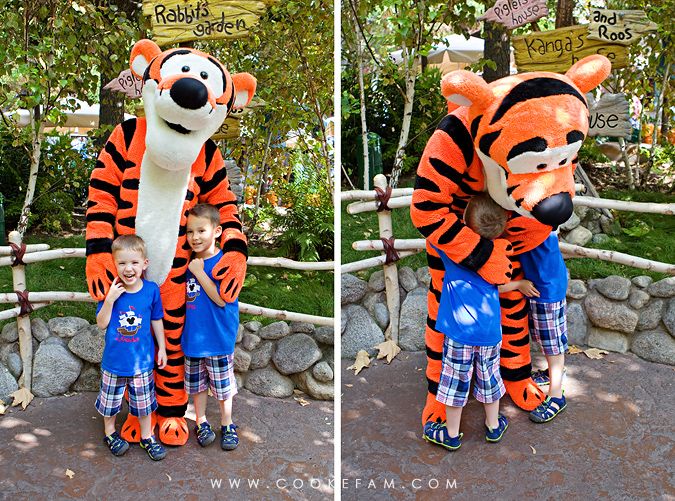 Next we met Eyore. His was a pretty brief visit, but still fun...complete with autograph.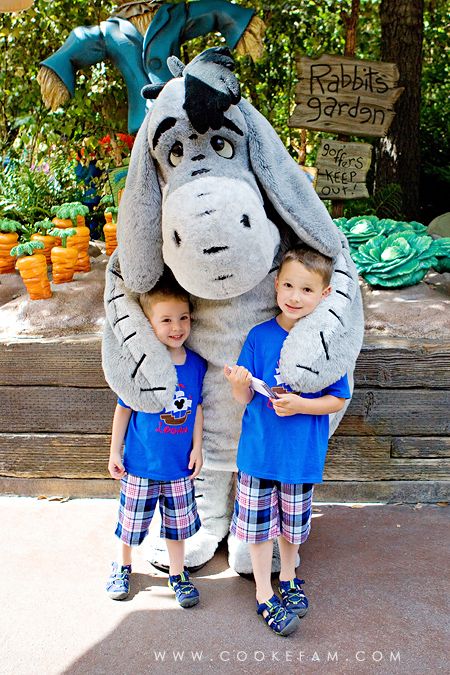 Winne the Pooh was one of my favorites. Look how the boys ran into his open arms. Love it.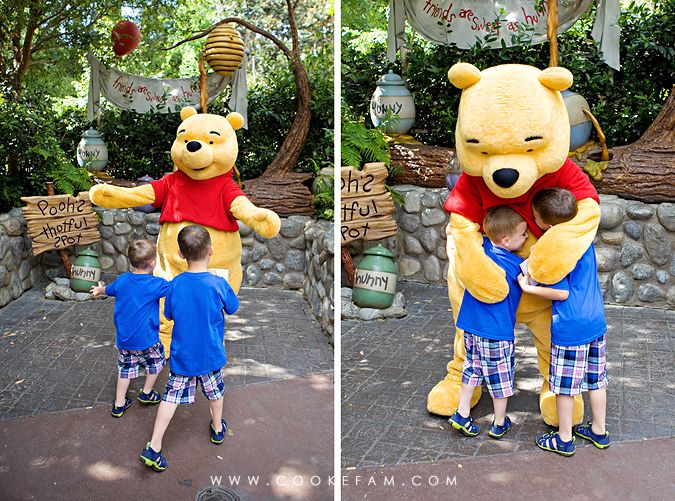 And have a look at Pooh's meeting spot...or his thoughtful spot, more accurately. The banner behind him says, "friends are sweet as hunny." Cute.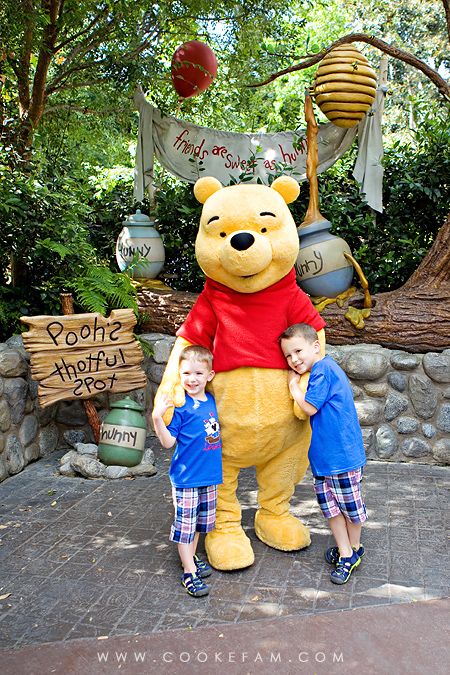 We alternated parks because the early magic hours alternate, so the next day, we were back at California Adventure. And we finally got to meet three of our favorite characters of all time. Toy Story! First up was Jesse. She was so true to character with her mannerisms. Even though she didn't talk, she was definitely Jesse.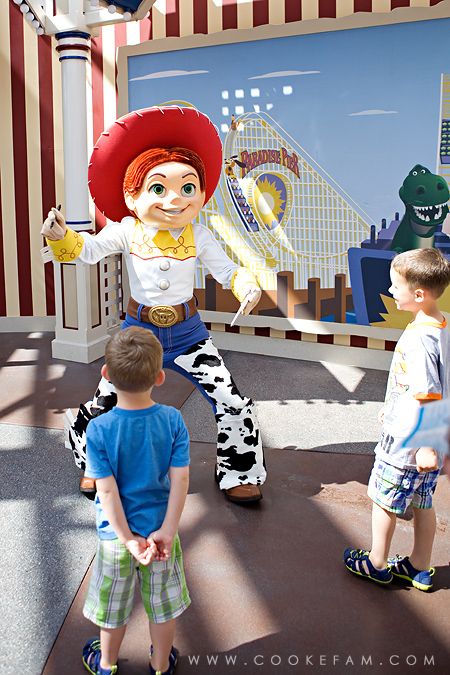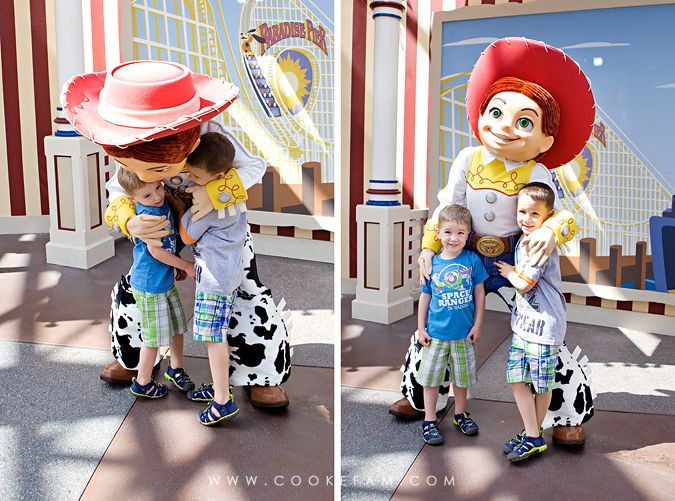 Buzz was next. And boy was Logan excited about meeting Buzz. Ethan was too, but Buzz is Logan's favorite Toy Story character. How appropriate that they were wearing their Buzz shirts on this day. Buzz noticed too (they are very observant, like I said). Buzz couldn't do autographs because it was "against intergalactic regulations" (meaning that his costume wasn't autograph-friendly).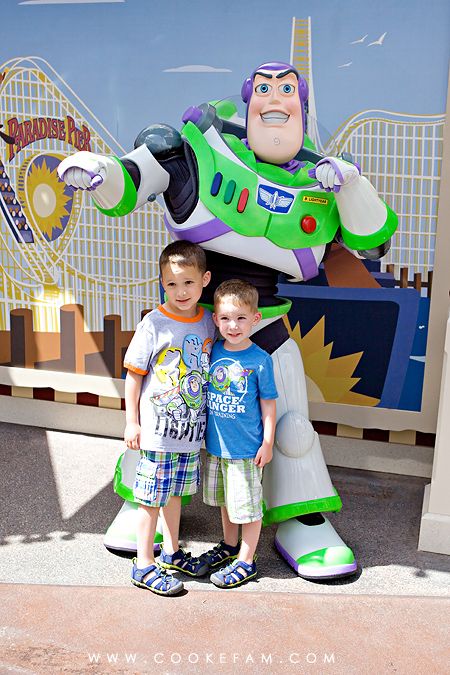 Finally, we stuck around and got to meet Woody, Ethan's favorite Toy Story character. He was awesome too. And by the way, don't say "Andy's coming" when you meet these guys - they apparently kind of hate that rumor. They can't fall down every time someone says it, so they don't do it at all anymore (if they even ever did). The cast members that escort the characters will just tell you that Andy can't be coming...he's away at college. (We didn't say "Andy's coming" but heard several others do so in passing.)
I love Logan's bewildered expression in the second photo...he wasn't quite ready with his "guns up" stance that Woody wanted to do.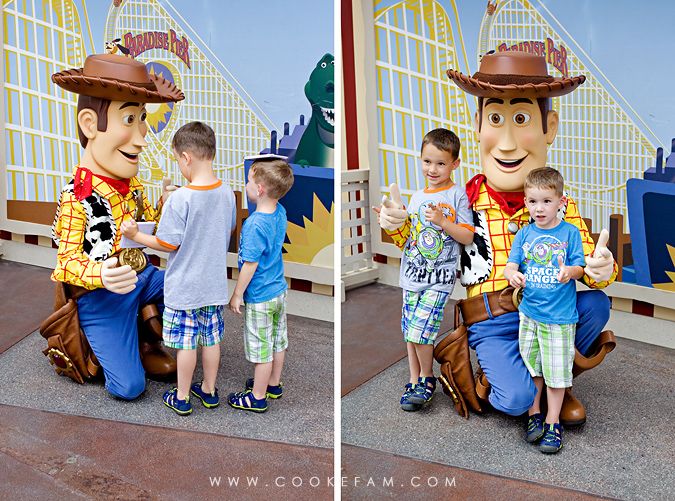 Over in front of the Monsters University facade (so cool, by the way), we got to meet Sully. We actually waited a little while for him before he even showed up. We were first in line because the boys are in love with the Monsters movies right now.
Sully couldn't give autographs either, but he gave great high fives and the boys just loved meeting him. They couldn't get over how big he was!
On the last morning of our trip, just before we flew home, we ate breakfast at Goofy's Kitchen, a character meal experience. Goofy's Kitchen was located right in our hotel, making it really convenient.
The buffet was extensive, to say the least. But the real star of the show is meeting the characters, of course. Alice was the first to stop by our table. She chatted with the boys for such a long time. Keeping in character the whole time. It was incredible. She really spent a while talking to them before signing their books.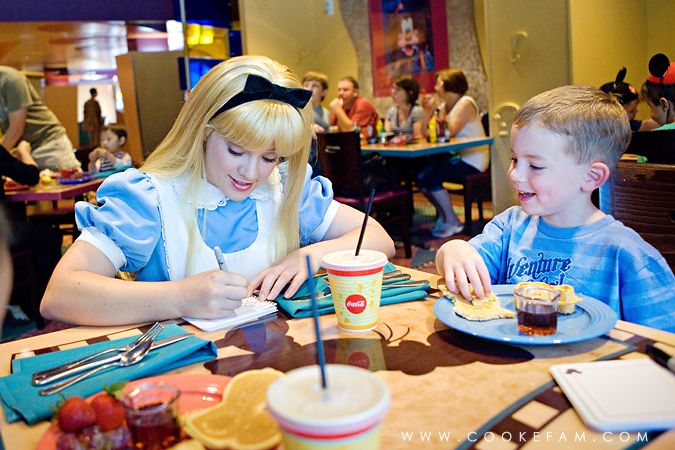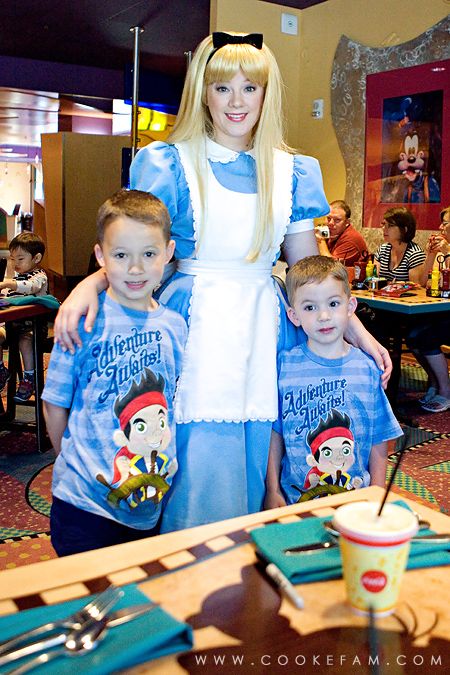 Baloo stopped by too. Unfortunately, the boys have no real idea who he is since they have not seen The Jungle Book movie yet. But, they were still excited about the big blue bear.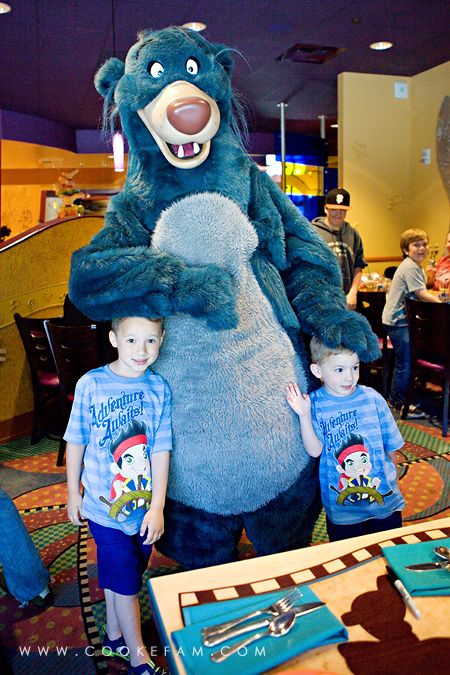 Chip and Dale, all decked out in their chef's attire, also came by. The boys remembered meeting them on the first day and it was kind of fun to see them on our last day too...in "costume." The boys asked if they were the ones preparing our food!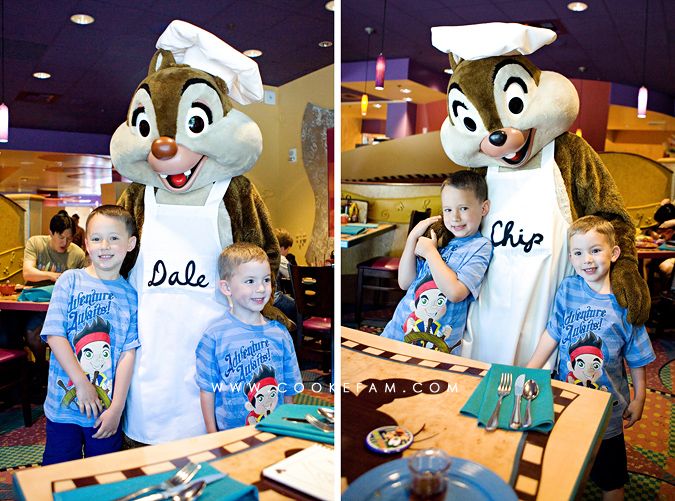 The last character we met on our trip was the Mad Hatter. And goodness, was he a doozy of a character encounter on which to end our trip. He was absolutely hilarious. He had me and Casey laughing out loud too. This guy was good. He even had the right voice.
And Ethan was totally thrilled to sign his autograph book. That's right, the Mad Hatter said he would sign their books if Ethan would sign his (Logan can't really sign his name with any consistency right now...and didn't seem bothered not to at all).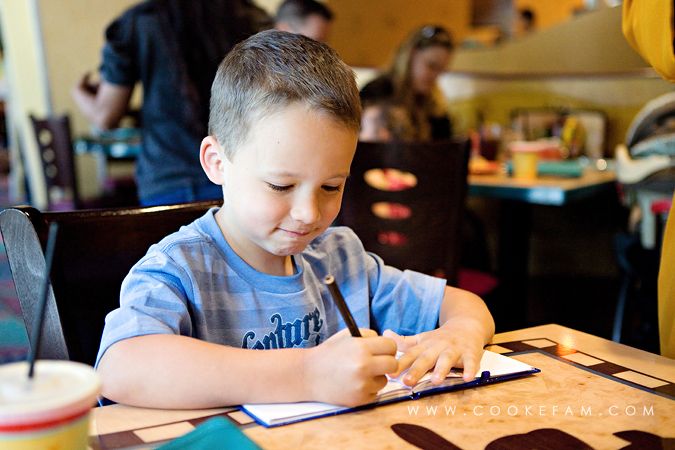 Then, when it was picture time. The Mad Hatter told the boys it was really important to stay still for photos, all the while he was jostling them around, making them giggle uncontrollably. So cute. The boys loved it. This is the magic of Disney at work, and why the characters were one of my very favorite parts of our trip.